I wasn't ever a Jonas Brothers fan until the Happiness Begins album came out. In the height of their original popularity, I was in college and a newlywed. Although I was the same age, I was definitely not their target audience. Once they decided to create their Happiness Begins album, they chose to have a more grown up sound and appeal to a more adult audience. I love the sound they created, with the help of music genius and producer, Ryan Tedder.
The album Happiness Begins is full of songs that make you feel good. Songs that make you want to dance a little and bring joy. With a name like Happiness Begins, they needed to fill that cup and they did it well!
I am normally drawn to darker albums. Many of them have darker album covers as well, so this album cover makeup look was a lot of fun to get me out of my black and white comfort zone!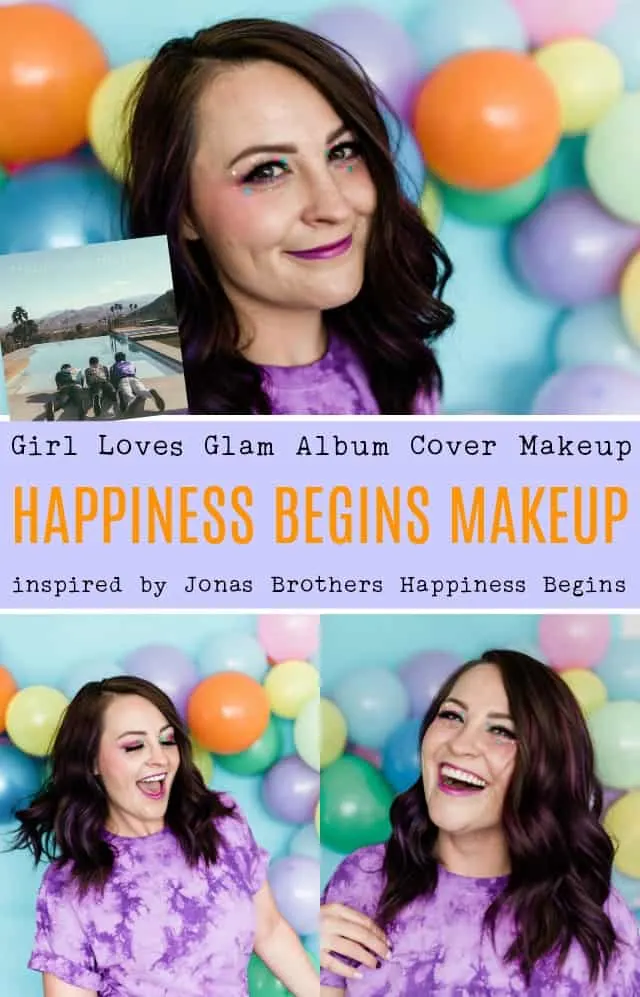 Happiness Begins Makeup
I wanted this album cover look to basically be a party on my face, while not going too overboard. I was not only inspired by the album cover itself but by the Sucker music video and the Happiness Begins Tour. The album cover is actually pretty simplistic so I tried to have fun with the look, while also keeping things semi simple.
Jonas Brothers Makeup Supplies
To create this look, I used…
Foundation: NARS Sheer Glow Foundation
Lip Color: Maybelline SuperStay Matte Ink Lip Color in Creator and NYX Foil Play Eyeshadow
Eyeliner: Kat Von D Tattoo Liner
Eyeshadow: Morphe James Charles Eyeshadow Palette
Brushes: Morphe M330, Morphe M411, Morphe M514
Mascara: Cover Girl Super Sizer
False Lashes: Esqido Unforgettable Mink Lash
Glitter: Hobby Lobby & NYX Glitter Primer
Jo Bro's Happiness Begins Makeup
I never thought that creating an album cover makeup look inspired by the Jonas Brothers would be so much fun! If you would have told me 10 years ago that I would be a Jo Bro fan, I never would have believed you. I am glad that I am a Jonas Brothers fan now though because they are a talented group and it has been good to have some more "fun" music in my library!
Now, I want to know what your favorite song on the Jonas Brothers Happiness Begins album is!
Don't forget to look at all of the other fun album cover makeup looks I have created so far!