I can't believe that this is already my third Album Cover Makeup look! This has been such a fun project for me and I really appreciate you supporting it. This third look is inspired by the one and only Red Hot Chili Peppers Californication album.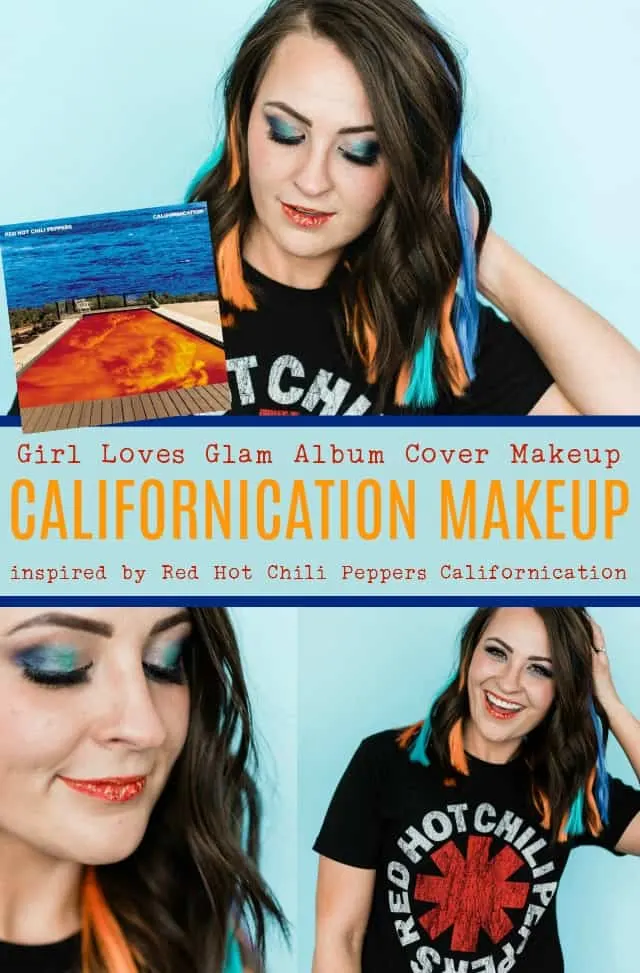 Where do I even begin with this album? I stole this CD from my dad and listened to it on the entire ride to and from a 6th grade field trip. I liked Red Hot Chili Peppers before, but really fell in love with the vibe of Californication. Let's be honest, I didn't understand Anthony Kiedis' tongue in cheek, deep lyrics at the time but I knew that they were complex and I could appreciate that.
Red Hot Chili Peppers has always been a band who has a unique sound that nobody else can get away with. It is very much their own. I love the funky style, mixed with a little rap vibes, mixed with rock. It is their very own sound! Californication is in the Rock and Roll Hall of Fame Top 200 Albums of All-Time, ranking at #92. With over 16 million albums sold, Californication has definitely solidified its place in music history. Bottom line… it's an album you just can't help but jam to!
This look was a blast to create! You can't help but be inspired by the colors present in the Californication album cover. The pool filled with lava and the ocean sky. The contrasting colors and contrasting elements make it so my creative juices just can't help but flow!
Red Hot Chili Peppers Makeup
Watch the video to see how to create this look, complete with ocean eye shadow and lava marble lips.
Californication Makeup Supplies
Foundation: NARS Sheer Glow Foundation
Eyeshadow: Morphe Jaclyn Hill Eyeshadow Palette
Eyeshadow: Pixi by Petra Reflex Light Shadow Palette
Lip Color: NYX Liquid Suede in Orange County
Lip Liner: NYX Suede Matte Lip Liner in Orange County
Lip Accent Colors: NYX Vivid Brights in Vivid Halo and NYX Vivid Brights in Vivid Fire
Lip Accent Glitter: Ulta Liner in Gold Glitter
Eyeliner: Kat Von D Tattoo Liner
Brushes: Morphe M330, Morphe M411, Morphe M514
Mascara: Cover Girl Super Sizer
False Lashes: Esqido Unforgettable Mink Lash
Ocean Eyeshadow Look
The ocean inspired eyeshadow look was really fun to create. I wanted to have a punch of blue, but I also wanted to have all of the shades of the ocean represented. The clear waters, all the way to the deep blue sea. This ocean ombre look accomplished this perfectly! You can see the step by step look by watching the video. It doesn't require any special skill. I promise you can do it!
How to Do Marble Lips
Marble lips became wildly popular last year. I don't totally understand why you would want marble lips unless it is for a costume, but this was the perfect excuse to create a marble lip! These lava lips use the same technique as the marble lips, only with colors to mimic lava.
Now to create your own, you can watch the video to see exactly how to create this marble lip look. They are really easy to do! To create the lava lips, you are going to put the orange lip color on first. Then you will go with the different eyeliner colors to make small lines to create the marble effect. You will want to use 3-4 colors to add enough dimension. I used a red, reddish pink, yellow, and gold.
I loved how this makeup look came together, but I wanted to have a little more fun with the look as a whole, so I popped in a few hair extensions. Obsessed would be an understatement about how I feel about how it all came together with the hair extensions!
I really love the hair extensions that I got. They are inexpensive, easy to put in, and they were easy to cut to the right length. There is a great assortment of colors too, so I highly recommend buying some of these fun hair extensions when you have occasions you want an extra pop of color.
No album inspired makeup look would be complete without nails inspired by the album too! I am a Color Street Independent stylist and I used the colors Water You Up To?, Fire Island, Lima Lemons, and Lustemburg to create this Californication inspired manicure.
Thank you so much for following along with my Album Cover Makeup series! It really is such a fun project for me and I appreciate your excitement over it as well! What album covers do you want to see transformed into a makeup look?
Don't forget to check out the last two looks, too!