I L-O-V-E Halloween! I am obsessed with the seeing the creativity that can go into costumes and I wanted to collect a compilation of some of my favorites that I have seen around online. They are so good! Here are over 50 Halloween hair and makeup tutorials that you do not want to miss! These are Halloween hair and makeup tutorials that you can ACTUALLY recreate. There are so many incredible Halloween hair and makeup looks out there, but they can only be recreated by a professional. These are looks that I specifically chose for REAL people to recreate.
Hauntingly Beautiful Halloween Hair Tutorials:
Stunning Halloween Makeup Tutorials:

Fabulous Halloween Hair Tutorials:
Cinderella Hair Tutorial | Maleficent Hair Tutorial | Silly Spider Hairdo | Mummy Hairstyle
Elsa Braid Tutorial | Spider Web Hairstyle | Princess Jasmine Hairstyle | Princess Anna Hairstyle
Kitty Ears/Horns Tutorial | Hair Nest Tutorial | Pumpkin Bun Hair Tutorial | Braided Cat Ears Hairstyle
Beehive Halloween Hair Tutorial | Bride of Frankenstein Hairstyle | Braided Faux Hawk | Lioness Fun Frizz
Viking Braids | Downton Abbey Hairstyle | Katniss Braid Hairstyle | Minnie Mouse Hairstyle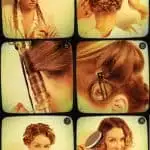 Amazing Halloween Makeup Tutorials:

Fox Makeup Tutorial | Comic Book Character Makeup | Mermaid Makeup | Owl Makeup Tutorial
Fairy Makeup | Queen of Hearts Makeup | Sugar Skull Makeup for Beginners | Gorgeous Ghost Makeup
Lion Makeup | Cleopatra Makeup | Day of the Dead Makeup | Maleficent Makeup
Cat Makeup Tutorial | Zombie Bride Makeup | The Lorax Makeup Tutorial | Geisha Makeup Tutorial
Modern Witch | Edgy Eyeshadow Tutorial | Dark Grunge Makeup
Aren't these all fabulous? I would love to hear what you are going to be for Halloween!