The perfect Fall treat! This pumpkin pie Chex Mix recipe will make you the most popular person at your Fall parties and will have you coming back for handful after handful! This simple, sweet Fall snack is perfect for a lazy weekend or a snack that will get you through a busy week.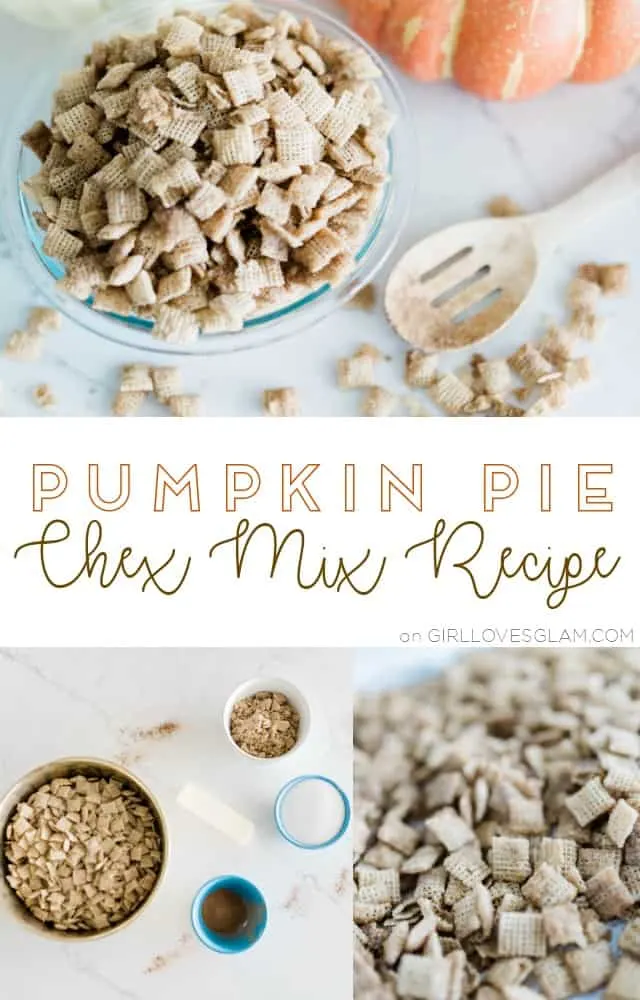 I don't share recipes often but when I do, you can rest assured that it is a family favorite! Chex Mix is one of my favorite snacks. I love the different varieties that you can make. It can be delicious in both sweet and salty varieties. I am a sucker for a sweet snack, so this pumpkin pie Chex Mix is just right!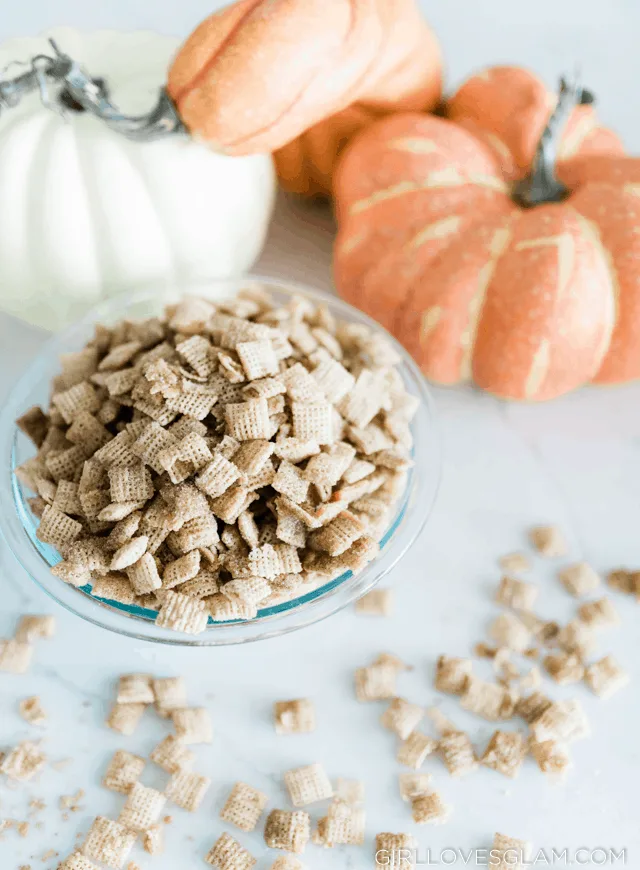 Pumpkin Pie Flavored Snack
The funny thing is that I don't actually love pumpkin pie! It is a texture thing for me. So having a Fall treat that has the sweet pumpkin flavor, without the mushy texture is a major win in my book.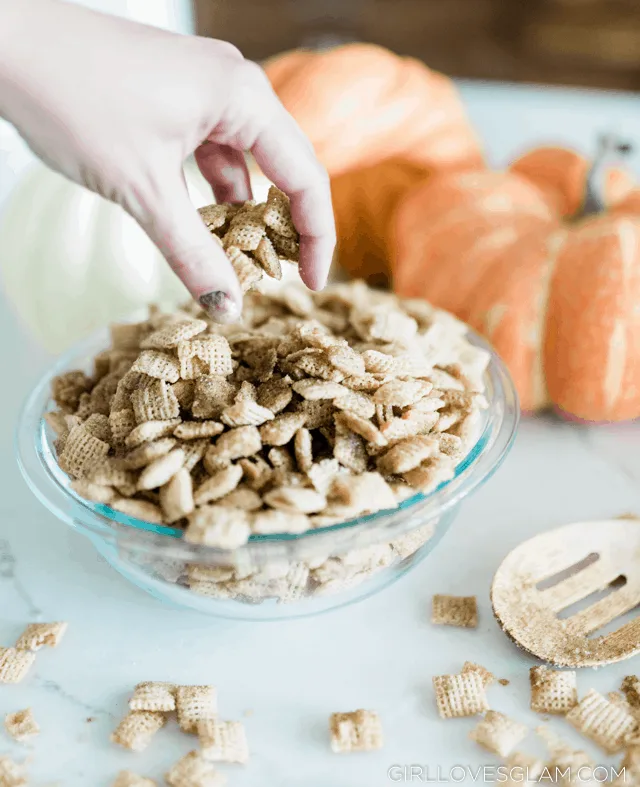 This Chex Mix is a really popular treat at family gatherings because it is easy to grab and snack on while guests are visiting and it is unique enough that there aren't usually any other dishes at the party like it!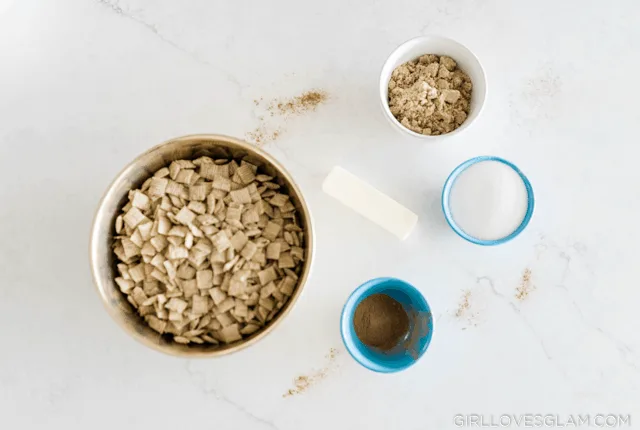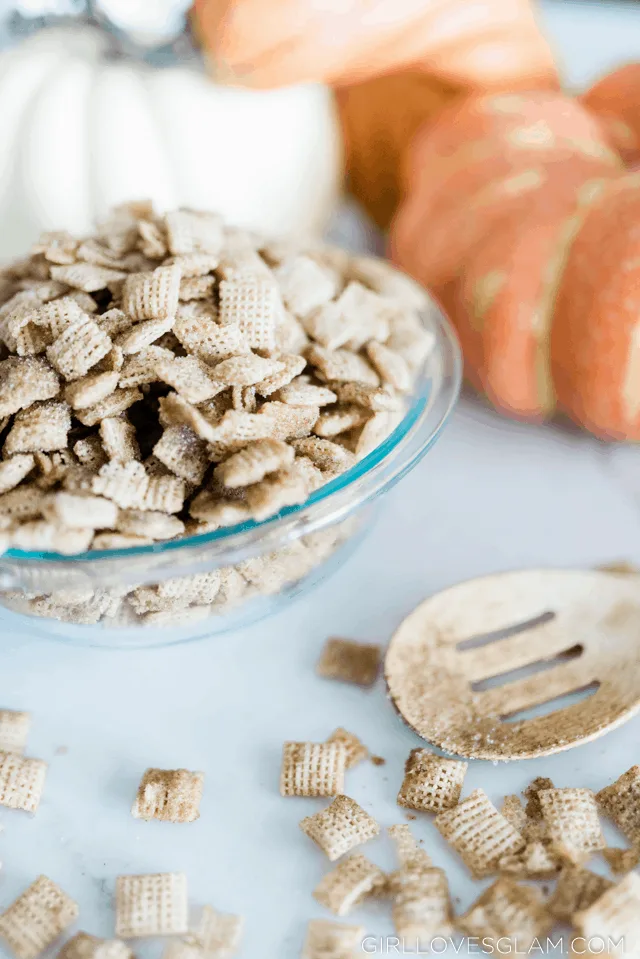 Yield:

8
Pumpkin Pie Chex Mix
Additional Time:
55 minutes
Total Time:
1 hour
50 minutes
The perfect delicious Fall snack! This pumpkin pie Chex Mix is easy to make and will be the hit of every Fall gathering.
Ingredients
8 cups Rice Chex cereal (roughly a full box)
1/2 cup brown sugar
1/2 cup butter
1/4 cup sugar
2 1/4 tsp pumpkin pie spice
Instructions
Preheat oven to 275 degrees
Mix white sugar and pumpkin pie spice together in a small bowl and set aside.
Line a baking sheet with parchment paper and set aside.
Pour cereal into a large bowl and set aside.
Place brown sugar in a bowl. Melt butter and mix into the brown sugar.
Microwave butter and brown sugar mixture for 30 seconds and mix together until the sugar has all dissolved.
Pour mixture over Chex cereal and mix until it is all coated.
Pour cereal onto the parchment paper and sprinkle the pumpkin pie sugar mixture over it.
Bake for roughly 45 minutes. Stir every 15 minutes to keep it from burning.
Let it cool and be prepared to pig out on it royally!
Homemade Chex Mix Recipe Tips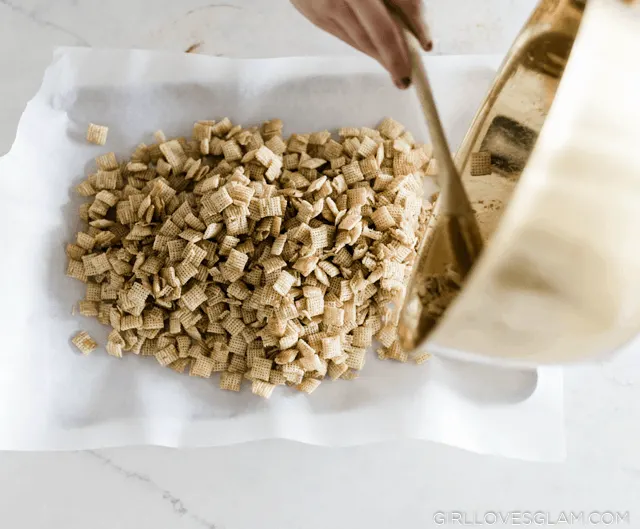 Make sure you do all of your prep work before jumping right into the recipe. The last thing you want to be worrying about is lining your baking sheet when you have a bowl full of coated cereal that needs to have sugar sprinkled on it.
Be adventurous! Try mixing in other ingredients. Once your Chex Mix has cooled, mix in some marshmallows for a whole new twist on this treat!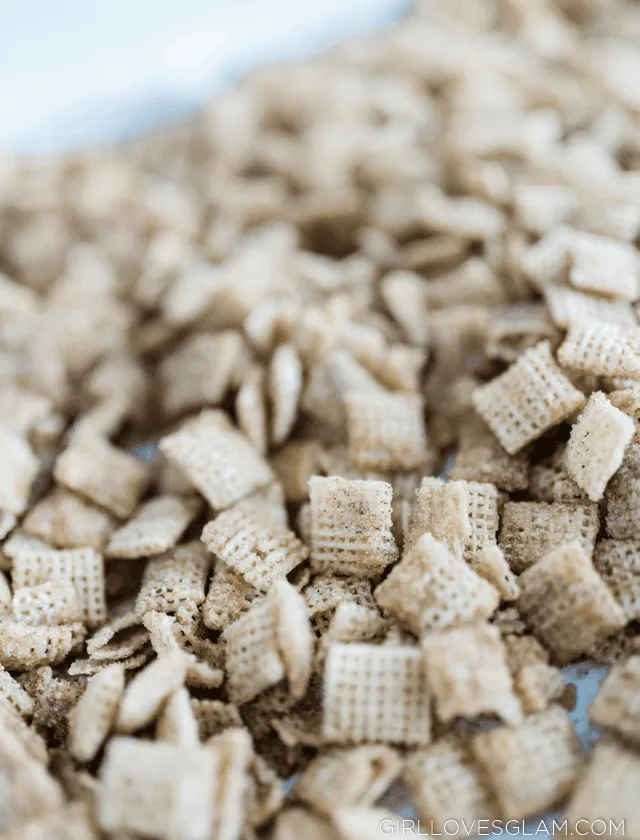 Enjoy every single bite! Fall is the perfect time to snuggle up in a cozy blanket, watch a good movie, and munch on some of this pumpkin pie Chex Mix goodness!