It shouldn't come as any surprise by now that I love stripes. I LOVE them! I have created a number of striped projects over the years, but the one that I keep coming back to are striped wreaths. I love them! I love having a different striped wreath for each season and holiday. It just feels right! This black and white striped Halloween wreath was meant to happen. Nothing screams Halloween to me more than classic black and white.
If you haven't ever made a wreath before, don't get too scared about making one. They are easy, fun, and typically cost a lot less to make than you have to pay for a finished wreath.
Halloween Wreath Supplies
To make your own Halloween striped wreath, you need..
I got everything at Michaels. This isn't sponsored by them at all. I just spent all of my money in one place to make it easier!
Straw wreath
Striped ribbon (I used three spools)
Black velvet leaves
Black and white pumpkin stems
White Christmas puffy stems
Black pom pom stems
Black flower stems
Hot glue
How to Make a Halloween Wreath
To get started, glue the end of the ribbon to the straw wreath and wrap the ribbon around. Keep wrapping until you run out of ribbon. Glue the next piece where the last one left off. Do this until you have wrapped the entire wreath with the striped ribbon.
Now for the really fun part… decorations!
For these wreaths, I always like to start with the more flat, bulky items that are basically there for a background. In this case, I used the velvet leaves. I love the texture that these leaves bring, but I didn't want them to be the main focal point of the wreath.
I glued the leaves to the bottom corner of the wreath to create a canvas area of where I would be putting the rest of my wreath decorations.
Next, I put in my larger items. I went with the pumpkins because I had multiple pumpkins I was trying to incorporate. I spaced them out throughout the black leaves and glued them into place.
After the pumpkins came the fluff. I added the flowers, pom poms, and puffs onto the wreath. I tried to keep them evenly distributed throughout the space.
Lastly, came the skeleton. I kept a little opening of where I would want to add him into the wreath, but wanted him to be layered on top of some of the more fluffy elements so I saved him for last.
Making your own Halloween wreath shouldn't be intimidating! It is such a fun, creative experience! I love how this one turned out. The lack of color was perfect for the holiday and black and white is always a good idea in my book!
If you are a black and white lover like myself, you are going to want even more great black and white Halloween ideas too! Check out these awesome black and white Halloween projects.
Black and White Halloween Ideas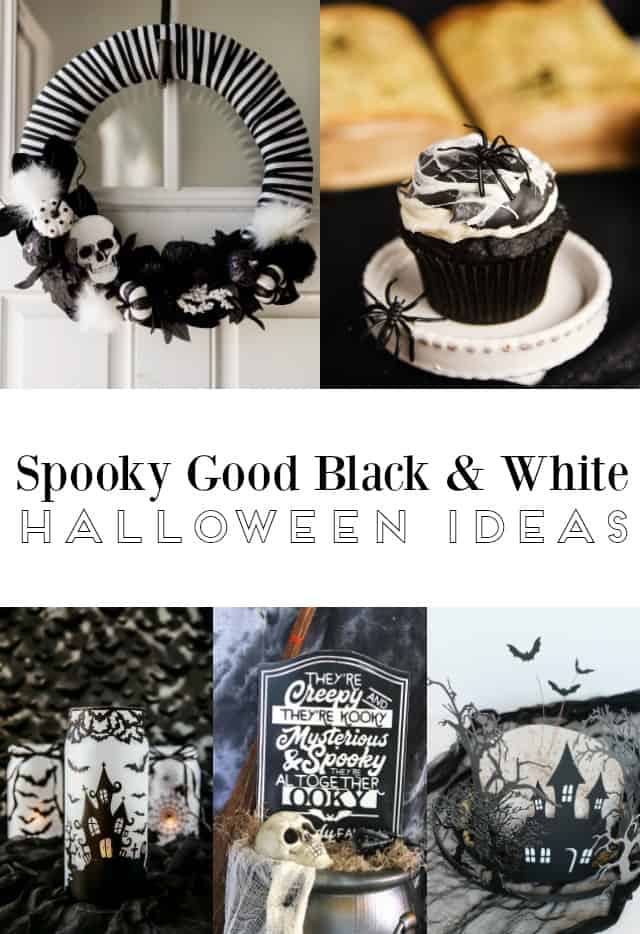 Black and White Halloween
What is your favorite way to decorate for Halloween?