As the week starts, I am pretty overwhelmed with feelings about closing on our house. There will be a new family moving in this weekend. I really am a total basket of emotions inside. I feel happy that the right person walked through our house so quickly. I feel relieved to be leaving the stress of home ownership for a little while while we rent. I feel sad to be leaving my family behind in Idaho Falls. I feel heartbroken to leave the beautiful memories that we created as a family by becoming first time parents in that house. I feel torn to leave all of my work in that house.
I can't help but think of that episode of Glee where they all sing their final swan songs to give a proper goodbye while representing themselves. I think it is only appropriate to do the same for my first-cutest-little-high maintenance-old-quirky house.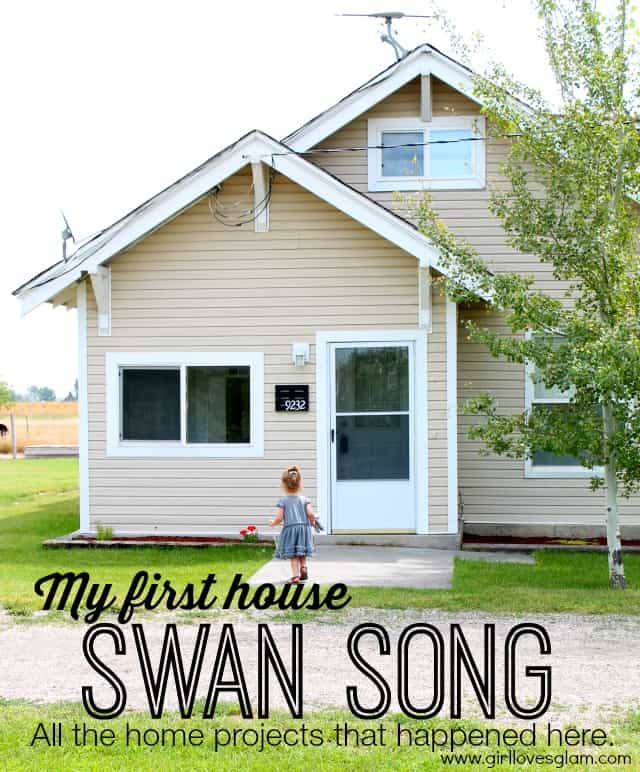 (Sorry for the lack of photos for this first part! Don't worry, the photos and projects that were documented come further down the post! Click on the photos to take you to each individual tutorial.)
We bought this house in January 2011. It was old, quirky, and very brown. All but two of the rooms in the house were brown. Those rooms were dark green and what my husband liked to refer to as daycare blue. The paint colors weren't our favorites, but we knew we could change them easily. I started with painting the daycare blue room a gorgeous celery green. It served as my craft room for less than a year before it was turned into our tiny little muchkin's bedroom. We had one room painted and many, many more square feet to cover.
Next came the bathroom that was full of thick, unpainted bead board. That was painted white and quickly became an adorable bathroom. It became even cuter when a crazy turn of events happened. You know those moments when you as a home owner think about the previous home owner and wonder, "What were they thinking?!"? Well, that happened when my husband and dad decided to change the wax plug on our toilet. When they took the toilet off of the floor, they found that under the peel and stick tiles in the bathroom was a gorgeous, black and white ceramic tile floor! Holla! That became our next project. We took the peel and stick tiles off and spend the next 2 days wiping the glue off of our tiles with paint thinner. I could go the rest of my life without smelling that horrible smell. In the end, it was totally worth it! I will really miss that tile floor.
The dark green room changed when I was pregnant. We knew we needed to have our bedroom closer to the nursery, so we moved our bedroom downstairs. I was in my first trimester of my pregnancy and wasn't supposed to be around any sort of paint smells so Dave took on that paint project himself. Bless his heart. He hates painting more than anything, but I appreciated him listening to his crazy pregnant wife who insisted on him painting it gray and yellow.
He decided he was willing to take on another project if I would do it with him, so we made ourselves an address plaque for our house. I love that it added a little personal touch to our home on the outside.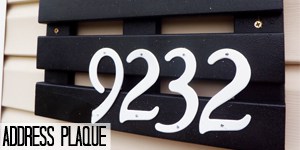 After I was past the stage of my pregnancy where I had to be ultra careful, I decided to take on my first BIG project. That was my kitchen table and chairs! I have sick obsession with stripes and bright colors. I knew I wanted my house to be a happy place and I wanted my kitchen table and chairs to really be a representation of that, so I chose to paint the table with black and quite stripes and paint each chair a different color. I have never regretted my choice to refinish this set.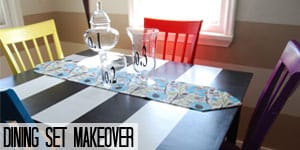 Later, I added stripes to the breakfast nook, and a super cute DIY geometric table runner too that really brought the whole space together.
I learned pretty early on that when you own a home, you get a lot more responsibilities with that… including housework. I was having a really difficult time finding a good system to keep me accountable for keeping my house in order. After a lot of planning, I finally created my organization board. It helped me stay sane while trying to keep my home a happy, organized place.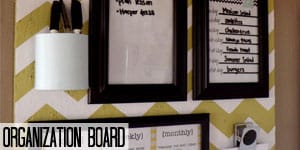 Throughout the years I found a few other solutions to keep my house organized too. They became essential parts of my everyday life.
When my daughter was just 12 weeks old, I attended a creative blogger conference where I took a stenciling class. I was immediately inspired to come home and take on another huge project… stenciling my tile in my enclosed patio. Not only was I going to do that, but I was going to makeover that poop brown room into something beautiful. It turned out exactly how I had hoped it would. After hours of slaving away on that floor, it was all worth it. That floor was one of the hardest things to say goodbye to.
There came a time in home ownership where I was fairly content. I knew that I wanted to do more with my house, but was happy enough with it that I didn't want to take on any huge projects. We actually put our house on the market a year ago. After 4 months and 70 house showings without a decent offer, we realized that it just wasn't in God's plan for us at that time. We knew we had done everything right to get the house ready, but it just wasn't our time to go yet.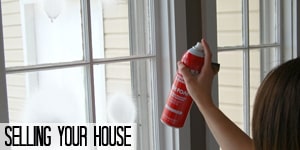 (P.S. We did these exact same things when we put our house up on the market this time and it sold in 6 days! These tips and the ones shared in the comments are crucial for selling your house in a timely manner!)
Once we took our house off the market, I decided it was time to take on a new project. If I was going to be living in this house, I was going to need to fall in love with it all over again. I took on the living room. I am sad to leave behind my most favorite paint color, but happy that most of my room makeover was removable and will be joining me in my new place. My house finally felt like a place I wanted to be again. It was happy, colorful, and modern.
A few months later, I was ready to give the kitchen a little update. I thought it would be a quick little kitchen update if I just painted my walls, put in a new sink, and added some hardware on my cabinets.
The problem was when I put the gorgeous new hardware up against my cabinets, it looked terrible! My ugly oak cabinets weren't worth worth of such pretty hardware. I knew I needed to go bigger. I needed to paint my cabinets. I got my paint and was all ready to start painting when I was given the news about my husband's new job. I couldn't just leave my kitchen without taking on this project! After sending my husband off to live in a new town, I took on my biggest project of all. With the help of an awesome mom who babysat nonstop for me, a dad who coached me through everything, some incredible friends who came and painted with me til the wee hours of the night, I was able to knock this project out in less than a week. It all came together so beautifully, I would find myself just standing in the kitchen staring at it. I got to enjoy it for about 3 weeks before my house sold.
I know that every little project came together to create exactly the type of home that I wanted to have. I finally had the happy, colorful home I had been searching for. I know that the family moving in is going to be able to create some really special memories there just like we were able to. Although this is an end of a pretty life changing chapter in our lives, this is just the beginning to so many cherished memories that are yet to happen.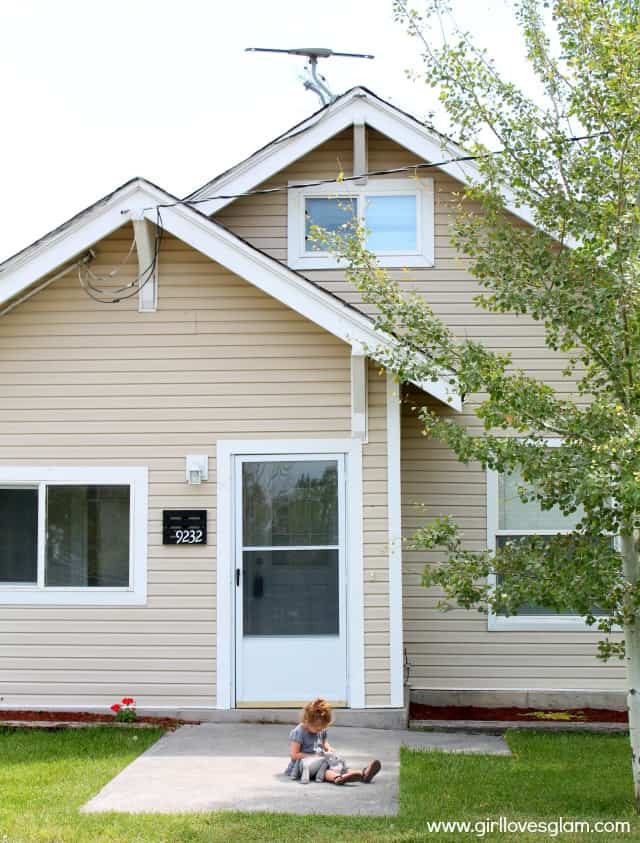 So this is goodbye little house. I will miss you. You will always be my daughter's first "sweet home" and will forever hold a special place in my heart.
The fat lady has sung. Your swan song is up. Time to take your final bow and close the curtains.