I am excited to introduce this month's bath bomb to you all! I know that we are all pretty ready for Spring to come, but this month's bath bomb recipe is inspired by the beauty of winter. Although it is cold, it really is such a beautiful time of the year when the white snow is covering every surface outside. I made these fun coconut peppermint "snowball" bath bombs for February. Obviously you don't have to put the snowflakes in them if you don't want a winter themed bath bomb because coconut and peppermint together are completely dreamy and should be enjoyed all year long!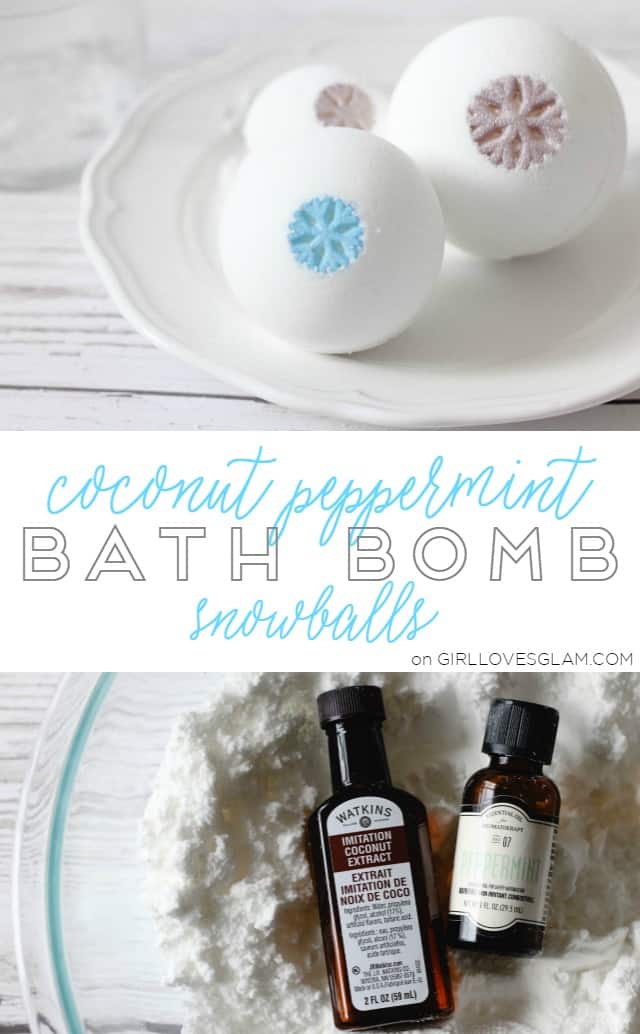 These bath bombs are little bits of heaven in the tub! Here is what you need to make them…
(affiliate links included)
1 cup baking soda
1/2 cup citric acid
Here is a great deal on a bundle with baking soda and citric acid together!
1/2 cup corn starch
3 Tbsp. Epsom salt
1 Tbsp. coconut oil
Witch hazel and a spray bottle for it to go in
10 drops Peppermint essential oil
1 1/2 tsp Coconut Extract
Bath bomb molds or Christmas ornament balls
Place all of the dry ingredients into a large bowl and mix together. Add coconut oil and mix with your hands. Squish the coconut oil and get it to mix with the entire mixture.
Add the essential oil and coconut extract to the mixture and mix together with your hands again. Be prepared to act quickly as you pour the ingredients in because your dry mixture will start to react to the wet ingredients.
Spray witch hazel into the mixture. Spray about 5 sprays at a time and mix it together.
Keep doing this until the mixture is mostly dry, but holds together. You don't want it to be too wet or the mixture will start to react and they won't work. If you accidentally add too much witch hazel, just add a little more baking soda. You also don't want the mixture to be too dry because the bath bombs won't stay together. This takes some practice, but over time you will know just when it is right!
Place one (or however many snowflakes you want) in the bath bomb mold. Make sure you put the colored side so that it will be seen when the bath bomb is done.
Pack the bath bomb molds with the mixture and push the two sides of the mold together. Place the molds in the freezer for about 10 minutes (or longer) and carefully take the bath bombs out of the molds.
These are SO fun to make! Once you start making bath bombs, you will wonder why you ever spent $8 on a LUSH bath bomb in the first place! I love being able to create any scent combination I want too!
If you want to see how to make bath bombs in video form, you can check out this video on my YouTube channel. It might help with any questions you might have!
Be sure to check out last month's bath bomb recipe and check back next month for another fun bath bomb recipe!