Photo Credit: Cliq Photography by Ann @ann_cliqphotography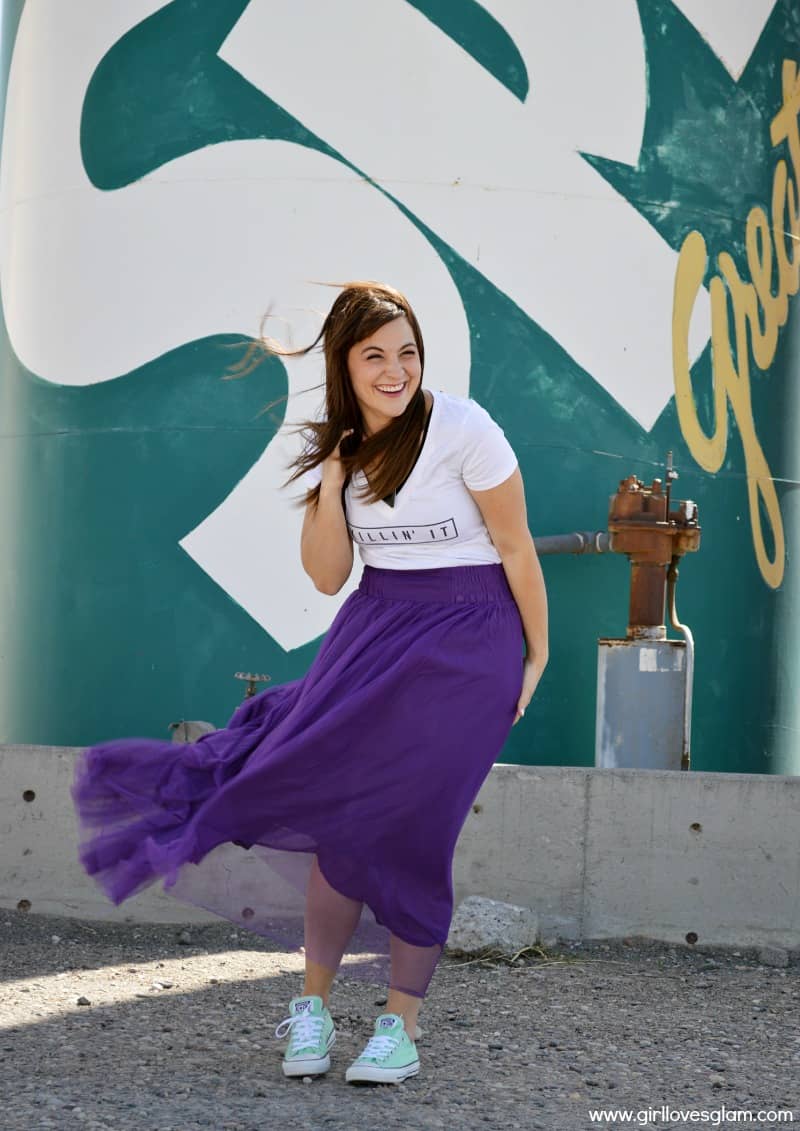 Have you ever been online shopping and you see something on the site and think, "Yeah, I could pull that off! Choosing this item is a great idea" and then it comes in the mail and you have a small freak out moment thinking, "What on earth will I wear this with? I am too old for this!"… No? Well it happened to me. With this skirt. When it came in the mail, it instantly looked like a tutu to me. Maybe that is because my daughter has a tutu type skirt that is the exact same color and fabric as my skirt. It hung in my closet for about 2 weeks. I didn't know what on earth I would wear with it.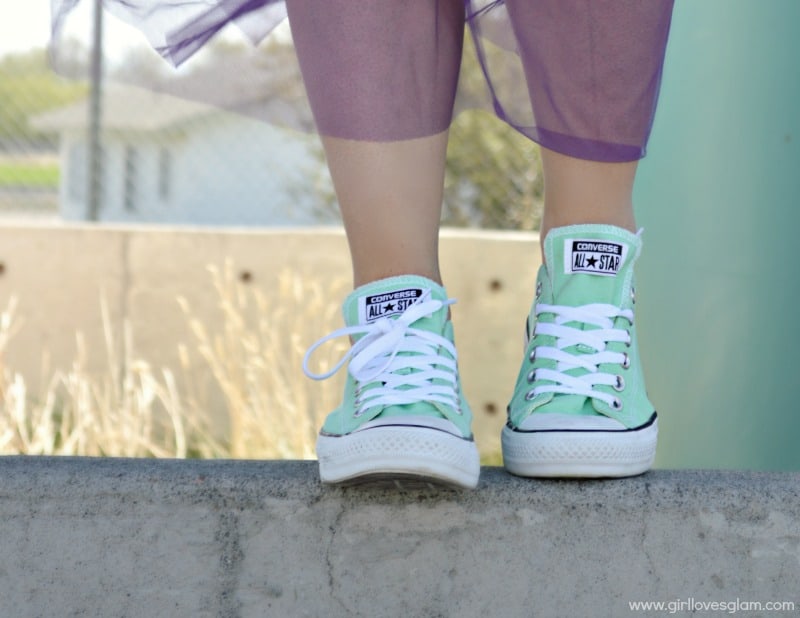 Then these mint green Converse shoes came in the mail and it dawned on me… Wearing a purple net skirt doesn't mean it is a tutu. It can be a fun, twist on the everyday outfit that I normally wear with a t-shirt. I knew this outfit was going to be pure perfection once I found the right tee.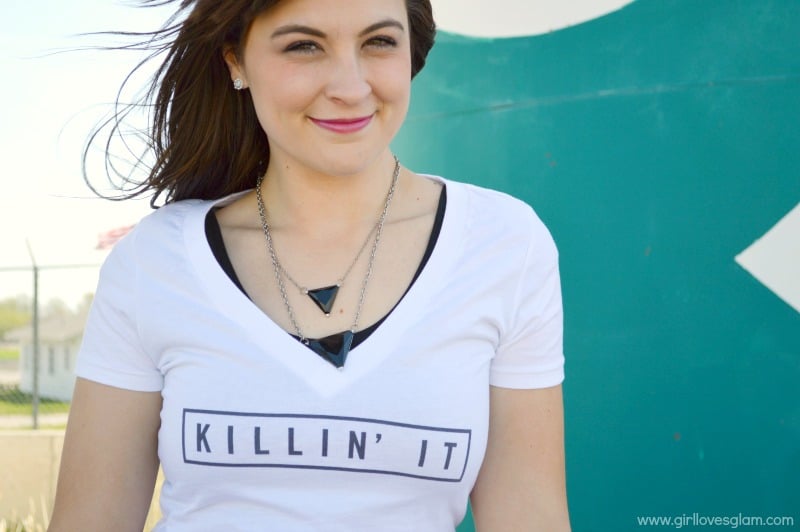 Bam! Now I knew I could pull off the tutu. I wasn't trying to be a fairy princess. I was literally killin' it.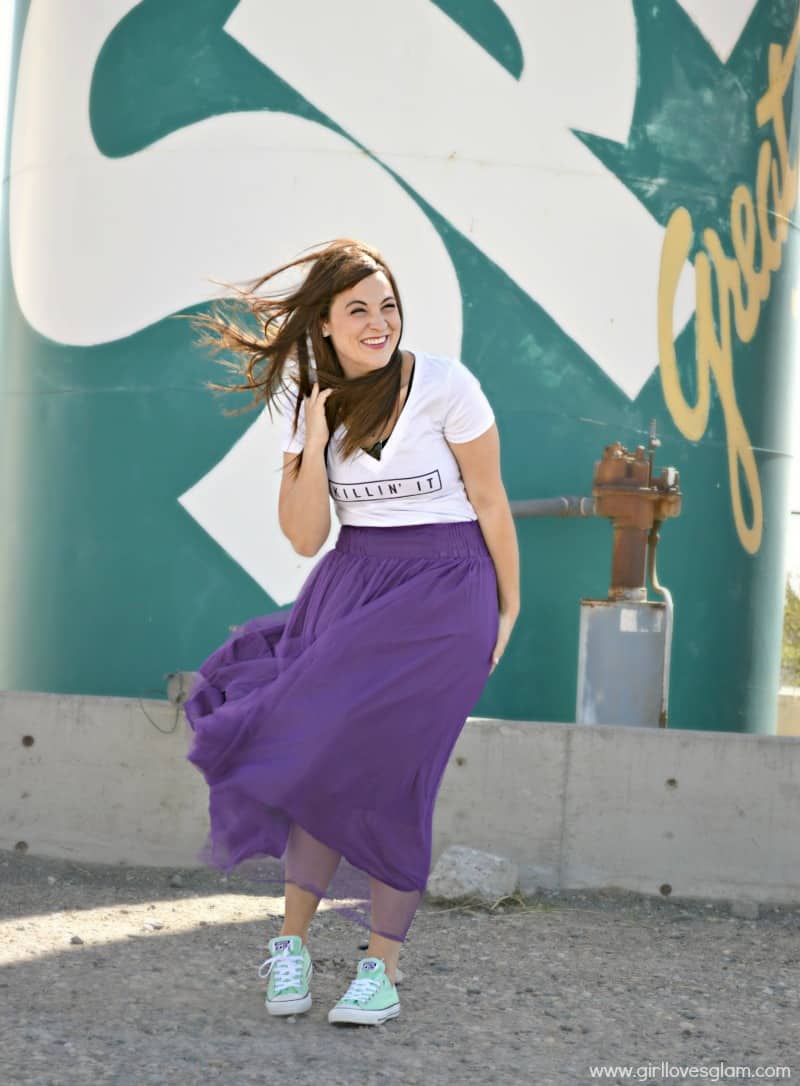 Then when I went to shoot what had quickly become my newest favorite outfit, the wind came. It came in a big way. Like a "it feels like a freaking tornado" kind of way. It was then that I realized that life is too short to take it too seriously. Life is meant to be fun. Life is meant to be a little weird. Life is meant to goofy. That is exactly what came through with this outfit and photo shoot in general and now I am grateful for that 50 mile an hour wind and the weird faces it made me make.
Shirt: c/o StyleLately | Skirt: c/o SheInside (Similar) | Shoes: c/0 Rack Room Shoes | Earrings: Kohl's (similar) | Necklace: Forever 21 (similar)
Now to tell you more about these fabulous shoes! Have you ever been to Rack Room Shoes? They are the bomb. They have really high quality shoes for great prices. They also have a rewards program that offers discounts and coupons and $15 in rewards for every $200 you spend. When you are buying shoes for the whole family, that can really add up to some major savings!
Another cool thing that Rack Room Shoes is doing, is they are looking for real customers to model their shoes! Rather than hiring professional models, they host an annual Models Wanted contest. They invite families to enter for a chance to win a trip to a photo shoot, and to be featured in their ads! Isn't that the coolest? You can find more information about them on their website!