After making Dave dress up as a Disneyland Churro last year, I let him have a year off of total humiliation. Our Mario Kart family Halloween costume theme allowed him to choose from a variety of characters. He chose his favorite character to drive with in the game, King Boo! The King Boo costume ended up being one of the most simple costumes to put together, which is an added bonus!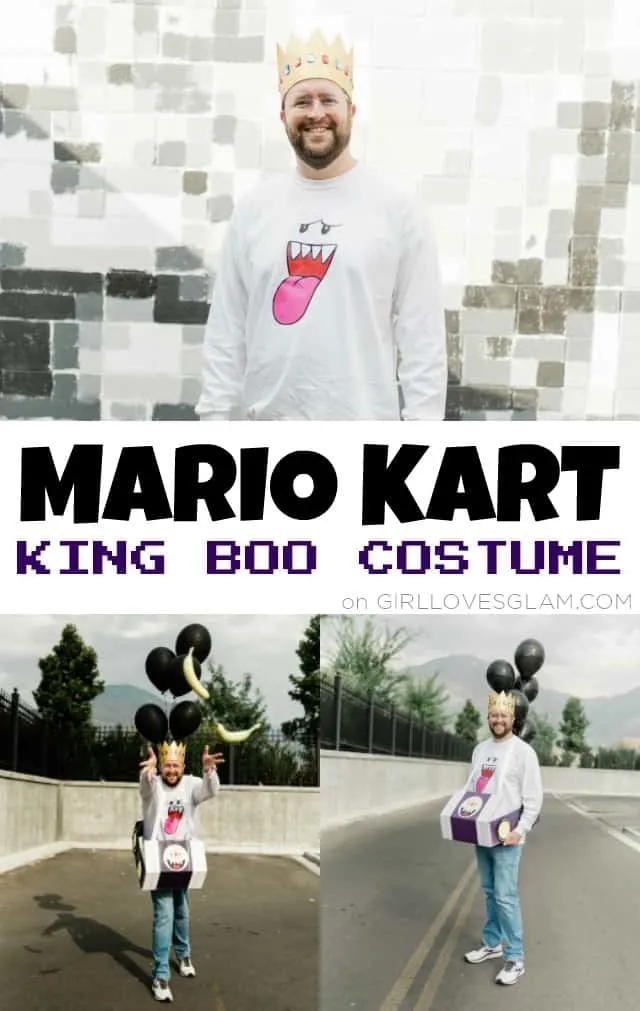 Another great thing about this costume is that it is easy and comfortable to wear. Dave appreciated that it didn't have loads of accessories to deal with.
King Boo Halloween Costume
To make the King Boo costume, you need:
Gold Glitter Craft Foam Sheet
Craft Jewels (I bought a tub of them at Hobby Lobby)
Black, Red, and Pink Heat Transfer Vinyl (use code girlglam for 10% off)
Weeding Tool (use code girlglam for 10% off)
Multi-Use Paper (use code girlglam for 10% off)
Silhouette Cameo (or other electronic craft cutting machine)
Iron
Hot Glue Gun
Scissors
How to Make a King Boo Costume
Making King Boo's costume is really simple. First, you will go into your Silhouette Studio software and pull up the SVG image of King Boo. You will need to delete or use the eraser tool to get rid of King Boo's body and crown, leaving only the face. Make the face the size you want it to be, then mirror the image. Cut out each color of vinyl of the sections that you need cut. The mouth outline and the eyes are black, the inside of the mouth is red, and the tongue is pink.
Next, use the weeding tool to weed out any excess vinyl. Place the black pieces on the shirt first and iron them on. Use next, lay either the red or the pink vinyl down. Place the multi-use paper over the exposed vinyl that you have already ironed on. This helps protect it from melting onto your iron. As you iron each layer, press down firmly with your iron and iron for roughly 30 seconds. After all of the vinyl has been ironed on, I like to place the multi-use paper on top of all of it and iron it all together one last time.
To make the crown, measure the size you need to go around the head and cut a piece of craft foam to fit. I cut one large piece of craft foam in half and then glued the two pieces together to create one long piece and cut it down from there. After I got the correct size, I cut the zig-zag pattern on top. Then I pulled out my glue gun and glued the gems on. Once it was dry, I glued the entire thing together, to the size I needed it to be. Really easy!
King Boo isn't complete for Mario Kart without his car! Check out my post to learn how to make Mario Kart cars out of boxes!
If you missed my Mario costume for our Mario Kart family costume theme, check out that post as well!
Family Halloween Costume Theme Ideas
Now that you have seen this year's theme, don't forget to check out our family Halloween costume themes from years' past!