Laundry is one of my least favorite household chores. It is never ending! But the thing that makes laundry more tolerable is having a beautiful space to do laundry in. I gave my laundry room a quick face lift and it made a world of difference. I LOVE my laundry room now. It is all thanks to this fun laundry room accent wall!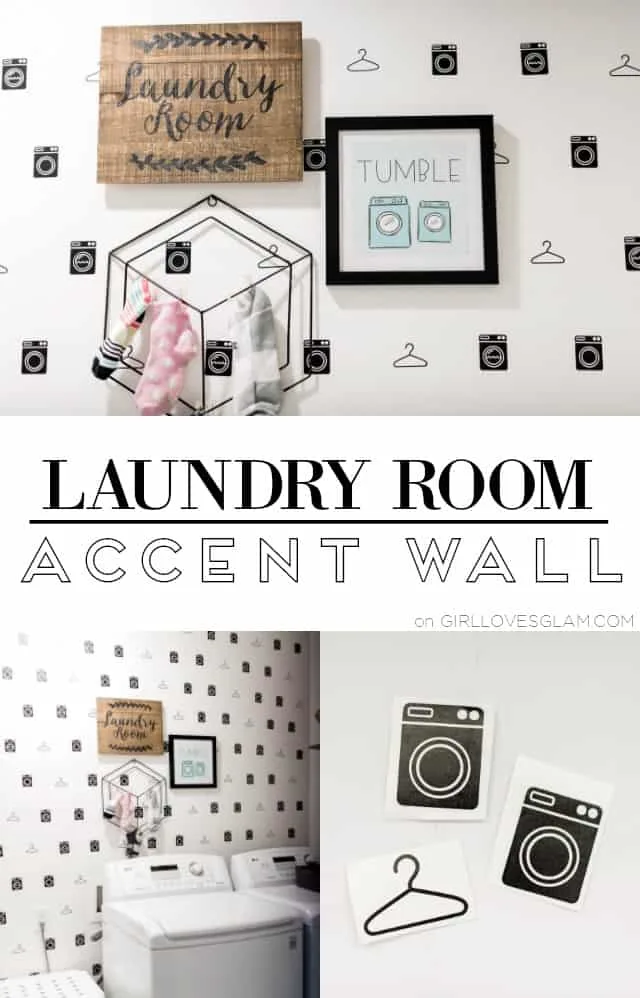 The best part about my accent wall is that it doesn't take long to create at all. I wanted to create a space that was modern but also a little quirky. These simple laundry symbols were just the right thing for my space.
Laundry Room Decor
To create this laundry room accent wall, I used…
Black removable vinyl from Expressions Vinyl
Silhouette Cameo Use code GLAM for discount!
Laundry Wingding Font from Silhouette Store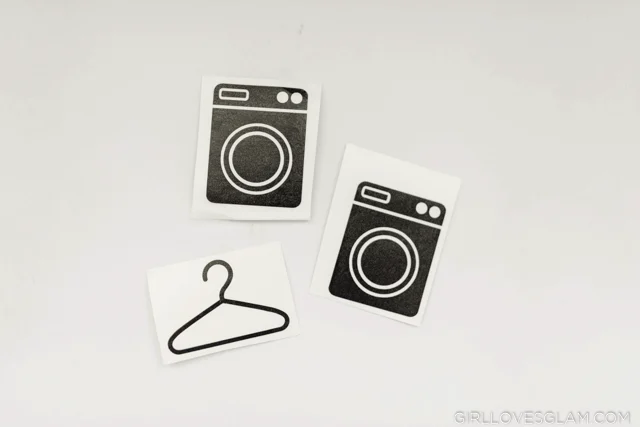 How to Make Vinyl Decals with Silhouette Cameo
Creating the laundry room decals were really easy! The Silhouette store has thousands of designs to choose from, including lots of wingding fonts. I stumbled upon this laundry wingding font that had tons of simple graphics that were just right for my design. I wanted to keep it pretty simple so I just went with a washer, dryer, and a hanger.
I made them all be roughly 3 inches wide, filled up an entire page with all of the designs, and cut them out using my Silhouette Cameo. I cut them on black removable vinyl. Once the vinyl was all cut, I weeded out the extra pieces that I didn't want, using the weeding tool. If you don't have a weeding tool, I can't recommend it enough! It is a total lifesaver. The pointy end makes it so easy to pick up the extra pieces of vinyl you don't want.
Once the vinyl is all weeded, the transfer tape goes on and the decals can be cut into individual pieces. Pretty dang easy!
How to create a vinyl accent wall
I have done several vinyl accent walls that have the same basic feel to this one. I have learned some tricks along the way and hopefully they will help save you a little time and heartache.
The first thing is to start from the top of the wall and work your way down. It really helps if you have a laser level. This isn't a totally necessary tool, but it is really helpful! I like to place my first piece of vinyl in its place and then put the laser level on so it shoots right through the middle of it onto the rest of the wall. That way, I only have to measure out how far apart to put my decals. I don't have to worry about them not being straight.
I recommend doing a few different patterns that you can switch between as you go down from line to line, so you don't have too many of the same designs touching each other when you look at the design as a whole.
Work your way down row by row. You will be surprised how quickly this all comes together. Also remember that every piece of vinyl doesn't need to be perfect.
When you take a step back and see it all come together, you will be giddy! I absolutely love seeing the vinyl all come together to create such a fun look. The possibilities are endless!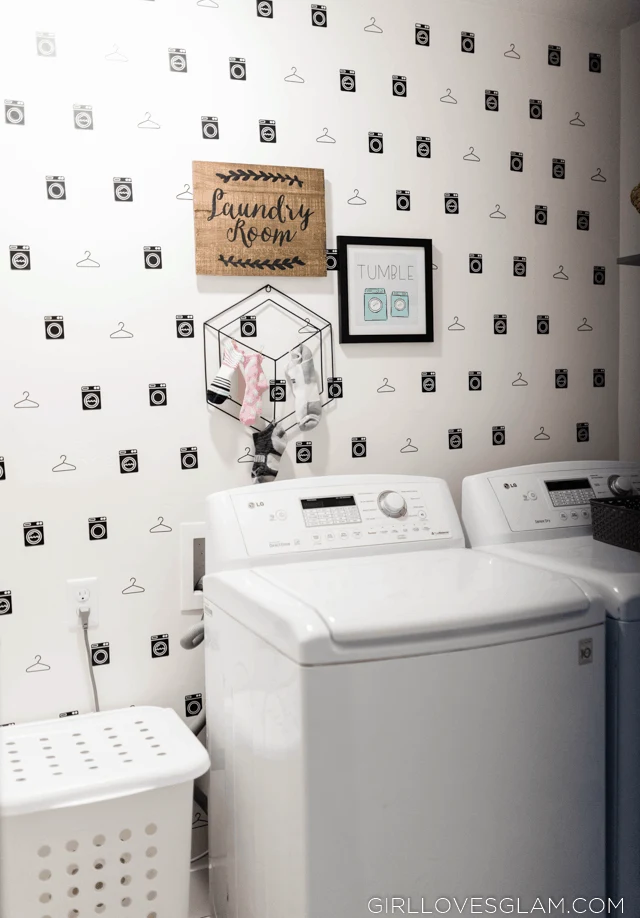 Decorating an Accent Wall
The trick to decorating an accent wall like this is keeping things pretty simple. There is so much going on with the vinyl that you don't want to try to put too much on the wall to compete with it.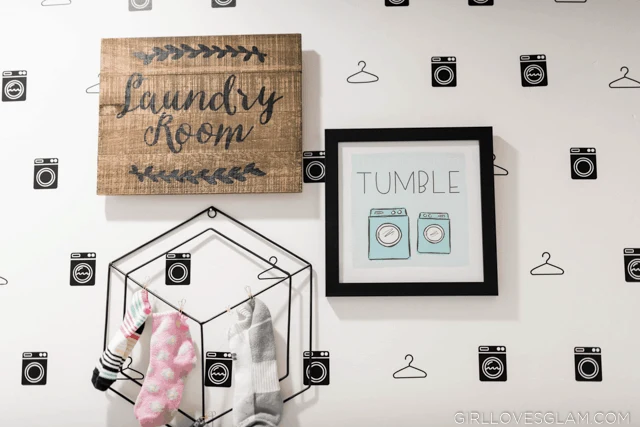 I found the Laundry Room and the Let's Get Ready to Tumble signs at Hobby Lobby. I felt like they were great ways to bring in a little more depth to my laundry room, without really competing with the rest of the space. The sock hanger is actually just a picture hanger that I got from At Home. I loved the geometric design and that it already came with clips to put my missing socks on!
Overall, I have been really happy with how this little laundry room came together. It (almost) makes laundry enjoyable! I no longer feel like I need to have my laundry room door shut at all times. I enjoy keeping my laundry room open, so I can take in this cute wall!