This post contains affiliate links.
Another move brings on another office space to design. I really missed leaving my old office. It was by far my favorite room in our townhouse, but I was excited to design another space in a new house. I wanted it to still feel like my old office in some ways, but a new space at the same time. I have always been in love with the Kate Spade bow print and wanted to use that as my inspiration for my office.
What was once an ugly space full of random boxes, is now a space where I feel like I can be productive and creative.
I still wanted to put my own spin on the bow wall by adding the lips to the wall. I loved having the random lips in the triangle wall I did in my last office, so it just made since to add them to this wall too. The bows and lips are all made with indoor vinyl from Expressions Vinyl. I cut them out to be about 3.5 inches long using my Silhouette Cameo. I got the bow and the lip designs from the Silhouette Store, so I didn't even have to design any of it. I just put the size I wanted, inserted the vinyl, and cut away!
When applying it, I got out my laser level and made it shoot the laser across the wall, so they would all be even. I used a tape measure to make sure they were all spaced apart evenly. It looks a lot harder than it actually is! I was able to get all of the vinyl on this wall in just about 2 hours, with interruptions!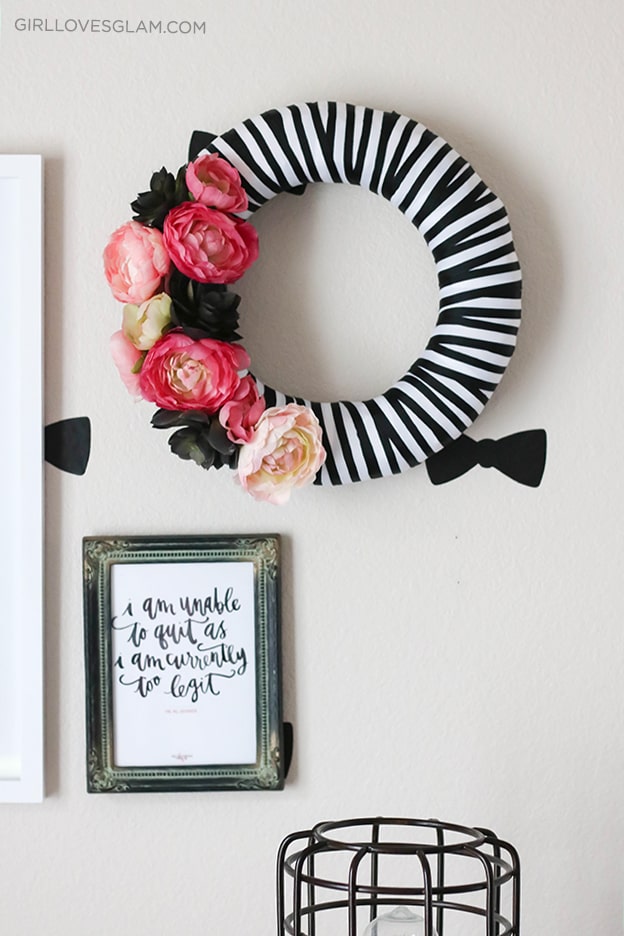 This wreath is probably my favorite decorative piece in this office. It is basically perfect in every way. I posted a full tutorial for my stripe and floral wreath that you can find here as well. I think it is important to make sure that the items in your space really represent who you are. I love incorporating quotes into my decor that I know wouldn't work for everyone, but they are perfect for me. This MC Hammer quote is a perfect example of that. It is super quirky, but I love it!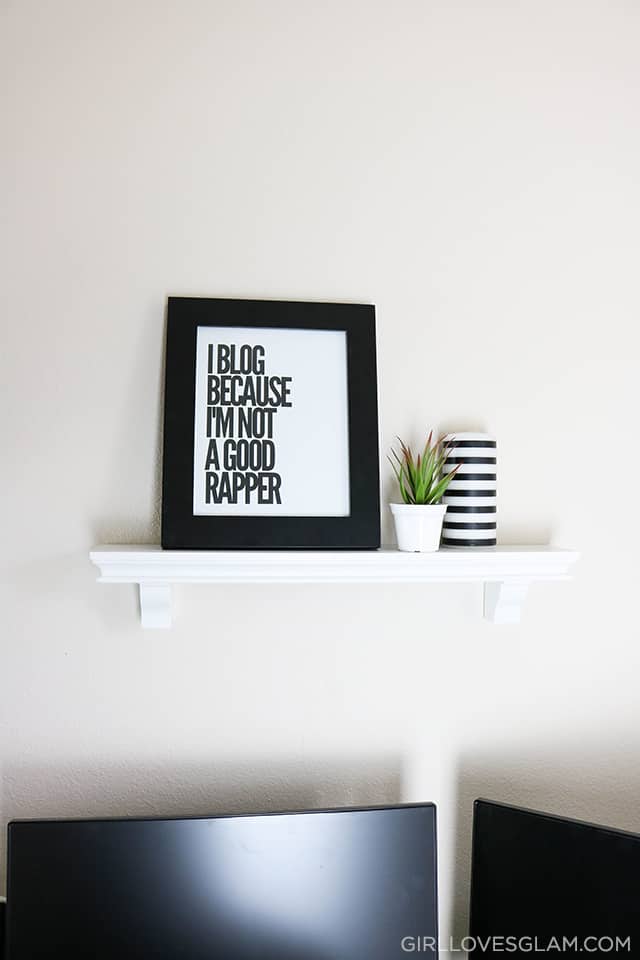 Speaking of quirky quotes, I once again put this quote about blogging because I'm not a good rapper. I honestly have no idea what this is supposed to mean, you guys. It was on an Instagram shop and as soon as I saw it, I knew that I needed it. If you have been a reader for a while you already know this, but my husband was a rapper when we met. The two of us would tour on the weekends while he would perform and I would sell his merchandise at the shows. I can't rap but I can blog, so this quote is perfect for my office.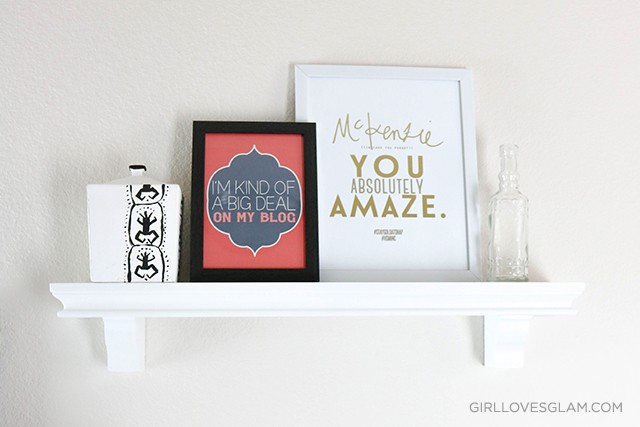 The last quotes in the office are these two. I got the quote about being a big deal on my blog at my very first Snap Conference that I went to in 2012. I absolutely loved it because my blog was so teeny tiny at the time and I thought it was hilarious. It reminds me of just how far I have come since 2012. The other quote came from Heidi Swapp at Snap Conference 2015. I love that it makes me feel special and that it was personalized from the one and only Heidi Swapp!
More of the funny quirks about my office include Plush Jimmy and my Justin Bieber pillow. They go along with the color theme of the office, but they help add a little more personality to the space. If you don't know who Plush Jimmy is, go check out his Instagram account. He travels all over the place! The JB pillow came last Christmas when my friend thought that Plush Jimmy needed a friend. I'm glad they have each other!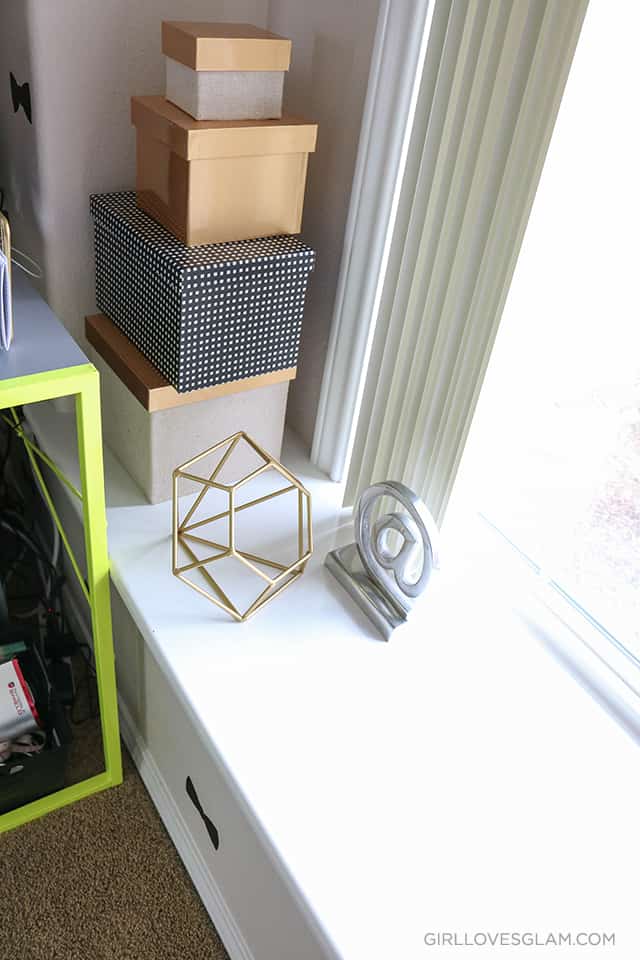 I love having this window seat. It is the perfect little place for my daughter to come hang out with me while I get some work done. I use this back corner of it as storage, but was able to find some fun boxes to hide the face that they are actually boxes full of random papers and pictures.
Because I do need my office to be functional, the desk area isn't perfectly amazing. It is functional and that's what I need. That's why I tried to focus on making the walls as inspired as I could. We are also renting this space, so I couldn't change the color of the walls or make too many holes in the walls, so most of this is held up by Command Strips and Monkey Hooks. They are magical things!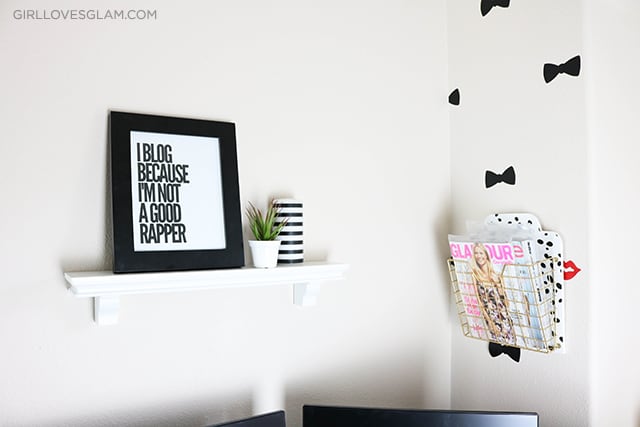 I hope that I can inspire you to make the most of the space that you have and to make your home your very own! Don't do what you think is the most popular, just do what fits your personality!
If you design a space that feels 100% you, you will feel inspired to just be your best self there.
You can find my office featured on Shutterfly's 75 Inspiring Home Office Ideas page, where there are some really incredible spaces featured. Make sure you go check out all of these office designs and be inspired to create your very own space.