This post contains some affiliate links.
Ever since we moved, I have wanted to tackle the project of decorating my daughter's room and it just kept not happening. It is so unlike me to be living somewhere for 6 months now and not have almost every room decorated by now. Thankfully, I had a very persistent 4 year old who reminded me (often) that I needed to decorate her room! It is finally finished and it is now my favorite room in the whole house! We are renting the house that we are in, but I think it is important to make every house we live in feel like home.
The transformation wasn't enormous, but it has made a huge difference for us because it is a place that we want to be to play, read, and just hang out together as a family before bedtime. This is what it was like before.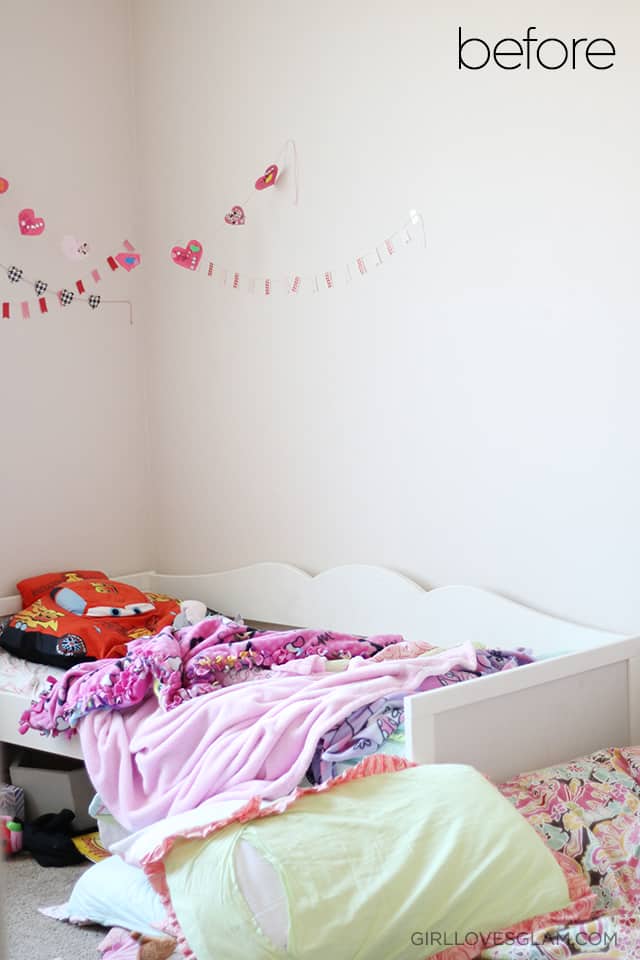 It was constantly cluttered and we rarely hung out in there because there was so much stuff everywhere. We also didn't open the blinds very often because we never spent time in there, so it always just felt like a dark little hole in the house.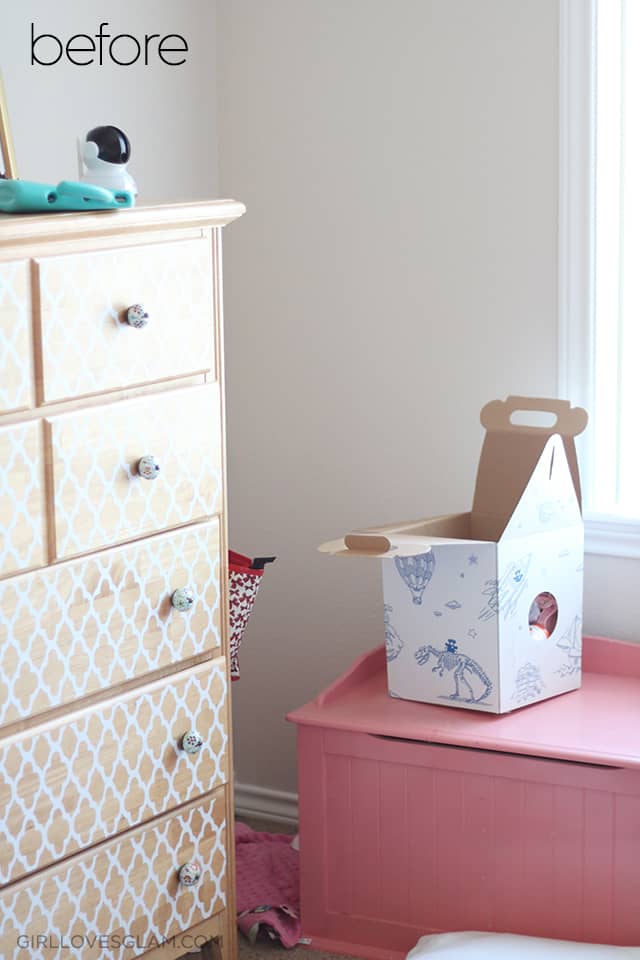 I took inspiration from a few different places when I was designing her room. The color scheme was taken from her bedding, which we are totally in love with. She has the Beddys bedding that zips up the side. I love that she can easily make her bed and that the bedding looks nice! She recently saw an advertisement for the cheesy As Seen on TV copy cat ideas that look like giant sleeping bags with cats and dogs on them and she thinks she needs to "upgrade" to that, but we'll be sticking with our Beddys! Beddys doesn't currently offer bedding for toddler beds, so I just ordered a twin size and we tuck in the back side of the bedding so it fits her bed. I am glad we did it this way because we will be able to use this bedding for a long time, even after she upgrades to a bigger bed.
I knew I wanted to give her wall some color. She wants pink walls in her room, but we can't paint in this rental home so we had to come up with another solution. I took inspiration from my triangle and lips wall I had in my office in our last house and decided to give it a girlie twist. I told Harper that we were doing polka dots in her room and let her choose the two other designs to add to it. She instantly chose tiaras and dresses… then she added shoes, rings, necklaces, etc. It took some convincing that we couldn't do all of those, but she finally decided that just the tiaras and dresses would work!
This wall was created out of indoor vinyl that I got from Expressions Vinyl. I cut out circles, crowns, and dresses on my Silhouette Cameo. Both the tiaras and the dresses are images that I found in the Silhouette Store. All of the designs are around 2 1/2 inches. After I cut everything out, I got started on the wall!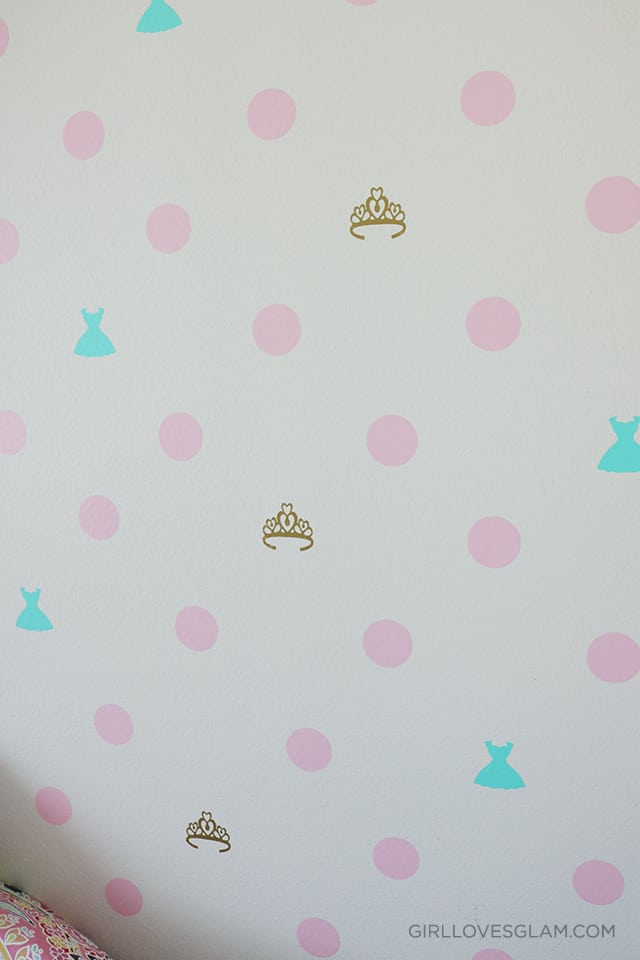 I used my laser level and shot a laser line across the room so I could make sure all of my dots, tiaras, and dresses were straight. I used that line to keep them straight and used a ruler to help me space them apart correctly. They are all spaced 12 inches apart. When I would come to the next line, I measured 6 inches down from the center of the previous line and that is where I started the next line.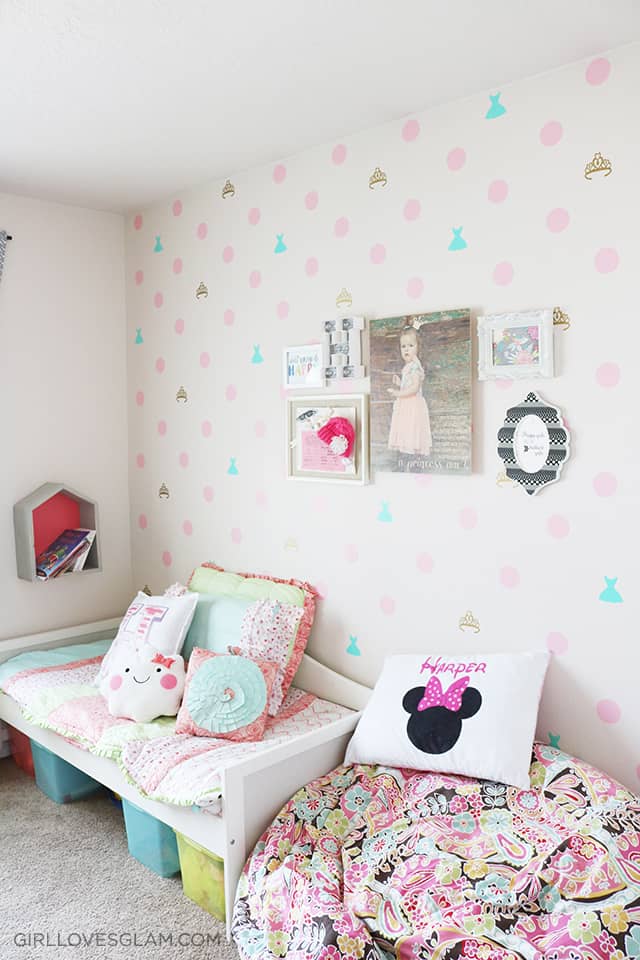 This wall has become a huge hit! I love how it ties in everything together.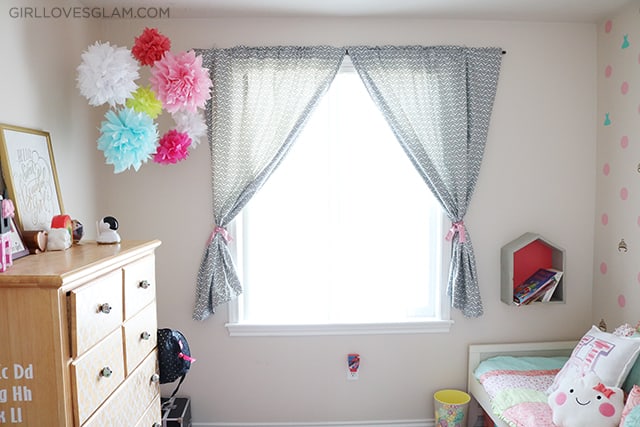 Believe it or not, everything in this room is held up by Command Strips. I am obsessed with Command Strips and love that I don't have to damage my walls, especially while we are renting. Command should really be sponsoring this post because I basically kept them in business with this bedroom! The curtain rod is being held up by two clear Command hooks and the curtains are pulled back by two metal Command hooks. I used clear Command hooks to hang the tissue pom poms. The book shelf is even held up by several Command picture hanging strips! You CAN decorate your rental home without damaging your walls!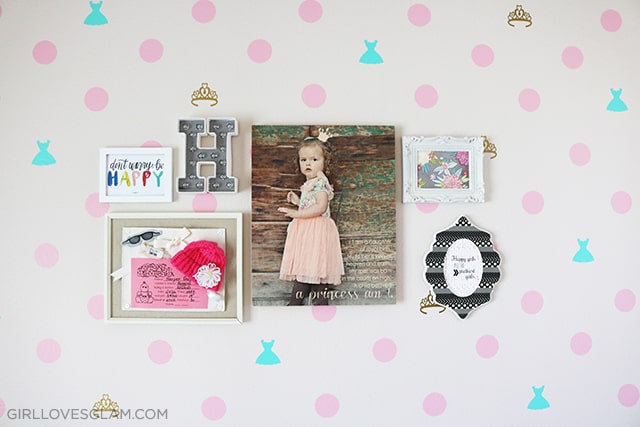 The gallery wall is no exception to the Command Strips. All of it is held up by Command picture hanging strips. I told you that Command needs to sponsor me! I may have an addiction. I love how simple this little gallery wall is. I wanted to add a little something to the wall with all of the vinyl so that it wouldn't look quite so busy. Adding this simple gallery wall kind of broke up the busyness of that wall.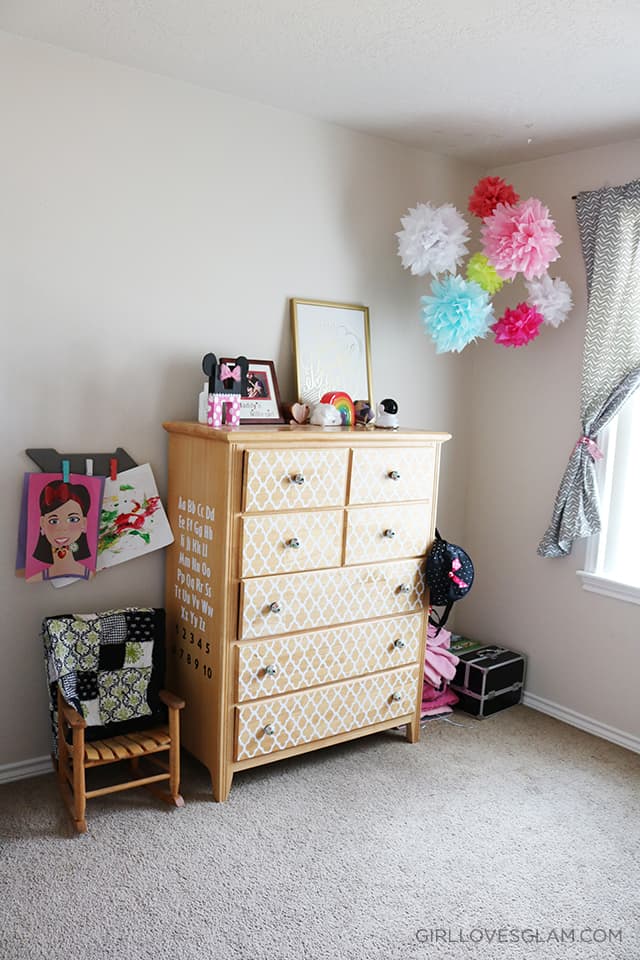 On the other side of the room, she has her dresser, art display, and little reading nook. The ABC's and design on the dresser are all done with vinyl as well! You can find the tutorial for them HERE. The art display has been the perfect place to put all of her creations, without having them take over our entire house. You can find a tutorial for that HERE.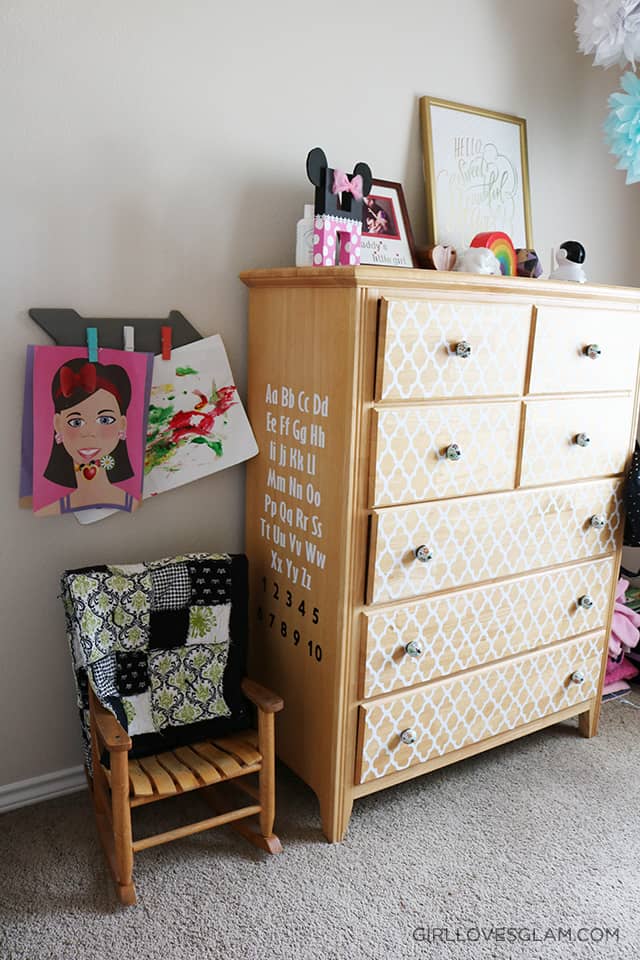 She spends a lot of time in her little rocking chair. She loves to read there and practice her ABC's. I think having spots that your kids can know they can sit and enjoy books is really important!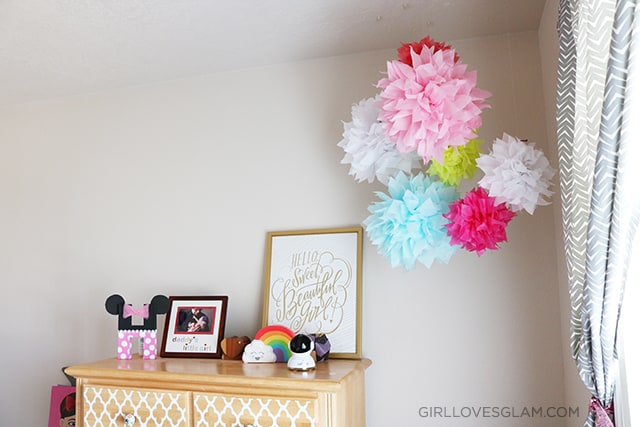 I tried to keep her dresser relatively clutter free. I have found that is kind of hard when it comes to decorating for a 4 year old because they love clutter! We had to have some serious compromise, but involving her in the decorating process was important because I know she will keep things the way they are, instead of trying to add more clutter to it constantly! Adding the tissue pom poms to the corner was the perfect way to bring the color from the other side of the room to this side as well to tie it all in.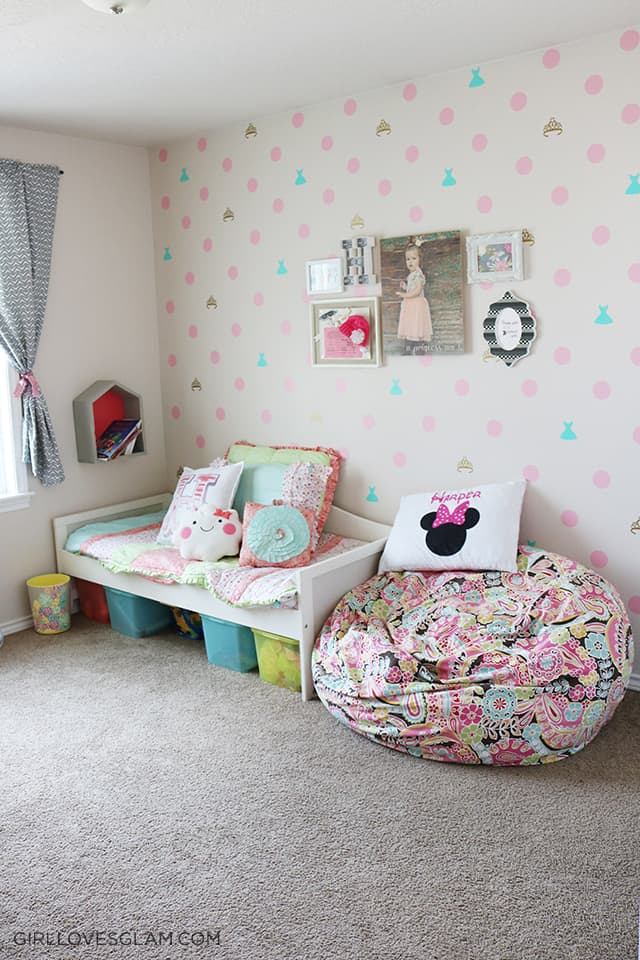 We decided to get rid of the big, pink toy box that was in her room before. That toy box was basically the place where toys went to die. It was where the toys that didn't really have a home were put and they were all forgotten about in that giant box. We found cute, colorful totes at Target that fit perfectly under her bed. We organized the toys that were in the toy box and put them in the totes instead. She knows exactly what types of toys are in each box and they are no longer lost and forgotten!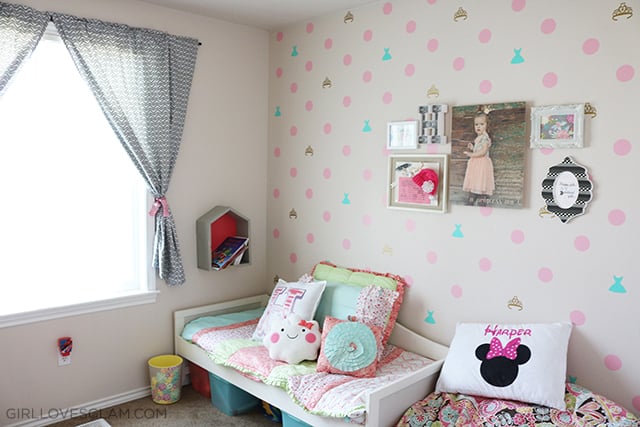 This little room has become a huge source of joy in our home now! I hope it inspires you to go create a happy room too!