Several years ago, I saw a tutorial for a damask pumpkin that I totally fell in love with. As soon as I saw it, I knew I had to make one of my own. I did and loved that pumpkin for years, but now damask isn't quite my style anymore. That is why I knew I needed to make a new Mod Podge pumpkin, a floral pumpkin!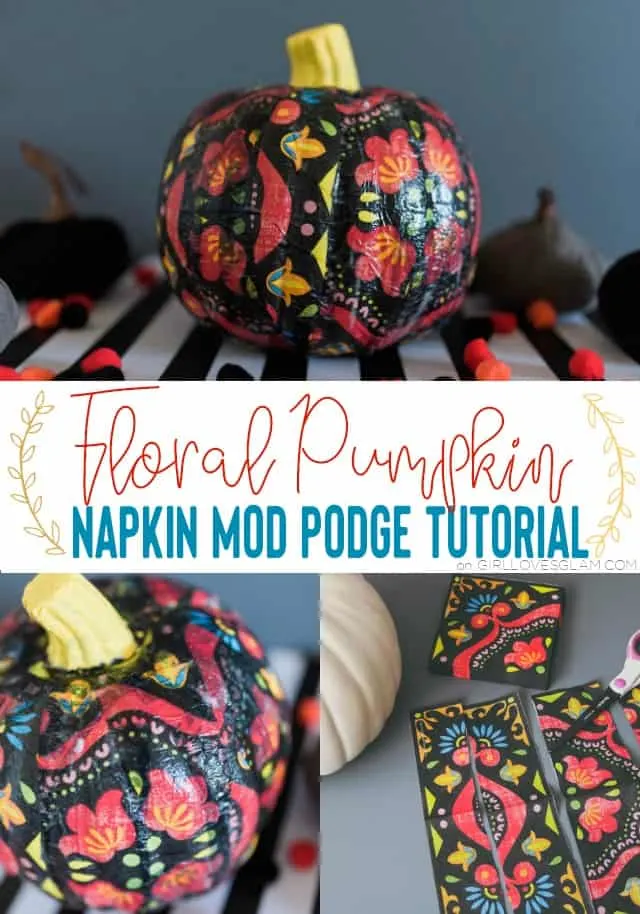 I love how bright and fun this floral pumpkin is! It reminds me a little of the Day of the Dead, which I also really love! This floral pumpkin is really easy to make and the best part is that you can customize it to be whatever pattern you like. If you want stripes, damask print, flowers, polka dots, etc. The possibilities are endless! Here is what you will need to make your own…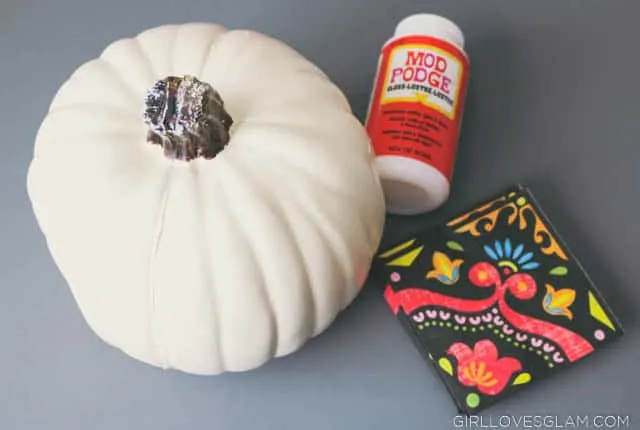 Floral Pumpkin Supplies
-Craft pumpkin
-Package of napkins (this is where you can find the print you like. I loved this floral print I found at Hobby Lobby)
-Mod Podge
-Scissors
-Paint for the stem
-Sponge paintbrush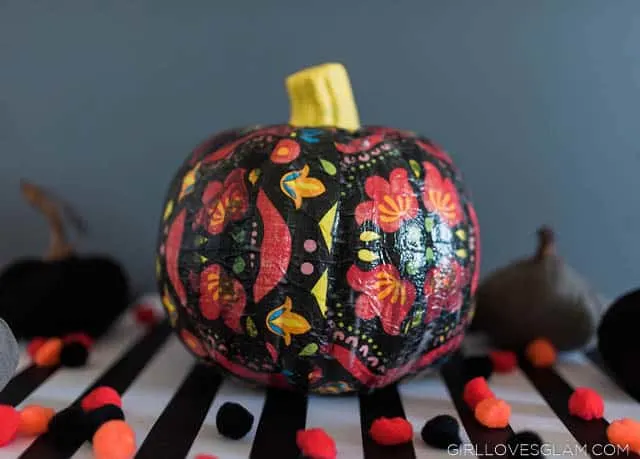 How to make a floral pumpkin decoration
First, cut the napkins into strips. Keep them about 1-1 1/2 inches wide.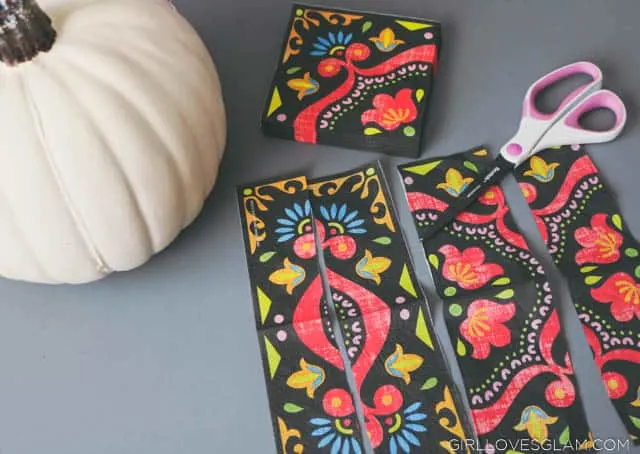 Next, spread Mod Podge on the pumpkin and lay a strip of the napkin over it. Lightly press down on the napkin to stick it to the Mod Podge. Continue this step, layer by layer. Once you have a little section of the pumpkin covered, go over the napkins in that section with a healthy dose of Mod Podge to really keep it all into place.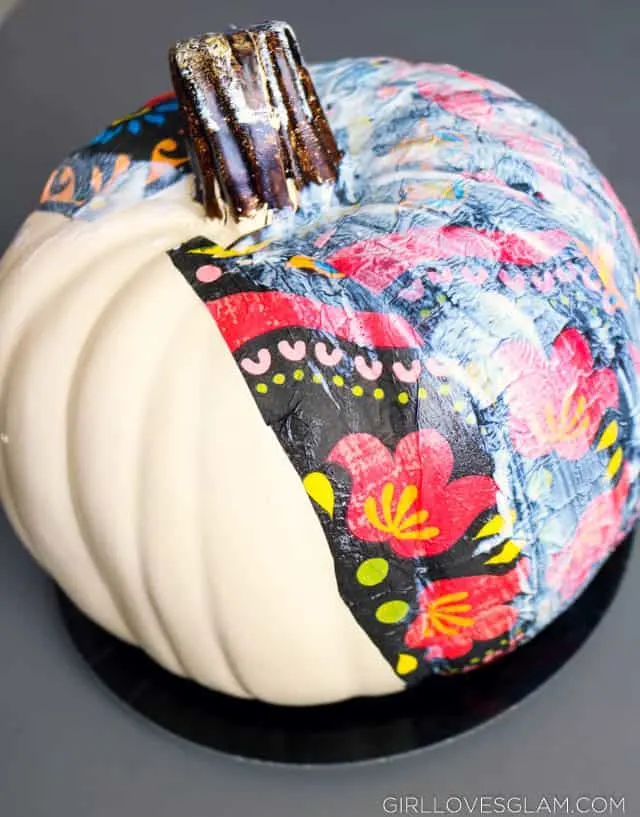 Continue going around the pumpkin, until you have covered it in the napkins. Allow it to dry completely. I sat mine on the stem and put some small things around the stem to try to hold it upside down, so the bottom of the pumpkin wouldn't dry and stick to the plate.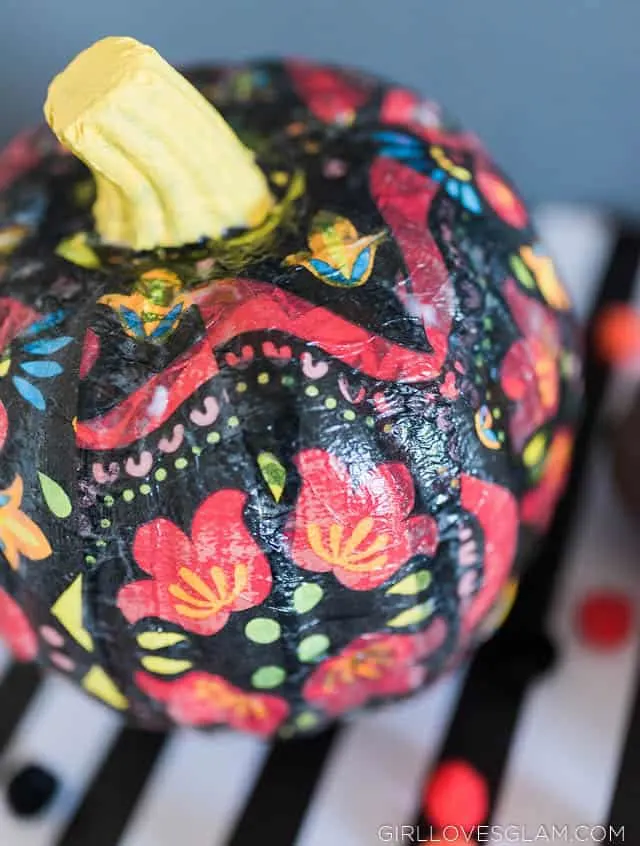 After the pumpkin has dried completely, paint the stem the color of your choice! I just love how the yellow pulls out all of the yellow in the napkins and brightens up the entire project.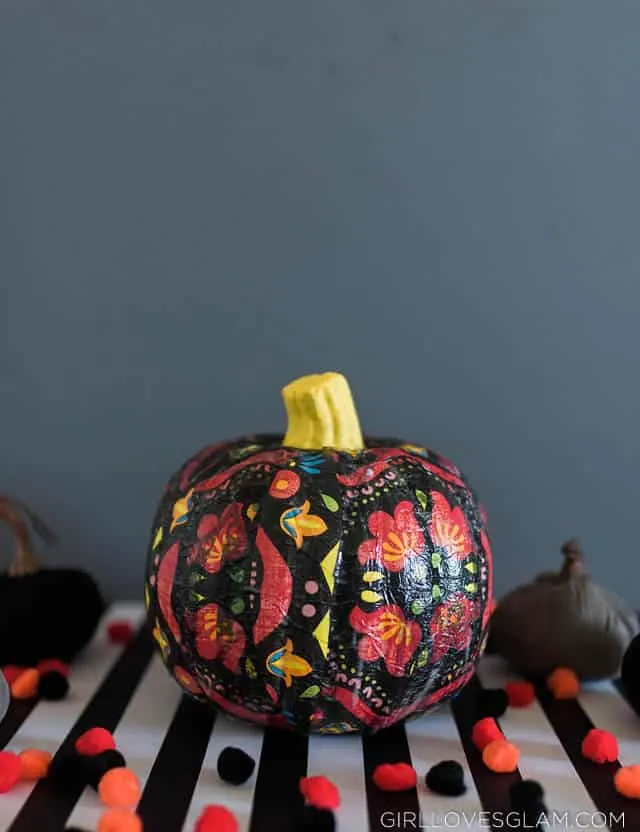 Once the paint has completely dried, your pumpkin is complete! I just love that this tutorial can be used to suit any particular style. I want to find more floral napkins to make a whole pumpkin patch of floral pumpkins! I also think this will look adorable next to my bright confetti pumpkins or my yarn and eyeball pumpkins!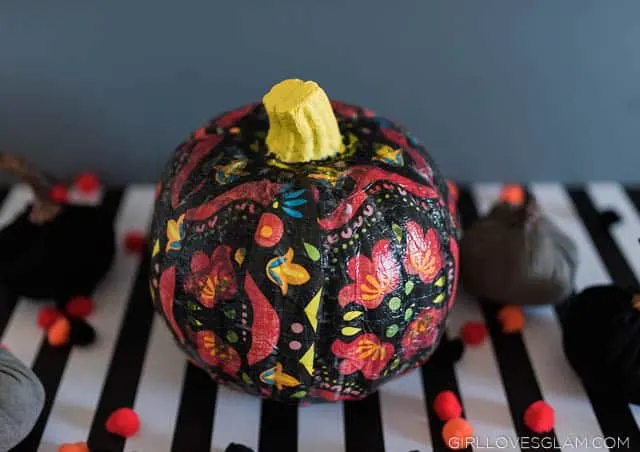 It is amazing how many things you can make with Mod Podge! I just loved these Halloween potion bottles and glowing Jack-o-lantern mason jars!
Do you like to make your own Halloween decorations?