Halloween parties are in full swing and there is no better way to socialize than over fantastic food. When you are surrounded by great company and delicious food, you are almost guaranteed a hit when it comes to throwing the perfect Halloween party. If we are being completely honest with ourselves, Halloween is more about the dessert than the actual meal. Focus on a fun dessert that will bring your party guests together!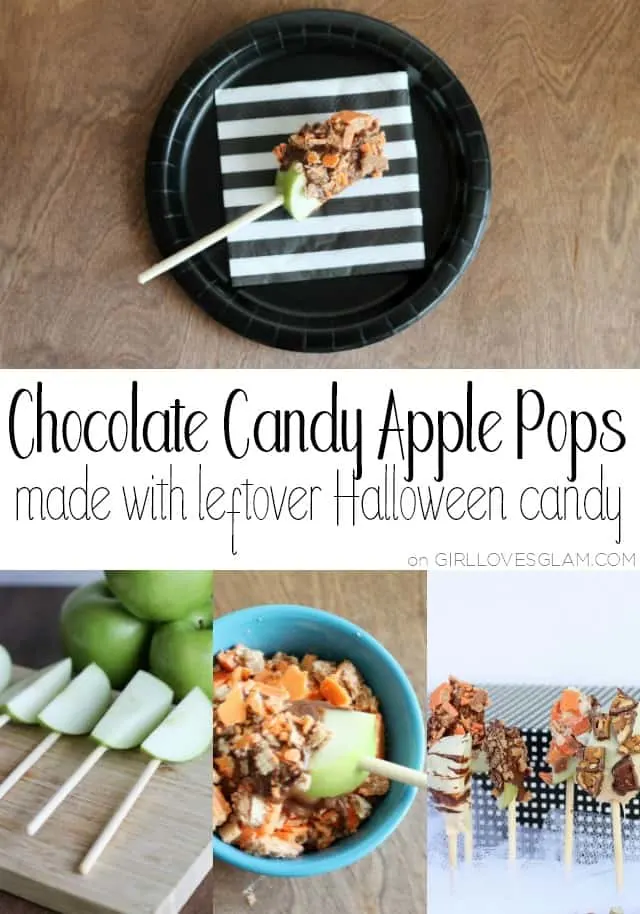 These chocolate candy apple pops are sure to bring party guests together. They can be made before the party or as part of the party by creating a station where guests can make their own chocolate candy apple creations.
Start by getting chocolate bars, green apples, apple sticks, and a variety of different candy for guests to personalize their apples with. This is a great way to use up leftover Halloween candy, if you want to use this idea for a family night, or a fall get together!
Put the chocolate bars into a fondue pan to melt the chocolate. If you are making these pops ahead a time, you can also put the chocolate in a bowl and heat in the microwave for 30 seconds at a time, stirring between time segments, until the chocolate is melted.
Cut up the apples into slices that are large enough to put plenty of candy toppings on. Push the sticks into each of the apple slices to prepare them for dipping. If you are preparing this as part of a fondue party, place the apples on a plate at the beginning of the fondue station.
Put candy pieces in small bowls to top your apples with. Break up or cut up candy bars to create the perfect topping size.
Dip apples into the melted chocolate. You can enjoy them as is or let the chocolate cool down a bit so you can top it with even more goodness. Once the chocolate has cooled down enough to feel kind of tacky, dip the apple into the toppings you desire. You can also sprinkle the toppings on top if you don't want to dip them.
Another topping option is to put more chocolate on your apple by drizzling a different chocolate. Just put the other chocolate bars in a bowl and heat in the microwave for 30 seconds at a time, stirring between each time segment, until the chocolate is completely melted. You can drizzle this over your milk chocolate apple, or use this chocolate as your base and start from there as well!
It can be really fun to see the different candy combinations that people come up with when they are making these apple pops. They are just as fun to make as they are to eat! These are sure to be a hit at your Halloween party!
This chocolate apple dipping station would look perfect next to my black light lemonade and this Colorful Halloween Popcorn, and don't forget to set up a fun witch hat decoration station for your party guests, too!