Fishtail Braid with Half Messy Bun Hairstyle
This hairstyle is perfect for my hair on the days that I haven't washed it and my hair just doesn't want to cooperate with me. I have a feeling this fishtail braid with half messy bun is going to be one of my favorite styles for summer too!
Fishtail Braid Hairstyle Video
I filmed myself doing this hairstyle so that you could watch that to learn how to do it! I also took step by step photos so that you could go through and see how to do each step a little more closely. Watch this quick video and then see each photo to show you how to achieve this hairstyle!
How to Fishtail Braid
First, start with your hair down. I like to wear mine in wavy curls, but you can have it straight too. It is totally your preference!
Grab a section of hair on the side of your head that is about 3×3 inches. Split it in half and hold one piece of the section in each of your hands.
Stick your pointer finger through the outside edge of one of the sections and pull it across to the other section. Repeat on the other section and do this back and forth until you have a fishtail braid on that section of hair.
Pancake your braid by gently pulling on the hair. It will loosen the braid and make it look a lot thicker. Put a bobby pin in the bottom to hold it together while you work on the other side.
Repeat all of these steps on the other side of your head.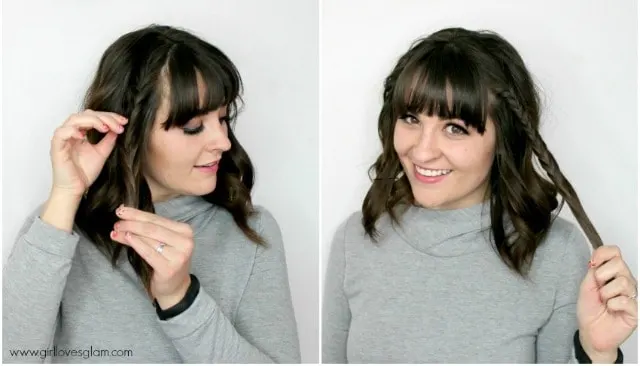 Pull back both braids and tie them together with an elastic. You can leave the look here if you don't want to add the bun to it. It looks really cute as it is!
How to do a messy bun
Pull the ends of the hair back through the elastic over and over again until you have created the messy bun you want.
Now you have a fun hairstyle that helps you get out of your normal routine and is SO easy to do!
I have been doing this hairstyle for years! I had originally posted this about 5 years ago, when I still had bangs!
Make sure to check out these other simple tutorials too!