Lemon wreaths are officially my love language! I absolutely adore them! The problem is that I will see a lemon wreath that I really love and it will be way out of my price range, especially considering how simple many of them are. That is why I decided to take matters into my own hands and make my own DIY lemon wreath.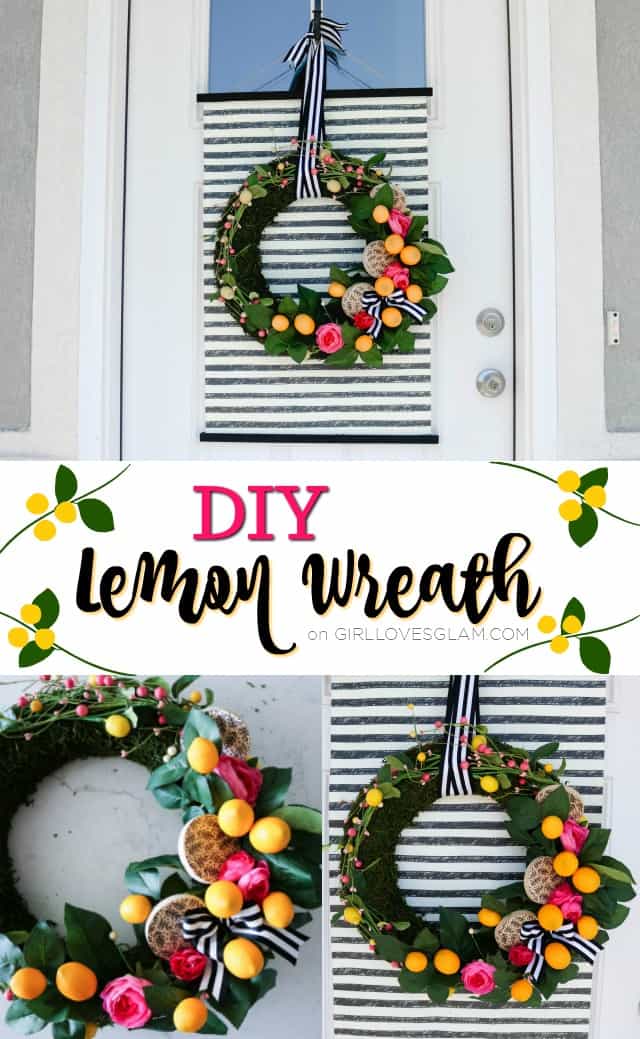 Lemon Wreath Supplies
To make my lemon wreath, I used…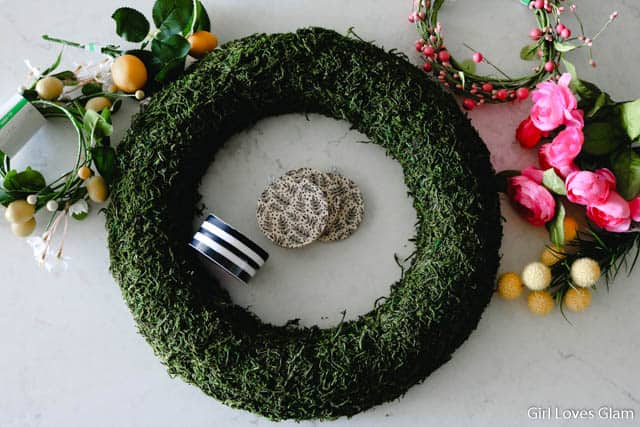 Moss covered foam wreath: Mine was found at Michael's.
Small garlands: I used two. One has pink berries and the other has small lemons. They were both found at Michael's as well.
Faux lemon shoots
Pink flowers
Ribbon
Wood ornaments: These were customized on Shutterfly to have these leaves printed on them. I thought they were an awesome way to add another element to my wreath. Shutterfly always has great coupons to use as well, so they were very affordable.
Hot glue gun
How to make a Lemon Wreath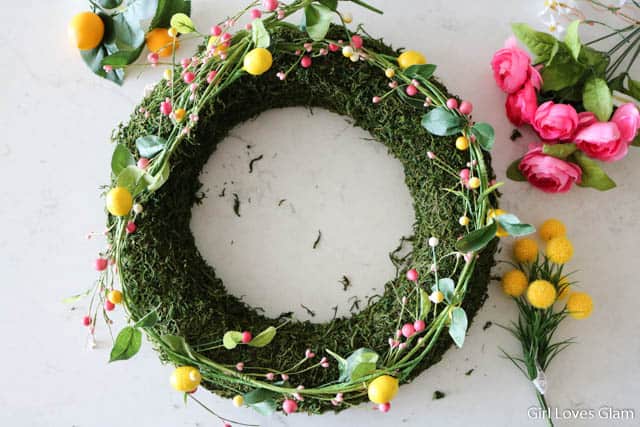 Start by gluing the two small garlands to the wreath. This was a way for me to add some color and added fullness to the wreath, without having to add tons of flowers to the entire wreath.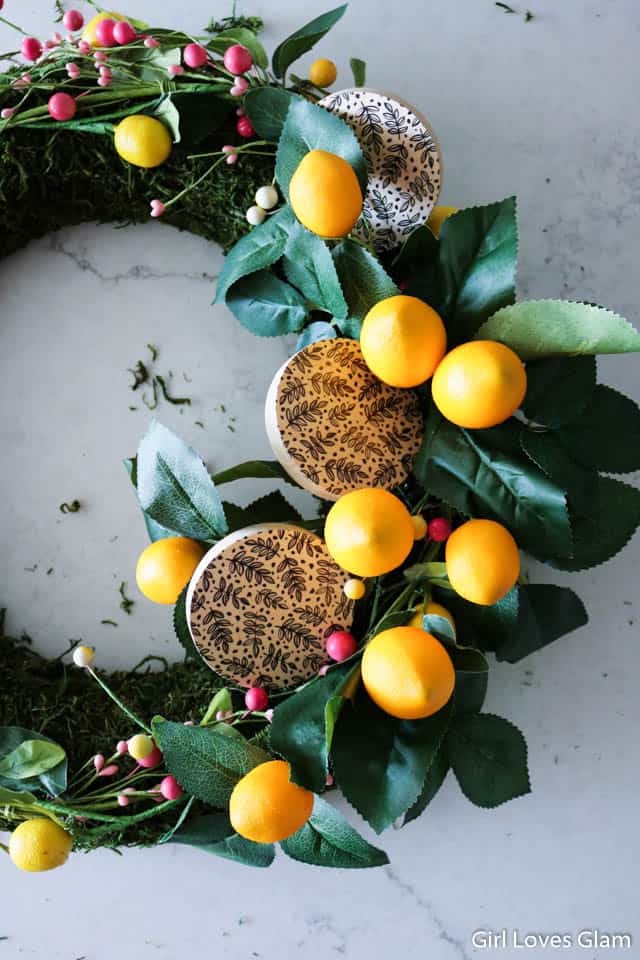 Cut down the lemon sprigs and glue them into place. I knew that I wanted mine to be concentrated on one side of the wreath, so I kept them all in one area.
Next, I followed with the wood ornaments. I kept these in the same area as the lemon leaves that I just added, but spaced them apart throughout the area. To glue them in, I unscrewed the top of them until the screw was almost completely out and used that metal screw to put glue on and stuff into the wreath. It worked like a charm!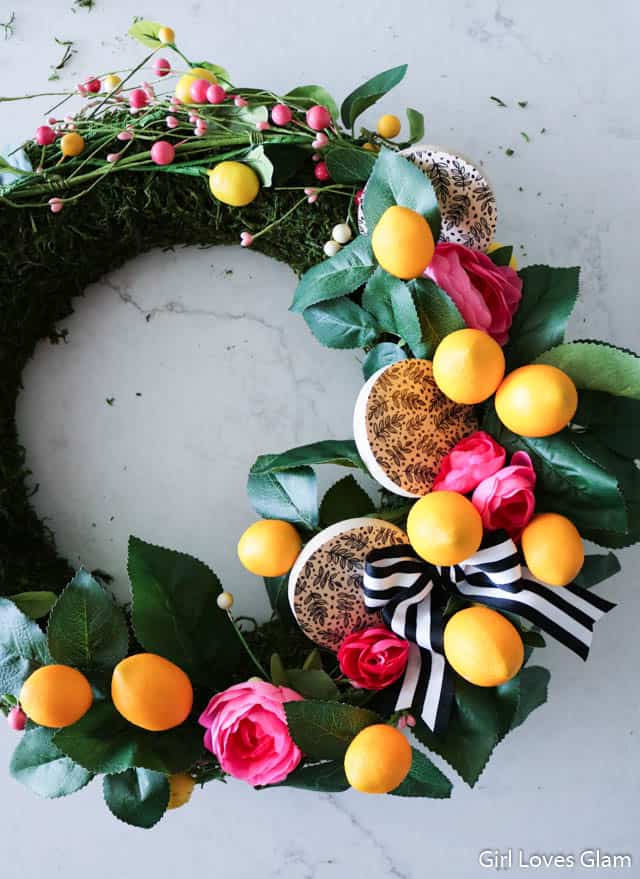 These cute, pink flowers were added to just break up the yellow a bit and tie in the pink garland that was used all around the wreath. I kept the larger pink flowers in the same area as the lemon leaf side.
How to hang a wreath with ribbon
Because I can never get enough stripes, I added a little striped bow as well! I used that same ribbon to wrap around the top of my wreath to hang it up.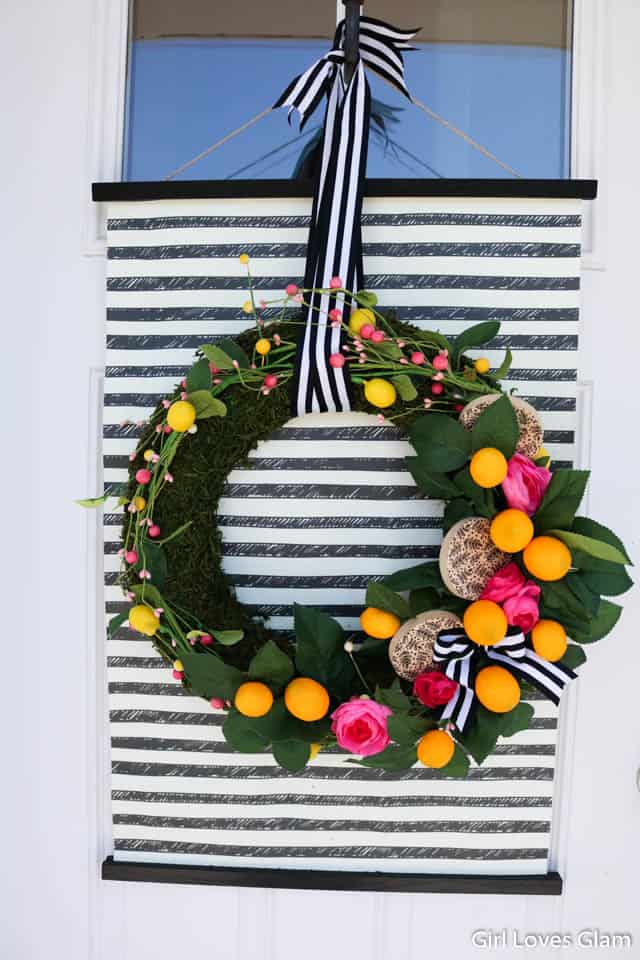 Rather than hanging the wreath directly on my door, I decided to hang it over this striped canvas banner I made on Shutterfly when I ordered the wooden ornaments. I loved the idea of having this striped canvas that I could hang wreathes on top of for all seasons. It will be the perfect way to tie in my beloved stripes for every season! This stripe pattern was on Shutterfly's art gallery that they have available and it worked perfectly!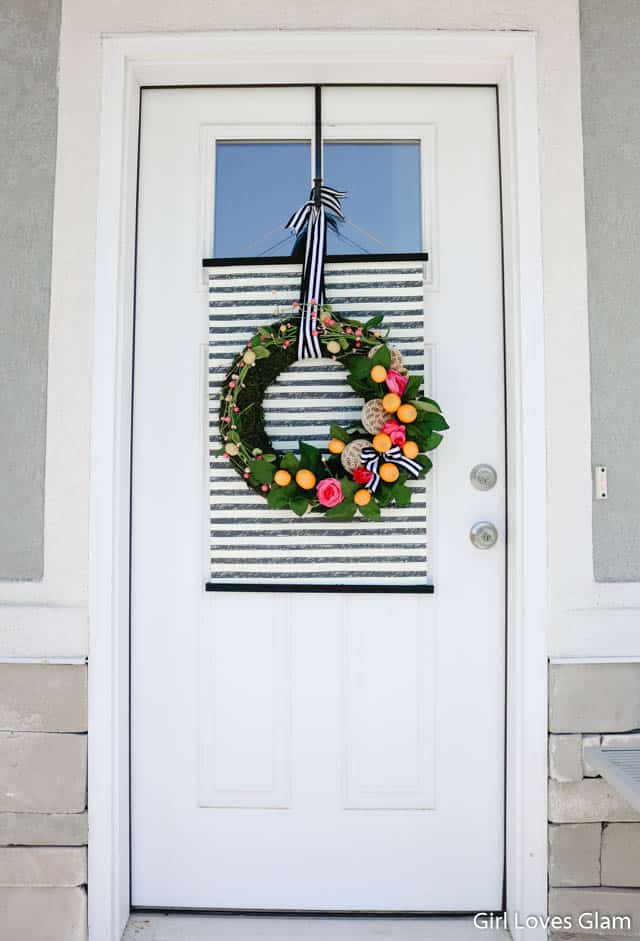 I am so happy with the way that this lemon wreath turned out! It brings a smile to my face whenever I come up to my door and see this bright, happy wreath there. I like it so much more than any other lemon wreathes that I thought about buying before and I am so glad I waited to make my own!
You can find this post, with all of the links to the Shutterfly products and more about the Shutterfly products, on their blog as well!
Beautiful wreathes you will also love: