First of all, I just want to say a big fat thank you for how much love my first little peek into my office reveal earlier this week. I am so glad that you all love it as much as I do! If you missed the first post that is all dedicated to my walls, check it out HERE.
Now to show you all of the little details about this space that make it great!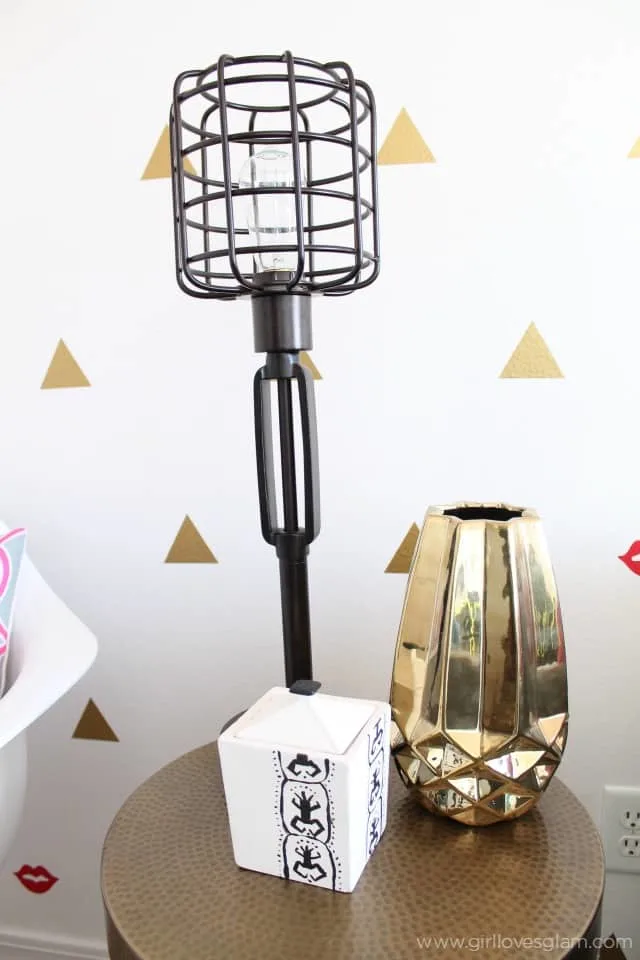 When you first walk in, your eyes are instantly drawn to this side table with the most delicious lamp you have ever seen in your entire life. This puppy came from none other than Lamps Plus. I have never seen more fabulous lighting options on one site than on Lamps Plus. It was really hard for me to choose between this smaller lamp and a big, fat lamp that looks like this one's daddy, but I am glad I went with the smaller option because it doesn't completely steal the show. It is the perfect accent. Speaking of accent, this little white ceramic box has a fun sentimental story with it and I just HAD to include it in this space. When we were first married, Dave took a college class where he got to paint this. He could have painted it any way he wanted to, but chose to paint it in a funky black and white design because he knew I was into that at the time. Well guess what? He knows me well because nearly 7 years later, I am still into that! I love that it can be included in this space because it is a little touch of his style in here too. Even though the rest of it screams GIRL! That vase has also been in the family for a while. I found that gem long ago, but nearly every home decor store carries very similar pieces now.
Now to take a little step back to admire the rest of this little corner. This is where I will be filming all of my videos and I knew I wanted it to be funky, without it being too much of a distraction. I think it turned out just right. The geometric triangle and lips design on the wall adds just the right amount of flair. You can see the tutorial to do that HERE. This beyond gorgeous table is also from Lamps Plus. I just cannot get enough of them! This thing is STURDY! I love how heavy duty it is because I know it can't be knocked over easily with all of my favorite things sitting on it. This chair came from Amazon HERE
. I knew I needed a pillow to add some color to this corner, but didn't want anything too obnoxious. I love this pillow I found on Lamps Plus as well!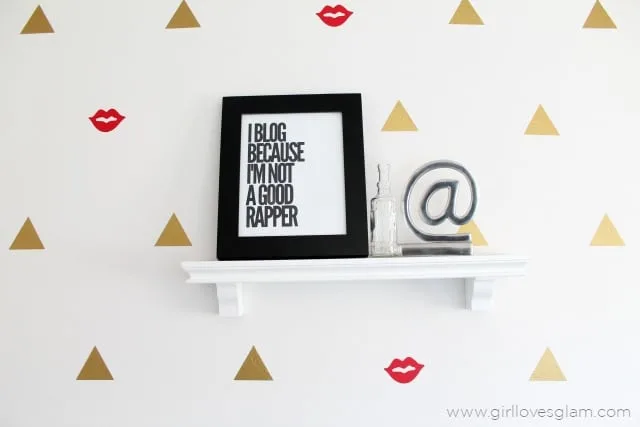 The shelf is full of stuff I have had for a long time. I honestly have no idea where that little glass bottle came from. Do you have any decor in your house that you think, "Where on earth did you come from?". Well, apparently I do, and I love it! The @ sign was a gift from my mom a few years ago, and the artwork is literally the greatest thing of all time. If you have read any of my love story, you will understand the significance to this print. If you haven't read it, check out the posts I have written so far HERE, and don't worry more posts are coming! But to fill the rest of you in a little bit, my husband was a legitimate rapper when we met. The first year of our marriage was spent driving to his concerts and me acting as his "merch girl". When I saw this print, I knew I had to have it.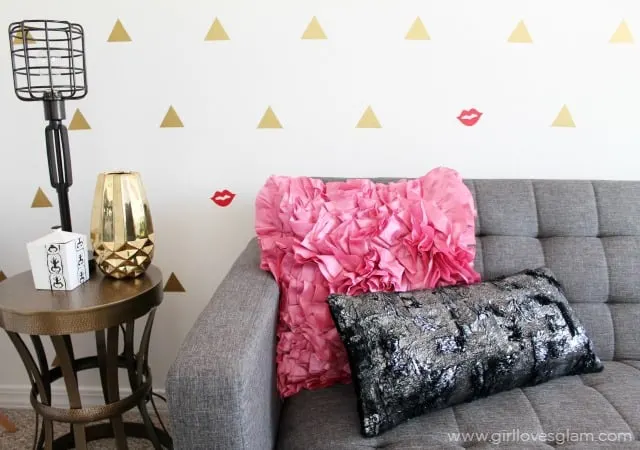 I am a sucker for textures. That is why I couldn't live without either of these pillows from Lamps Plus. They complete me. I love the fluffy pillow mixed with the hardness of the lumbar pillow against the sleek look of my futon. I just don't think it could get any better than that.
Speaking of futon, did I mention this space will double as our guest bedroom? We actually bought this couch with the intentions of Dave sleeping on it until our house sold, but we ended up selling the house in 6 days and were able to get the mattress moved in before the futon even got delivered so now it serves as the couch in my office and will be the bed for our guests. We found it on Amazon HERE
. Who wants to come sleep over?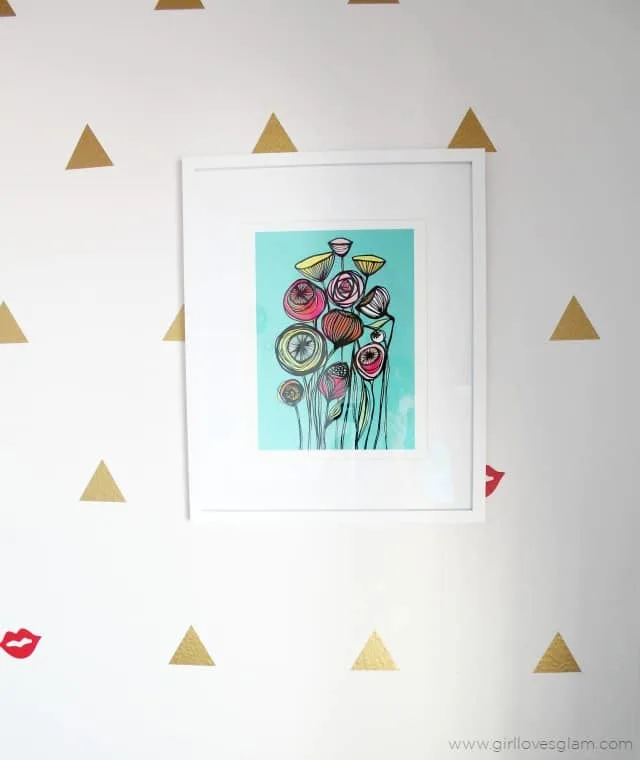 On the other side of the futon is a gorgeous print from Minted. I love that they print artwork from independent artists. This piece brought in all of the colors I needed it to, had the girlie feel I wanted, and still feels gorgeously modern. I am pretty obsessed with it.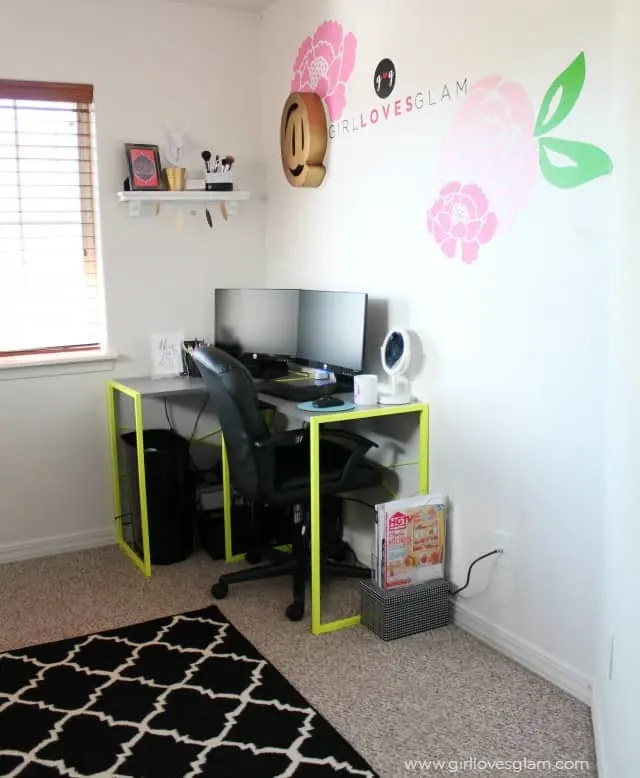 Now looking over in the other direction, you can see my rug! Oh the rug! I love it. I found it on Lamps Plus. I am really impressed with their rug selection! Did I mention that I am renting this space? I wanted to cover up some of this nasty rental carpet and make it feel a little more like home.
In the far corner, is where the magic happens! Yes, that is my desk where I sit at this very moment. I find myself spending a lot of time at my desk and I wanted a happy space that will continue to inspire me.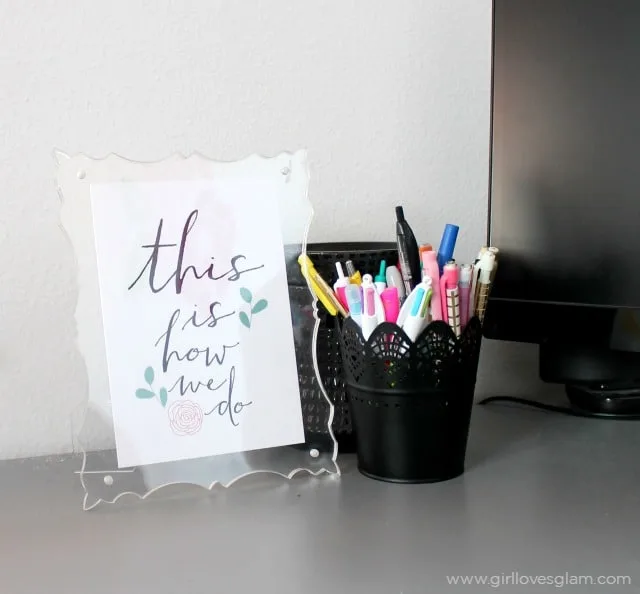 On my desk, I have a pencil tin I found at Target and this gorgeous print from Alice and Ivory. I love that not only does it motivate me to keep doing what I am doing and working hard, but it makes me sing Katy Perry lyrics in my head. It is a total win, win.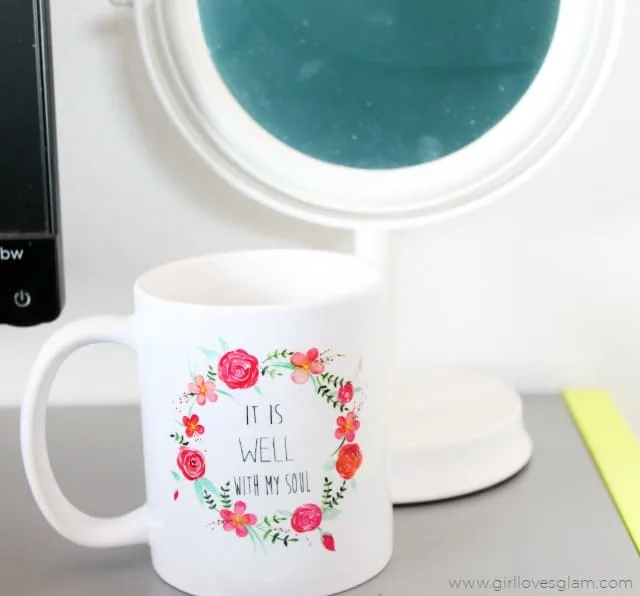 I literally start every morning with a cup of hot chocolate with pumpkin spice creamer in it these days. I wake up really early to work and I freeze every morning. That hot chocolate warms up my very soul. This mug from Alice and Ivory just couldn't be any more perfect for me and this space.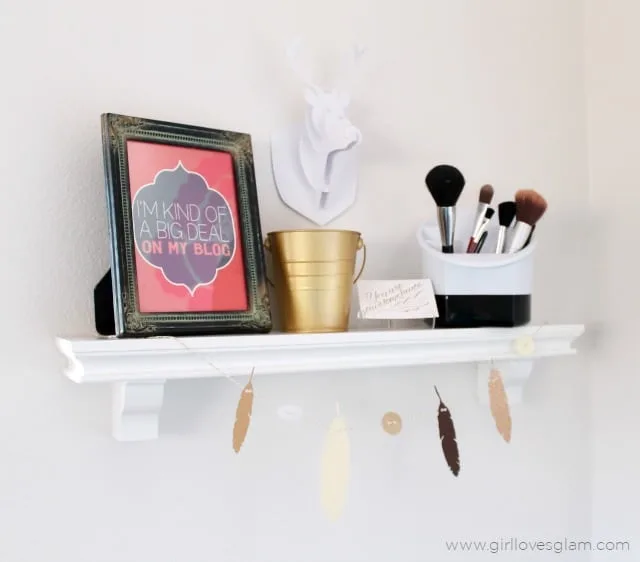 Above one side of the desk is this shelf full of things that just make me happy. I bought this "I'm kind of a big deal on my blog" art at the very first Snap conference. It was designed by Diana of Livy Loves to Run when she had her graphic design business. I love seeing it and thinking of just how far I have come. The paper deer, "you're awesomesauce" card, and feathers were both from business cards I was given at various blog conferences I have gone to. The cute little gold bucket came from the Target Dollar Spot along with the pencil holder holding some of my makeup brushes.
For the grand finale, I have the giant flowers and my logo above my computer adorned with this fatty @ sign I found at Homegoods. It sounds cheesy, but when I look up and see this, I am reminded of the goals I have for me and this little blog of mine. It really has come so far and this logo is the perfect representation of that.
Okay! Cheesiness over! What did you think? Do you love it as much as I do? I just can't even tell you how good it feels to have another space in this house finished. It has been hard to feel like this is my home because we are renting and because I am living in a place I had only visited once before moving here. It was all so new and was pretty hard to get comfortable in. Now that I am starting to get the rooms decorated, it is feeling like home.
For more fabulous home decor posts, check these out too!