If you follow me on my social media channels, you know that I just got back from an incredible trip to NYC. I have been to New York City three times now and each time has been such a different experience! That is the great thing about New York. Things are constantly changing there, so you can have an entirely different experience each time you go. Because I went with my blogger bestie, Holly, things were much more centered around blogging events and fun things that our families wouldn't necessarily enjoy as much as two moms who were able to escape for a few days.
We wanted to get the very most out of the time we had, so we took a red eye flight there. It was my first red eye flight, but I learned a lot! I was really glad I had brought a sweatshirt with me, because the plane was quite cold. A few things I couldn't have survived my red eye flight without were my sweatshirt, my travel pillow, a smaller pillow (this one happens to be my Jimmy Fallon face), headphones, tunes to listen to on your phone, comfortable clothes, and a good book. I read my book until I started feeling really tired, put my pillow around my neck, plugged in my headphones, and was able to catch some zzz's. If you are sensitive to light, I recommend bringing an eye mask. There were a few people who had their reading lights on during the flight and I ended up having to pull my sweatshirt over my eyes to cover the light.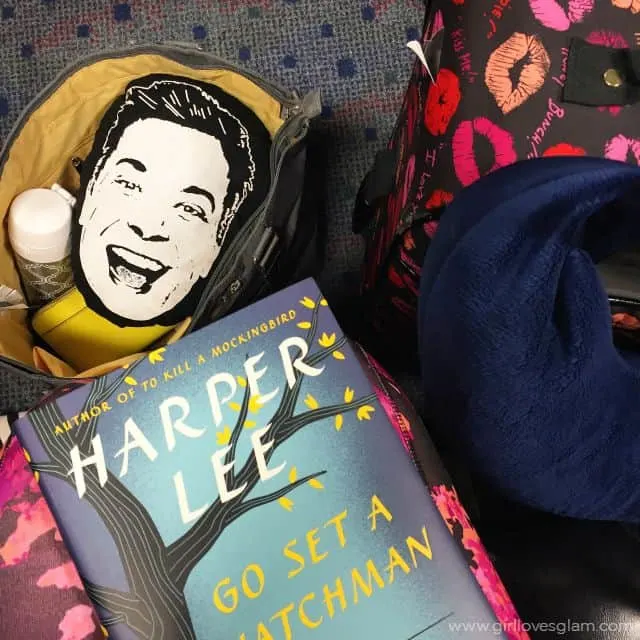 The first time I went to NYC, I wasn't sure what type of purse to bring. I was really worried about someone stealing my purse and taking off with everything in it, so I found myself hugging my purse a lot. The second time around, I only brought a flat wallet with the essentials in it, so I wouldn't have to worry about a purse. The set back of this was that I was missing a lot of things that I would have liked to have had with me on the go. This time around, I brought my new favorite travel purse, my Baggallini bagg!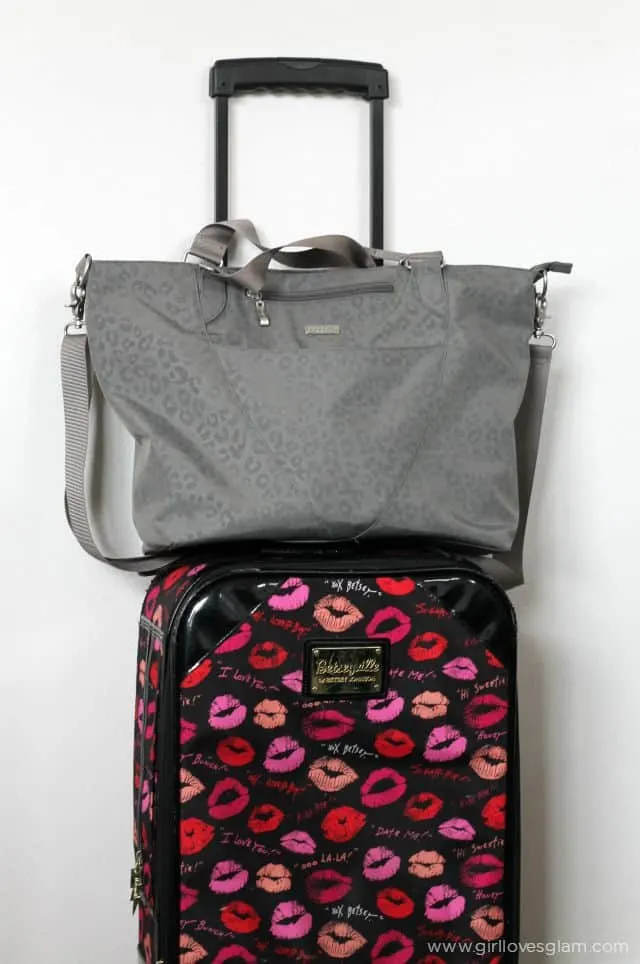 I could not have survived without this amazing bag! It basically has a pocket for everything and it is designed for travel! I had a special place for my phone, treats, and laptop and had plenty of room for my water bottle, planner, and small purchases I made each day.
Hands down, my most favorite feature of this Baggallini bagg is its ability to slide over the handle of a suitcase. This saved me big time! My poor friend was juggling her carry on bag, her purse, and suitcase and I was able to roll my carry on suitcase with my large suitcase while my purse attached to my carry on, keeping my shoulders nice and relaxed. It was a huge lifesaver! This back section can also double as a large pocket when you don't need to attach it to a suitcase. During the trip, I kept this back section full of protein bars so that we didn't have to spend so much money on snacks.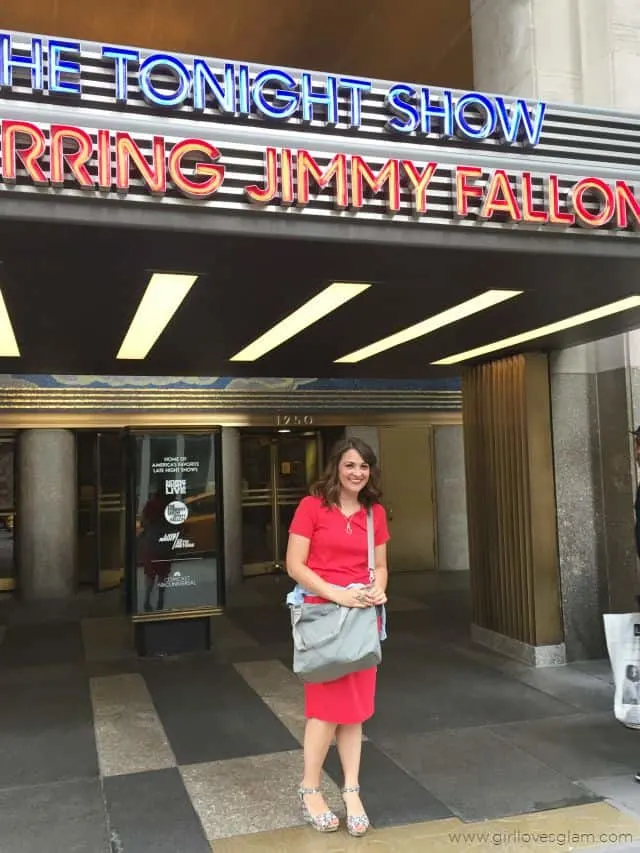 Our first two days were full of Jimmy Fallon. Although he wasn't the main reason we went to New York, he was definitely the highlight of it! We were able to attend The Tonight Show the first day we went and Jimmy Fallon's monologue rehearsal the next day. I will have an entire post dedicated to our experiences we had there and tell you how we were able to snag tickets too. There is too much to have it be a part of this post. Let's just say, if you have the opportunity to try to get tickets you have go to do it! The Tonight Show was an experience I will remember my entire life!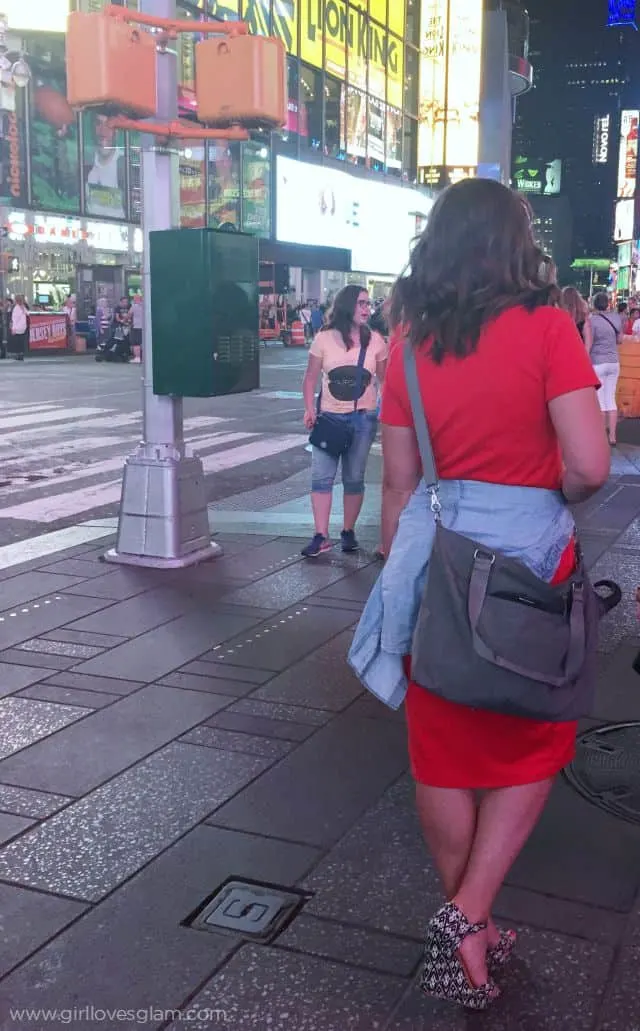 I loved that I didn't have to worry about my Baggallini bagg getting stolen off of my shoulder. The cross body strap was nice on my shoulders and I didn't have to worry about hugging my purse all day long. We made it through the maze of people in Times Square without a worry! When you are in Times Square, my biggest advice is to find your inner aggressive spirit. People are pushy and rude and if you are going to make it to your destination in a reasonable time, you need to hold your own. Don't let people push you around. Stand your ground! Although Times Square is a total tourist attraction, I still love going each time. I am a total fly when it comes to these lights. I can't stop looking at them!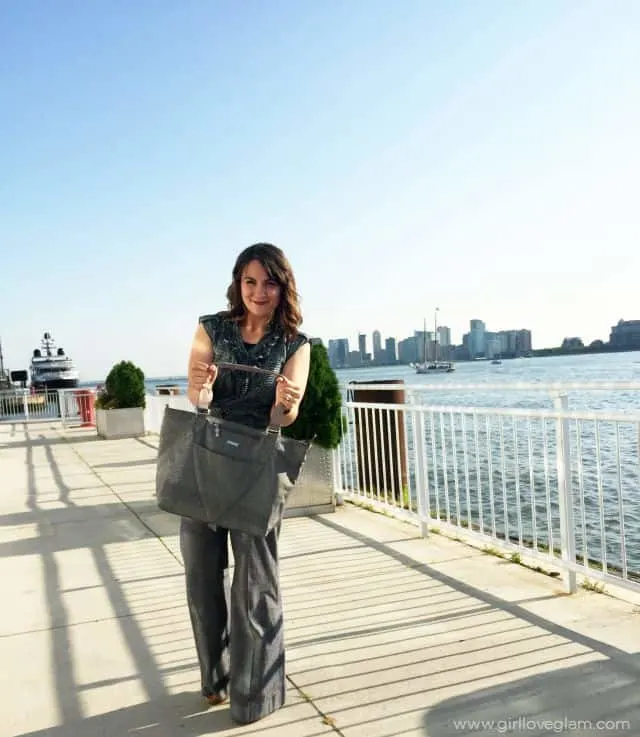 The second day in NYC was full of blogger events. I took off the cross body strap off of my purse and it totally dressed it up and it looked great with my outfit. If you are going somewhere in New York that isn't that close to where you are staying and you have to get there by a certain time, I recommend using Uber or a taxi to get you there instead of the subway. The subway is great, but it does take a while! We loved using Uber because you can get credit each time you refer someone and they use your referral code. We got several free rides by doing that. The taxi was also surprisingly affordable, so don't overlook the yellow cabs if you are thinking they are really expensive to ride in. Plus, a New York City trip wouldn't be complete without a ride in a yellow cab!
We went to Finding Neverland this day too! If you want to go to a Broadway show, this is the show to go to! Matthew Morrison was perfect in it and all of my Glee fan dreams came true watching him dance and listening to him belt out those notes! I produced a pretty ugly cry at the end, but so did everyone else! It made me laugh and cry. That is the goal of every Broadway show, right?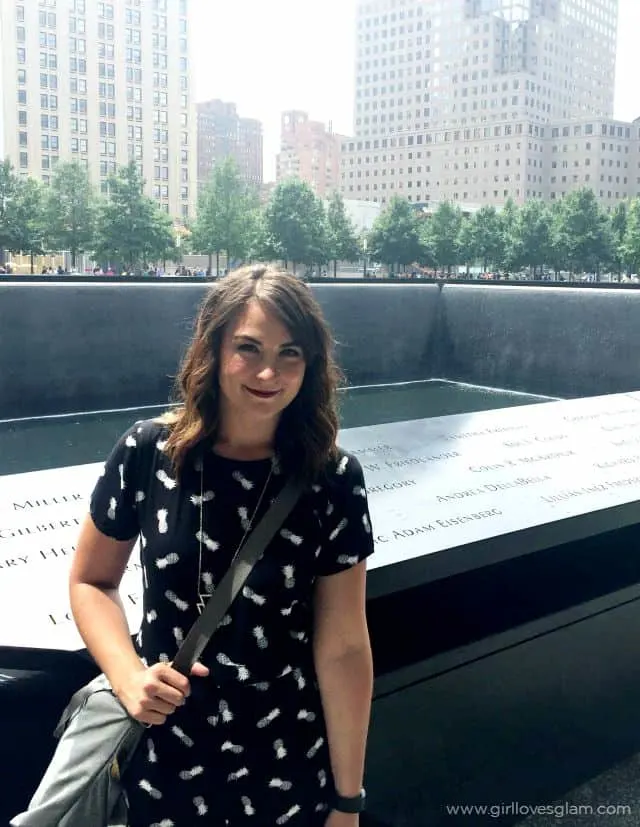 One thing I hadn't seen yet was the 9/11 Memorial. This isn't very close to where we were staying and if you are staying anywhere near Times Square, I recommend taking the subway over. It was about a 20 minute subway ride to get there and was only $2.75 to ride it. The thing that has always intimidated me about the New York metro system is that I am always worried about getting on the wrong subway! I learned that there is an entire website that will help you plan your subway ride so that you know exactly where to go and what train to get on! Just go on your phone and Google NYC Metro Trip Planner and the site will pop up. It tells you exactly what station to go to, what time the train will arrive, and what stop to get off at. It is amazing!
When you are over by the 9/11 Memorial, make sure to stop by Century 21. It is one place that I have gone to each time I go to NYC! It is basically a 6 story store that is full clothes, handbags, and shoes for the entire family at discounted prices. You could spend HOURS there! It was the perfect place to go for a girl's trip because we didn't have to worry about husbands waiting for us!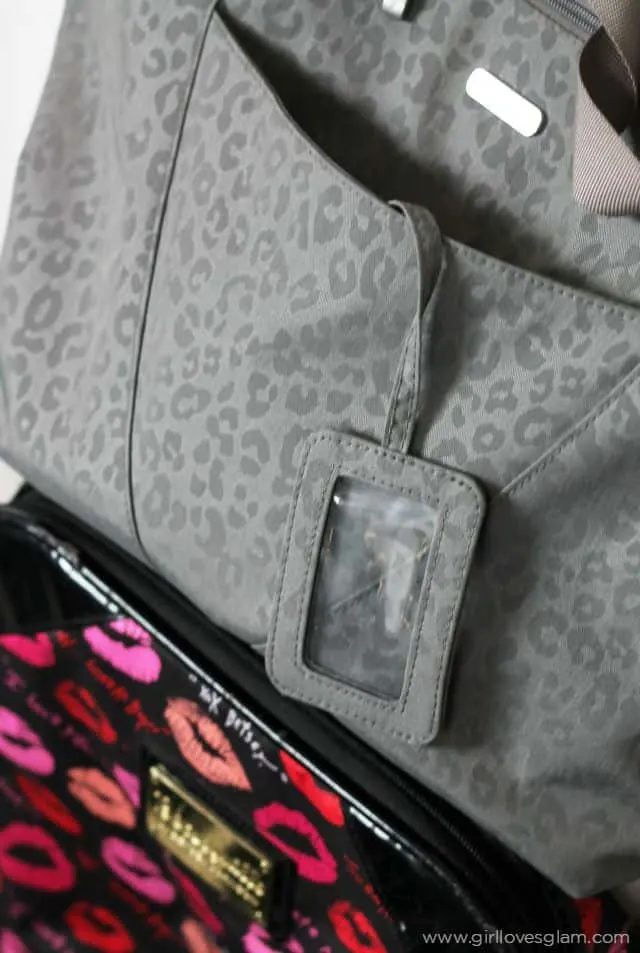 The last thing that I really recommend having and that I loved about my Baggallini, was this ID carrier. It saved me anytime I needed to have my ID at the airport and whenever I claimed tickets to an event. This ID carrier was right where I needed it to be. The time I needed it most was when we landed back at the Salt Lake airport. We got everything back in the car and when I went to pay for parking, I realized that my wallet was missing! I had forgotten to zip up my purse when we were in the airplane and I was sure that it had fallen out in there. I had to go back into the airport and they sent me back to the gate I came in on to talk to them. I couldn't have done this if I wouldn't have had my ID! It was a huge blessing that I had my ID with me.
I have only been home for a few days, but I am already ready to go back to NYC again! Have you ever been? What are your top travel tips while visiting The Big Apple?
Baggalini is giving away one of their amazing Excursion Sling backpacks so you can travel with ease!
To enter, go to the Baggallini site and tell me what your favorite Baggallini bagg is and where you would like to take it! Leave a comment telling me those thing and you will be entered in the giveaway. Giveaway ends 7/30/15 at Midnight MST. Good luck!
Make sure to follow Baggallini on Facebook, Pinterest, Instagram, and Twitter too!