Being a blogger who focuses so much on beauty brings a lot of pressure with it. I get a lot of complements on my hair and makeup by all of my sweet followers out there and sometimes I hear people tear themselves down because their hair "won't ever look that good" etc. Each time I have seen a comment like that, I just want to jump through the computer screen and shake the person who wrote it. Everything on the internet is part smoke and mirrors and part reality. Don't ever tear yourself down because of something you see on the internet! The other thing I want to tell every person who compliments my hair is that it has NOT always been like this. It has come a long way. In fact, there was a span of about 5 years that my hair was a huge source of bullying and depression for me. I have wanted to share my hair story for a long time, but never really felt like it has been the right time to do so because I haven't ever known how to word it exactly the way I wanted it to sound. Mostly because I don't ever want it to seem like I am fishing for sympathy. I just want you to know where I came from, so you can have some hope for your hair too.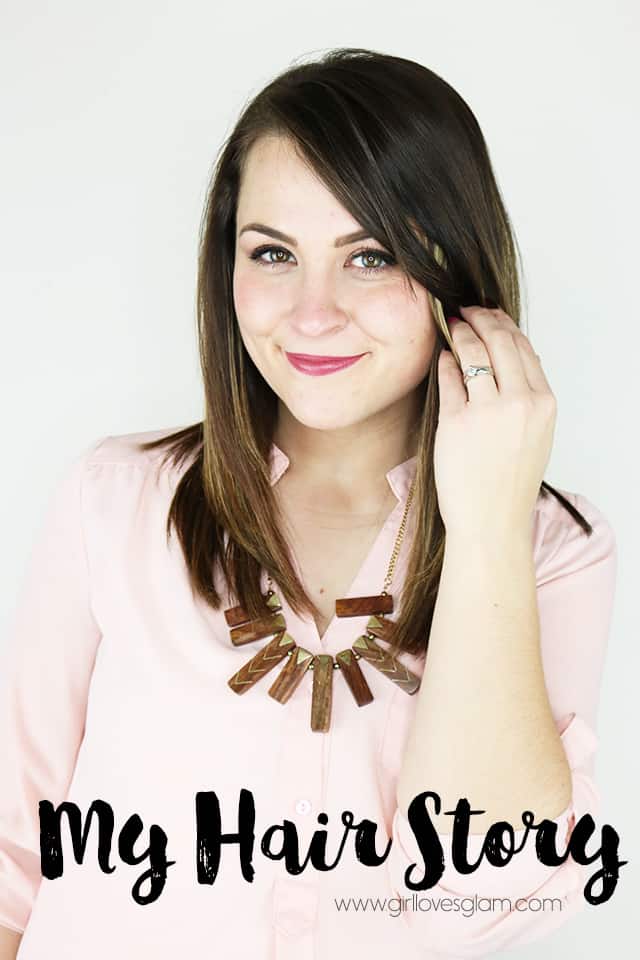 I was born with a lot of hair from the beginning. It is naturally curly and there is a lot of it. I grew up being told by hair dressers that I had more hair than anyone they had ever cut. That was a blessing and a curse because I never felt like my hair could be as trendy as other girls. Thick, curly hair never seemed to be in style. I started trying to blow dry it to be kind of straight when I was in 4th or 5th grade. That was also the first time I remember being bullied. There was an older girl on the school bus who would tease me about my clothes and about my hair everyday on my way to school. Looking back at the situation, I think this girl came from a pretty unfortunate family situation and I am sure she was angry that I was a sheltered little girl who lived what she probably thought was a storybook life. I wasn't mature enough to see it that way and was devastated that she was so mean everyday.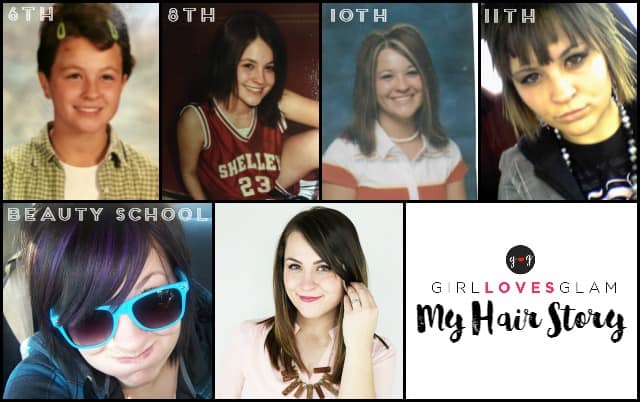 The summer before 6th grade, I went to the dentist and I still remember my mom seeing a girl with a dramatic A line haircut and we both agreed that it would be really fun to cut my hair like that. The problem was that we hadn't taken a picture of it and we didn't think anything about the fact that this girl had completely different hair than mine. Hers was relatively thick, but it was very straight as well. We went to my neighbor who had a salon in her house and explained the haircut to her. She cut it to the best of her knowledge and I left with a very short pixie cut. It looked cute when she styled it, but it pretty much went downhill from there. Flat irons weren't around yet, therefore I would have had to know how to really use a blow dryer to get it to look the way the stylist had. Instead, I was fighting against my waves everyday and ended up putting clips in my hair everyday to keep the waves at ease. That was when the bullying got worse. Everyday I would go to school and was called Swirly. Kids would joke that I would flush my hair in the toilet everyday to do it. After they were sick of making fun of my hair, it moved to my body. There were plenty of other names that I was given, but we are focusing on my hair story so we won't go there.
Needless to say, 6th grade was one of the darkest times of my life. I was 11 years old and totally felt alone. It was really hard! For the next two years, I focused on growing my hair out so that I could at least eliminate one reason I was being bullied. I tried going to a new stylist who I can now look back at and appreciate and be a little mad at at the same time. He was the first one to introduce me to a flat iron and I will be forever grateful for that. He was also one who thought he had developed his own way of thinning out my hair. Not so grateful for that! Let's just say that he would take an entire section across my whole head and cut all of the hair to be about 2 inches long and move throughout my hair doing that. Yes, it thinned my hair but I couldn't ever pull it up unless I wanted millions of little hairs to come popping out! Thank goodness for thinning shears now. Although I had my hair thinned in an insane way, somehow a miracle happened. I was voted best hair in my class in 8th grade. It seems ridiculous that I still remember that, but it meant more to me than anyone probably knew. The same kids who had said such hurtful things about me and my hair two years earlier were now voting my hair as their favorite.
Soon after the hair thinning incident, I switched my hair stylist and was introduced to just how fun hair could be. That stylist loved her job, helped me fix the thinning nightmare, and made me feel amazing. I knew that I wanted to be a cosmetologist so I could help people the same way she had helped me.
After I started going to get my hair done by her, I started doing a lot more experimenting with my hair. I saw it as a canvas. I tried lots of hair colors and even told her that I wanted my bangs to be a little crazy. I told her to literally cut them like a 4 year old had done it. Those bangs still go down as some of my most favorite of all time. This was also the time that I started getting a lot better at using a flat iron. The flat iron changed my hair forever!
In beauty school, I played even more with color and loved every minute of getting to play with my hair and learning to help other people with their hair situations. I worked at a few salons for about 5 years after that and started this little blog during that time. My dream changed and I wanted to focus on helping not only clients of mine, but try to reach the world to help them with all of their hair needs as well. Because I understand! I didn't grow up with perfect hair and I had to battle to get it to where it is today. Is everyday a good hair day? Nope, but that is okay too. My hair is healthy and it looks a lot better than it did in 6th grade, so I am a happy girl!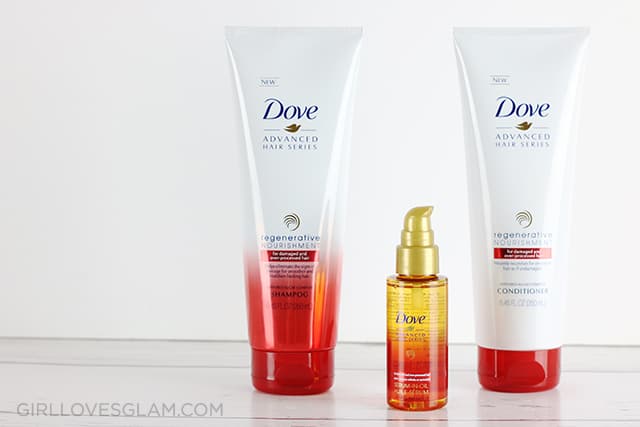 I know people say that love is the battlefield, but I am here to say that hair is also a battlefield. It is all about learning what your personal hair needs are. One thing that I know all of our hair needs is to be nourished. I recently started trying the New Dove Regenerative Nourishment Collection and I have been seriously impressed. I feel like I can continue to try new things with my hair because the Dove Regenerative Nourishment Collection helps hair to look damage free and nourishes the damage that happens whenever my hair gets experimented on.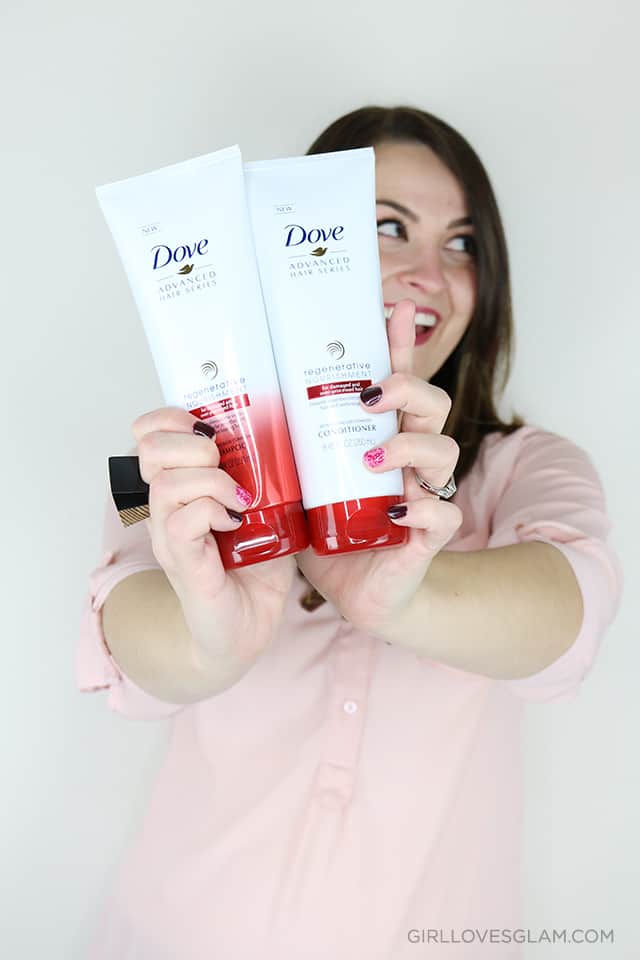 I grabbed the new Dove Regenerative Nourishment Shampoo, Conditioner and Serum in Oil at Target, so definitely grab some next time you are there! I was really impressed with the quality of these products. After working in a salon and using salon products, I still am shocked when I try products that can really rival salon products, but can be purchased for such low prices.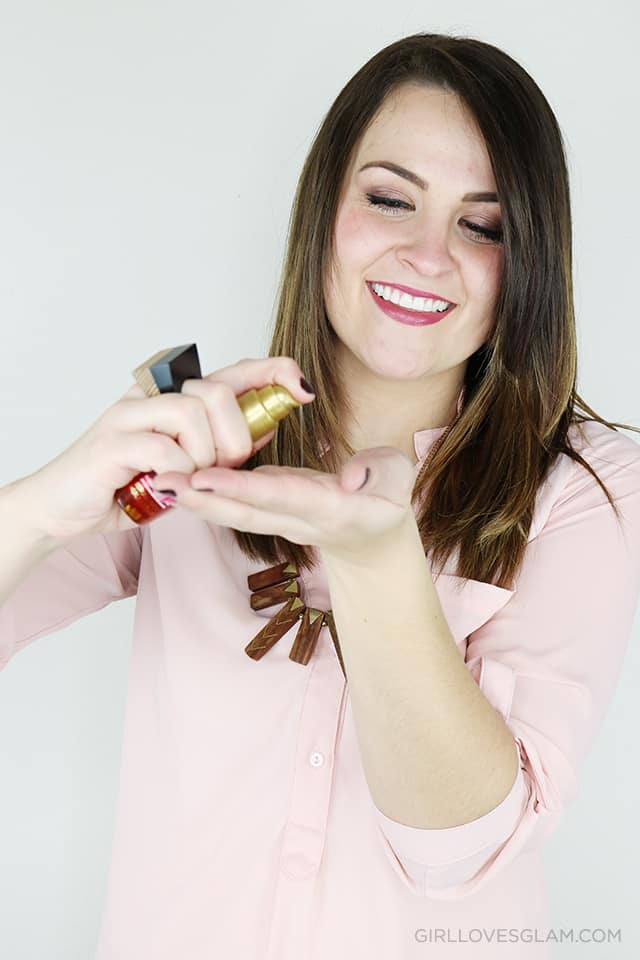 I am so glad that I finally shared my story with all of you. I hope that it helps you understand a little bit about me. I am a survivor of bad hair and bullying. Neither of those things were easy to go through. It sounds so silly now, but it really was a horribly emotional experience that I will never forget. It also helped me to become who I am today and I truly hope to inspire others to be kind and to treat yourself with kindness. I would love to hear your hair stories or troubles too!
This post is part of a social shopper marketing insight campaign with Pollinate Media Group® and Dove Hair, but all my opinions are my own. #pmedia #MyHairStory #DovePartner http://my-disclosur.es/OBsstV