I have had a lot of questions about my favorite makeup products. Here is your lucky day!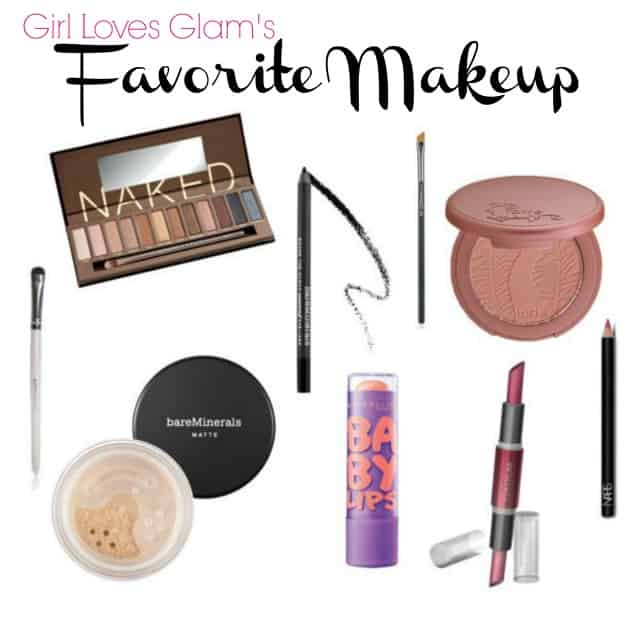 BareMinerals Round the Clock Waterproof Eyeliner– This liner goes on like butta! It is a pencil, but it is also waterproof too. It is the best, ever!
BareMinerals Matte Foundation– This stuff is incredible. It can cover blemishes, create all over color correction, and it stays on all day long.
Urban Decay Naked Palette– This is a perfect starting point for beginners. This has a great selection of gorgeous colors that stay on really well.
Elf Eye Shadow Brushes– These really inexpensive and I love the quality of them. They can be found at Target, Walmart, and online.
Maybelline Baby Lips– This balm makes your lips so dang soft! It comes in several different shades and I am obsessed!
CoverGirl Blast Flipstick– I am OBSESSED! This lipstick stays on so well and the Vixen color is incredible! My favorite lipstick!
Nars Lip Liner– You can put this on in the morning, eat all day, and it is still on at night! It comes in perfect colors too. I love Jungle Red.
Tarte Amazonian Clay 12 Hour Blush– I use the color, Exposed. It adds just enough color to my face, it goes on easily, and stays on.
MAC Angle Brush– This is the brush I use when I put on eye shadow as eyeliner. It is a really high quality brush.
Try these out and let me know what you think! What are your favorite makeup products? I would love to try them out!