I have wanted to start doing makeovers on here for a while now, but just kept putting it off. I really enjoy doing makeovers, but just wasn't sure if I wanted to jump on the bandwagon of doing them on my blog. After debating it for months, I decided to jump right in when my friend Christi asked me if I would help her glam up her look. She is a mom of four boys who keep her busy with their extra curricular activities and her job at a daycare. She deserved a glamorous look that made her feel fabulous!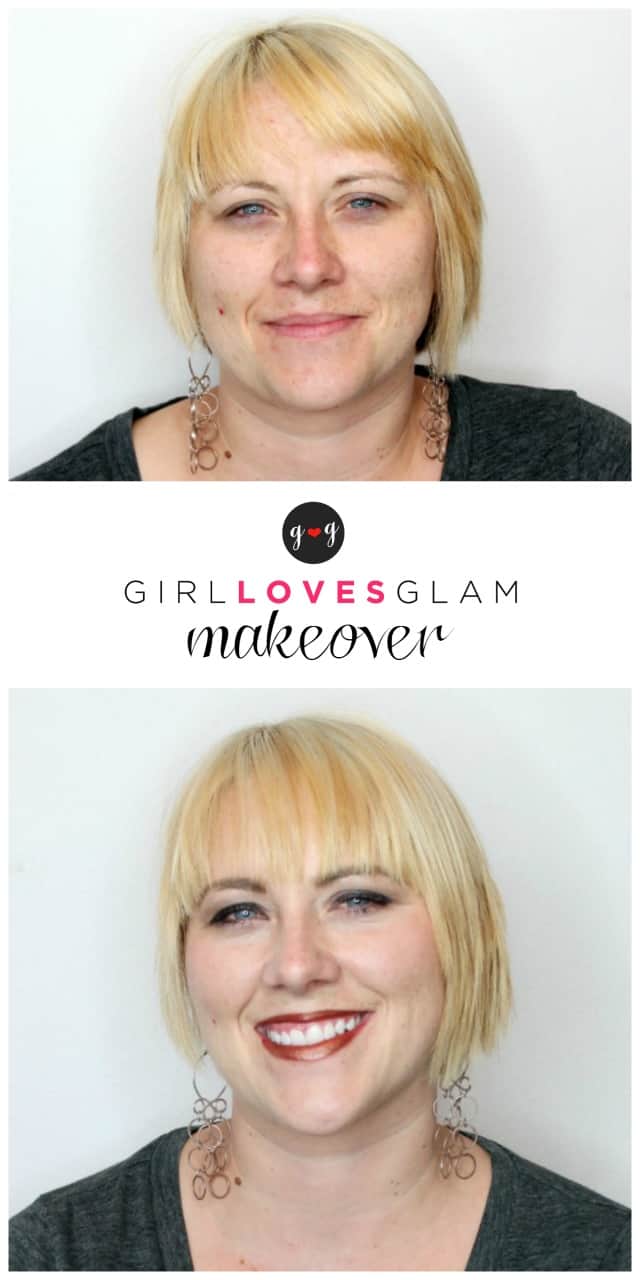 She wanted me to give her a look that was glamorous and perfect for special occasions, but could be played down a little too for an everyday look. That is exactly what we were able to achieve!
For this look, we decided to go all out with a darker, glamorous look, but for a day to day look the only thing she needs to change would be maybe a lighter lip color and thinner eyeliner. She had read my book and loved all of the looks that were done with the thicker, liquid eyeliner and wanted to give it a try. Because she wanted the dramatic eyeliner, we stuck with more simple eyeshadow with just a midtone on the lower lid, a darker color in the crease, and a light color on the brow bone. I think she looks fab! She recently went blonde and her natural hair color is dark, therefore her eyebrows are still on the darker side so we stuck with a darker eyebrow color as well. I did some light contouring on her that she could do quickly and easily day to day.
Here's what we used to achieve this look…
Maybelline Instant Age Rewind Eraser– This was used under her eyes and a straight line right down her nose. I tap it in with a beauty blender sponge.
Sonia Kashuk Concealer (light)– I just put a little concealer over any blemishes. This concealer is amazing. It comes with 3 colors and a setting powder for it. It is at Target and is only $10!
Bare Minerals BareSkin Foundation– I seriously love this on any skin type. There are so many colors available, it is bound to match your skin perfectly. I also feel like this stays on all day long!
Bella Pierre Makeup Base
– I use this as primer for my eyeshadow. I have used this for years and have yet to find one that is better than this. I love that it has a light color to it so that it really starts adding a base to your eyeshadow. This stuff is amazing. When I am between eyebrow waxes, I will even put a little of this on the straggling eyebrow hairs that are coming down so that I don't have to pull any hairs out and I am able to give my eyebrow waxing girl more to work with.
Urban Decay Naked Palette– I love this palette. I used 4 different colors from this palette on Christy. For the midtone, stick with a matte color that is close to the same color as your skin. For the crease, use one of the darker colors in the palette, and for the top, use the lightest matte color available. The 4th color I used was a light shimmer color on her bottom lid, right along the lash line. If you don't have the Naked palette, you can still achieve a similar look if you just use similar colors to what I just described.
L'Oreal Lacquer 24 Hour Eyeliner– This takes a little practice to get it perfect, but it is totally worth the practice! This stuff stays on all day long.
Anastasia Brow Genius– I am obsessed with this stuff. I love that it comes with the powder that you can wear really easily, and the gel that can make it waterproof and more dramatic on days you have a little more time to spend on your brows. The brush it comes with is the best brush you could ever use too.
CK One Mascara– I use 3 different types of mascara when applying mascara (you can see the post about it HERE), but this is the one I would definitely recommend using. The other two totally can change depending on what you want.
COVERGIRL BlastfLipstick in Minx
– I freaking love all of these lipsticks! They stay on so well and have amazing colors available.
Urban Decay All Nighter Makeup Setting Spray– This is basically hairspray for your face. Believe it or not, I used to straight up spray hairspray on my face back in the day to set my makeup. Thankfully this product does the same thing, without clogging your pores like hairspray did!
I loved doing this makeover! Look for more coming each month!