From the day we moved into our house, I have hated my living room. I love the big windows in it, but the dark brown color that it was painted made the room feel very dark. When we moved in, we didn't get any new furniture or anything either. I felt like our living room looked like someone else lived there. I didn't like any of my furniture, the colors of the decor, or the overall feel that it brought to my house. I decided that after 3 years of living with it, it was time to make a change! I have slowly started making a few changes, but for the most part it looks pretty similar to the day we moved in. Here are a few before pictures of the room.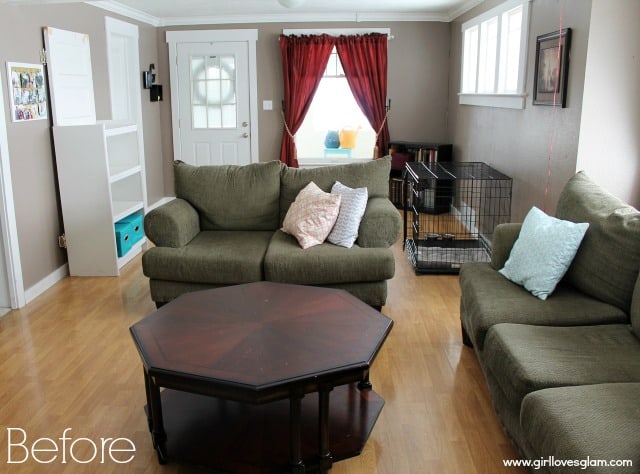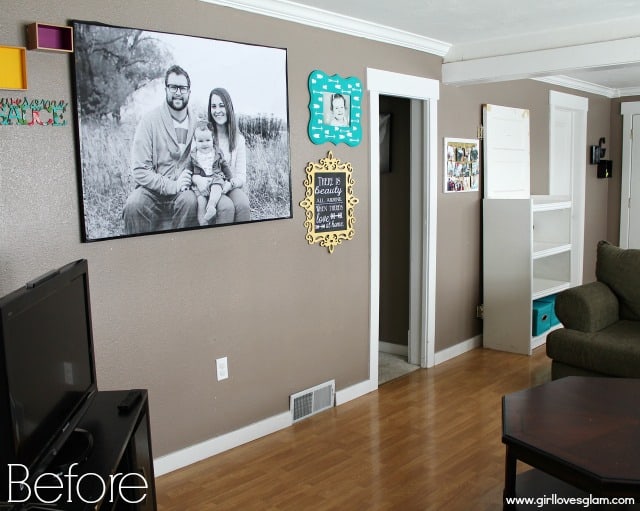 It basically looks like any other house you are going to walk into in this area. Not my style.
I will be doing a few posts about the transformation that is taking place in this room and I am so excited to show you what I have been up to! The posts will be spread out throughout the next few weeks because I am waiting on a few pieces of furniture (you guys are going to die when you see them!) to get here in order for the whole room to be finished. I also can't seem to find curtains that I am in love with yet, so I will be on the hunt for those for a little while longer!
The first part that you DO get to see though, is PAINT! Paint is totally what makes or breaks a room. I can't even begin to express to you my love for paint and the power that it possesses. I chose to paint my living room the color, Sherwin Williams Crushed Ice. I go way back with that color. I am obsessed with it. I painted my enclosed porch Crushed Ice a few years ago and have been completely obsessed ever since. It is literally the perfect combination of white and gray. It looks gray against the white trim, but is light enough that it will look white in other lighting. It is perfection. I am so obsessed with it that I made my mom paint her bathroom with Crushed Ice, my brother painted his room in Crushed Ice, and one of my best friends just painted several rooms in her house Crushed Ice. I bleed Crushed Ice! That is why it was a perfect marriage in paint heaven when I was given the opportunity to team up with Sherwin Williams for this living room makeover. They provided the Emerald paint for my living room makeover and I couldn't be anymore in love with their company than I am now. As if I wasn't already obsessed with them!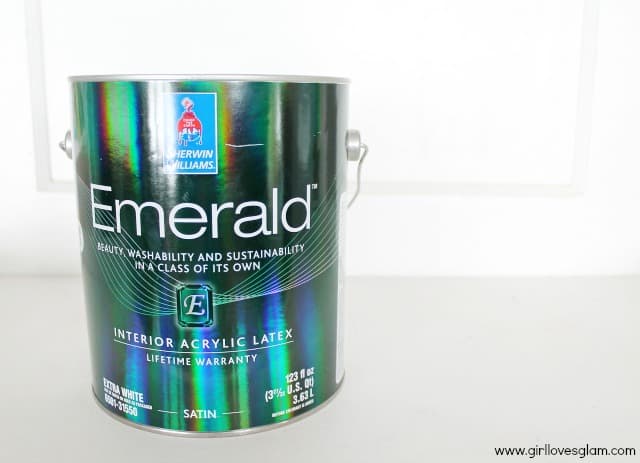 With the help of my friend Sadie, I was able to knock out this room in no time. The Emerald line from Sherwin Williams is amazing because it doesn't take several coats of paint like other brands will. I was a little worried about covering such a dark color up with this light color and the Emerald took that dark paint out like a champ! I was able to get the whole room painted with two coats. I think I could have done just one coat if it wasn't for my highly textured walls.
Now, the part you have been waiting for. The big reveal of the paint color!
Drum roll please……………………….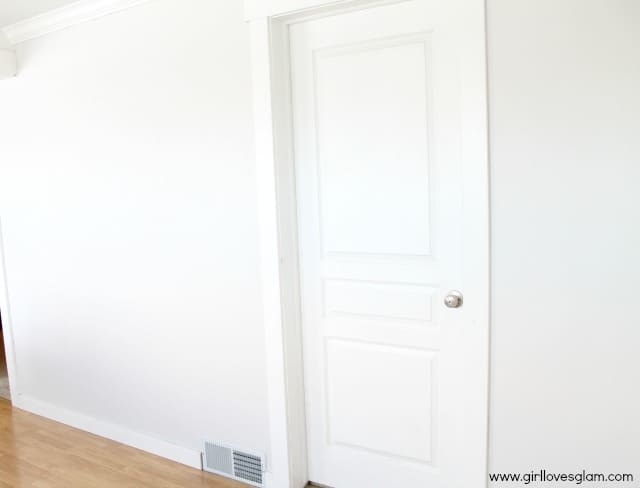 BAM! Can you even believe how much brighter the room looks already? I haven't even started putting up my cute new decor yet and it already looks like an entirely new room!
I love the contrast of the gray against my white trim. I said it once (maybe twice already) and I will say it again. I am obsessed with Sherwin Williams Crushed Ice. You NEED it in your life.
Here is a better idea of what the difference was before and after. I left that little hallway unpainted for now so I could really see the difference. Don't worry, I will be painting it too very soon! I have a lot more Crushed Ice in my future.
I can't wait to show you the other goodness that is coming together for this room! It feels so good to finally feel like my house is starting to represent who I am.
Do you have a favorite paint color?