Big news! I am giving my kitchen a makeover! I got my living room all taken care of and it is time to move onto the next room… the kitchen! The first thing I tackled was the sink. Okay, I didn't literally tackle the sink, but I knew that I needed to get a new sink in my kitchen if I ever wanted to like my kitchen. I learned a lot about installing a kitchen sink and I can't wait to share what I learned with you! Not only did I get a new kitchen sink installed, I got a gorgeous kitchen faucet too! Now for the big part…
How to install a kitchen sink and faucet! First of all, you need to admit you have a problem. A problem sink and faucet that is! Check out my nasty sink before. I absolutely hated having a white sink. Everything I put in the sink would stain it! The faucet was equally bad. Every spot of water and every little fingerprint would show up on the shiny faucet! I hated it!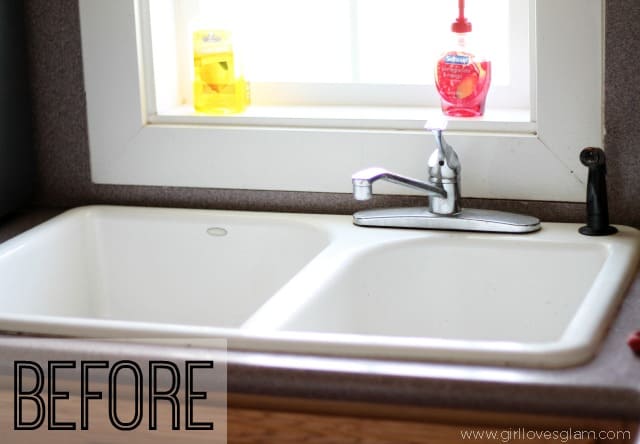 I showed this before photo to my friends at Moen and am sure they almost died when they saw it. I was interested in getting a new faucet, but they insisted on the sink as well. I am sure glad they did because I can't imagine my kitchen without the gorgeous sink and faucet together now! The sink I chose was the 2000 Series stainless steel double bowl sink. I don't have to worry about it staining anymore! The faucet I chose was the Moen Walden Pullout Kitchen Faucet that is available exclusively at The Home Depot. It is spot resistant, has a pull out feature at the end of the faucet that turns it into a handheld wand to spray. It is awesome! It also comes with a soap pump that I have loved! I didn't realize how much clutter gets added to the kitchen cabinet with hand soap sitting out.
After you find the kitchen sink and faucet you want, you need to find an awesome helper to help you with your kitchen sink journey. My dad was my main helper. I can't even tell you how much he did! Literally all of it. He is amazing. You will need to take apart the plumbing from under your old sink and set it aside. Make sure you turn your water off before you do this! It is also really helpful if you take a picture of your plumbing before you take it apart so that you can look at how it was when you go to put it back together again.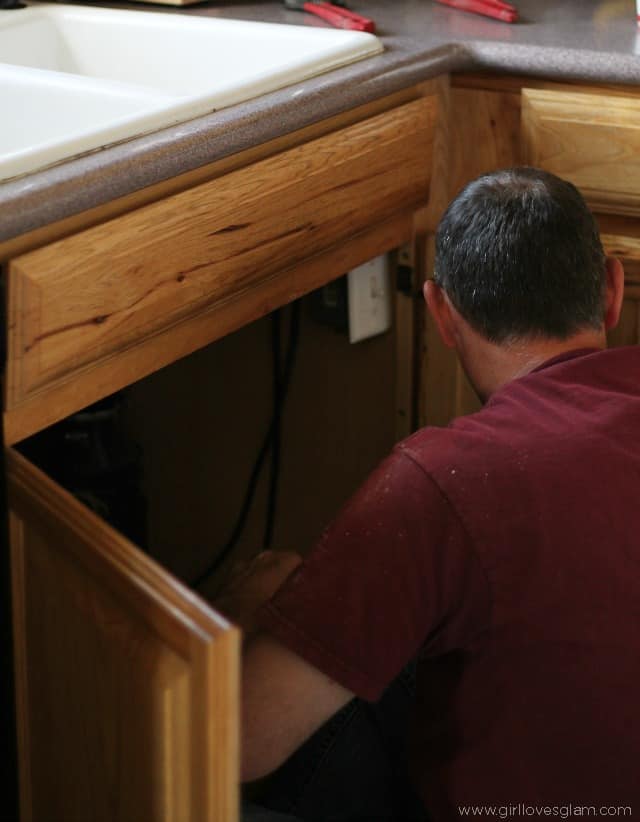 Cut away the old caulk from your previous sink and lift it up while someone underneath the sink pushes up on it to get it disconnected from your counter tops. Get the sink out of the hole and get it out of the way.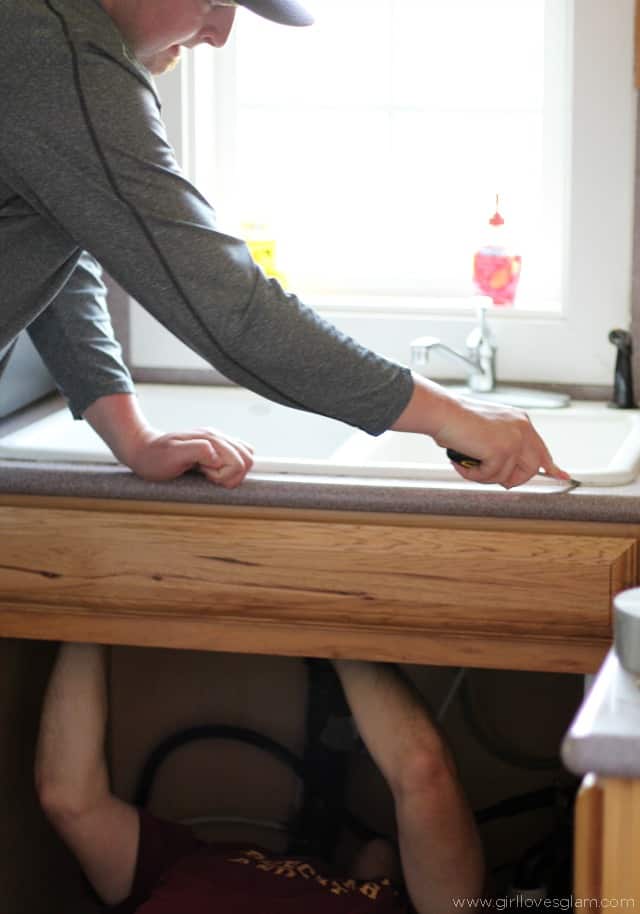 Put your new kitchen sink in and if it fits, you are in luck! If it doesn't fit, cut away part of your counter tops with the appropriate saw for the job.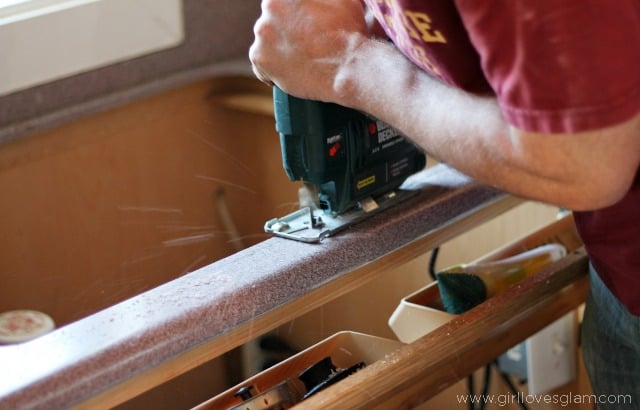 Put the sink in and follow the directions to put the faucet in where it goes. Moen provides great step by step instructions to install the faucet. It was much more simple than I expected. All we had to do was install the base to the sink, feed the spray wand through the base, and attach it to the plumbing. When hooking the plumbing back up, just remember to hook it back the way it was before you took it all apart. Look at the photo you took before you took it apart and it is really simple! After all of your plumbing is re-installed, caulk around the edges of the sink with a silicone based clear caulk.
BAM! BOOM! BANG! You are done! I mean, really? Could it be any more gorgeous? I literally couldn't stop looking at it for DAYS! I still find myself just admiring my gorgeous new setup.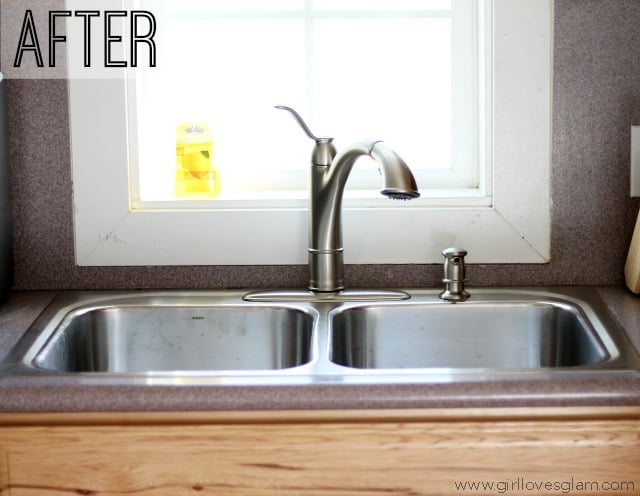 I have been so impressed with the quality of these Moen products. This faucet blows my mind everyday and I have never had any staining problems with the sink either. I couldn't be happier!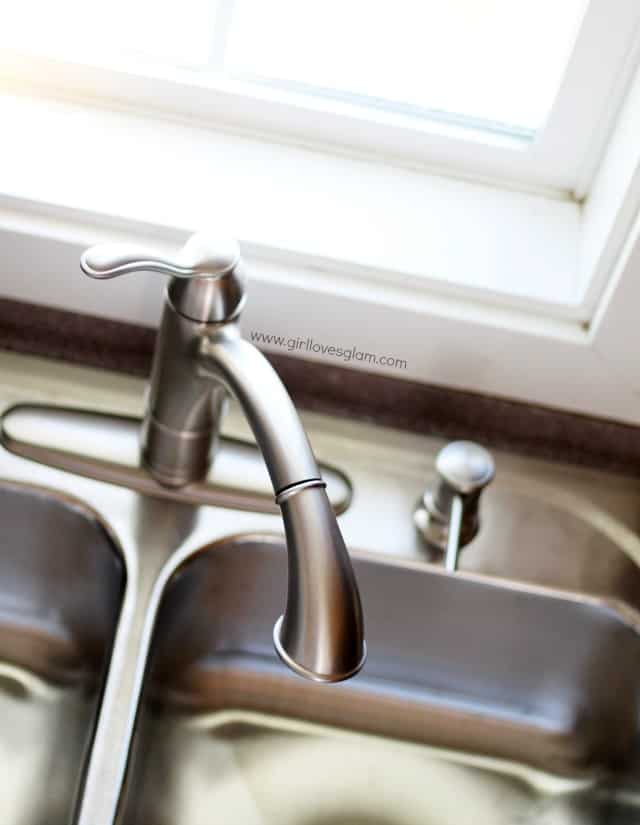 Stay tuned for the next phase in my kitchen makeover! You are seriously going to die when you see the transformation! What do you want to change about your sink or faucet? What kind of style would you choose?