Sometimes I need a little break. I know all moms feel this way. Although we don't always get the luxury of getting a break from our demanding lives, we need to find little things in our day to day schedule that we can take away to give ourselves a break from a few things that demand our time. Give ourselves a little rest and relaxation before we find ourselves wiping another dirty bum or scrubbing an unknown substance off of the floor we just finished mopping up. We live glamorous lives, right?
One thing I like to give myself a little break with is my makeup. I know, I know… I have a freaking makeup book! I am quoted on my feelings about how important I think it is for our self esteems to wear makeup and to feel beautiful, but I also think there comes a time that we need to take a makeup break. I am totally included in this. Today I took a makeup break. I do this once and a while. Most of the time I do this on the days that I know that I will just be home and not really see anyone. Today was different. I went and ran errands and was home, but I had a lot of people over at my house. Guess what? The world didn't end. I lived to go through it and I didn't even feel embarrassed. I still did my hair and got dressed for the day and was able to still feel like I was done up for the day without my makeup on. I was able to rely on more than just my makeup for my self esteem.
There are more benefits about breaking up with your makeup than just taking a break and working on your self esteem. It is also really great for your skin! When you stop concealing your skin, you can start healing!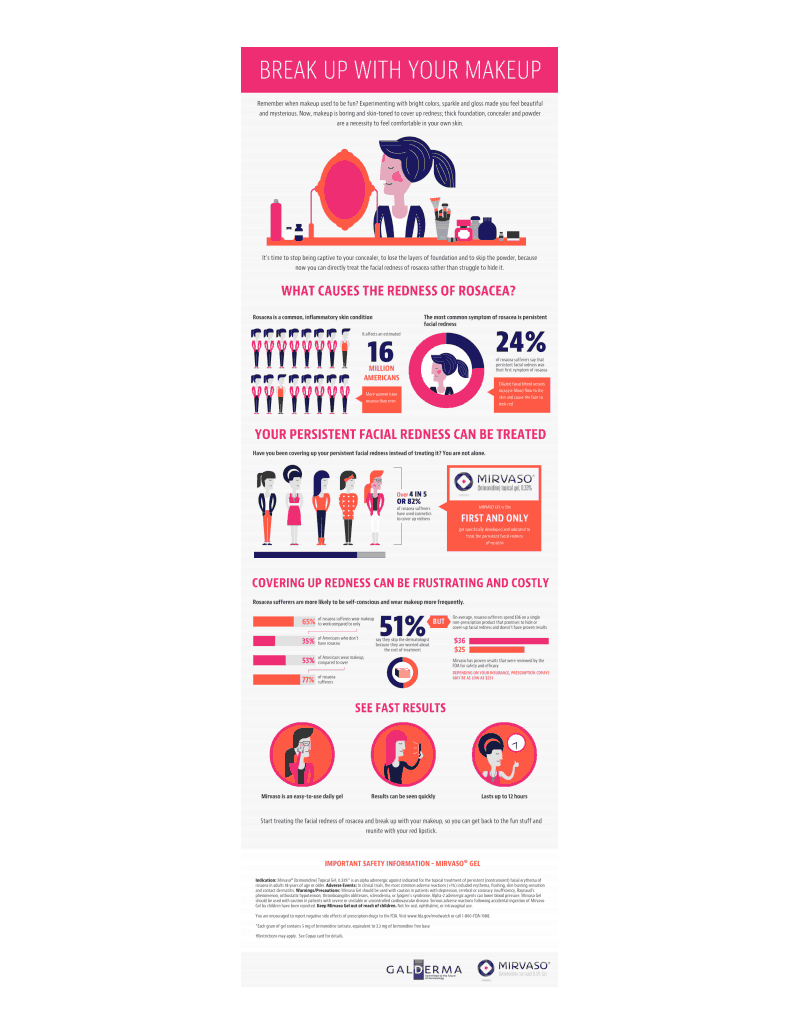 About 16 million Americans suffer from rosacea. When we are just covering up the redness with makeup, we aren't treating it at all. It can be really expensive to find products to cover it up. It is important to treat rosacea and take a little break from your makeup instead of just covering up our issues with makeup. There is a fabulous product created by Galderma Labratories L.P. called Mirvaso® Gel that is the first and only gel specifically developed and proven to reduce redness from rosacea! Now instead of just concealing, you can heal!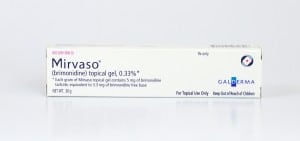 Mirvaso is easy to use, lasts up to 12 hours, and the results can be seen quickly. You can let your newly gorgeous skin shine through instead of just your makeup! Take a day to break up with your makeup and let your skin heal.
Mirvaso is also doing an awesome Emmy Awards Show ticket giveaway that you cannot miss out on! You can enter their giveaway HERE.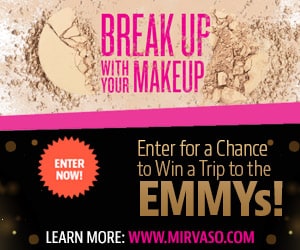 Indication: Mirvaso® (brimonidine) topical gel, 0.33% is an alpha adrenergic agonist indicated for the topical treatment of persistent (nontransient) facial erythema of rosacea in adults 18 years of age or older. Adverse Events: In clinical trials, the most common adverse reactions (≥1%) included erythema, flushing, skin burning sensation and contact dermatitis. Warnings/Precautions: Mirvaso Gel should be used with caution in patients with depression, cerebral or coronary insufficiency, Raynaud's phenomenon, orthostatic hypotension, thromboangiitis obliterans, scleroderma, or Sjögren's syndrome. Alpha-2 adrenergic agents can lower blood pressure. Mirvaso Gel should be used with caution in patients with severe or unstable or uncontrolled cardiovascular disease. Serious adverse reactions following accidental ingestion of Mirvaso Gel by children have been reported. Keep Mirvaso Gel out of reach of children. Not for oral, ophthalmic, or intravaginal use. You are encouraged to report negative side effects of prescription drugs to the FDA. Visit www.fda.gov/medwatch or call 1-800-FDA-1088.
I was selected for this opportunity as a member of Clever Girls Collective and the content and opinions expressed here are all my own.