Are you as excited for Spring as I am? I am not only excited about the warm weather, but I am excited about the fashion that comes with the warmer weather! I love all of the colors that start showing up in clothing during the Spring. My favorite combination lately has been mint and gold. I think it is the perfect combination for the Spring! I wanted a shirt that had both of those colors in it, but couldn't find one. So what did I do? I made my own of course! Wouldn't you?
The best part about this shirt is that it is so dang easy to make! To make your own, you need…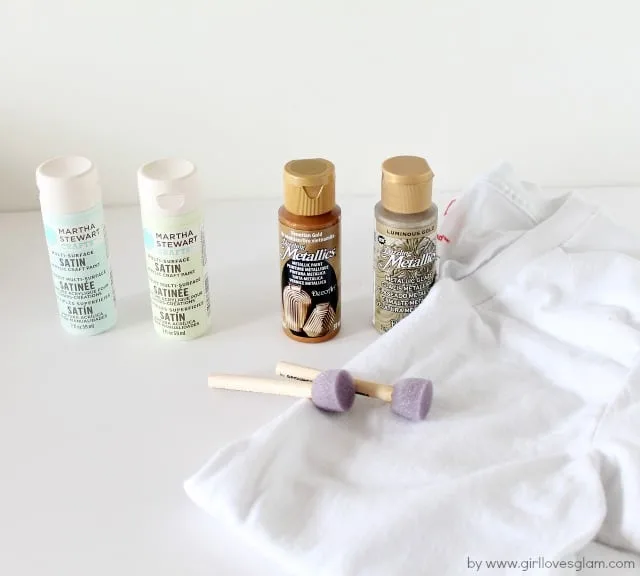 *Mint paint. I mixed these two different Martha Stewart colors because I didn't find a perfect mint that I liked.
*Gold paint. I mixed these two gold paint colors to create the color I wanted.
*Round sponge brushes
*White shirt. Mine is a Hanes men's v neck shirt. If you don't already know this secret, the men's v neck Hanes shirts are THE BEST v neck shirts ever.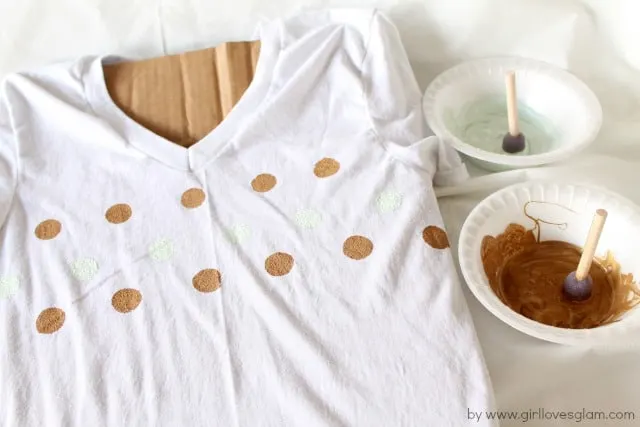 Making this shirt is really easy. Just dip the sponge brush into the paint and tap the majority of the paint off of it onto the side of the bowl. Then put a dot onto the shirt. Make sure that you put cardboard in your shirt so it doesn't bleed through. Something I discovered later, is that this shirt would look awesome if you paint the inside and then wear it right side out with the polka dots peeking through. It looks kind of like a burnt out tee. I just eyeballed how far apart to make the polka dots because I wanted it to be a little more whimsical, and less straight and perfect. I traded off doing mint and gold rows, but you could do any sort of pattern or no pattern at all if you wanted too. I think any assortment of these two colors would be amazing.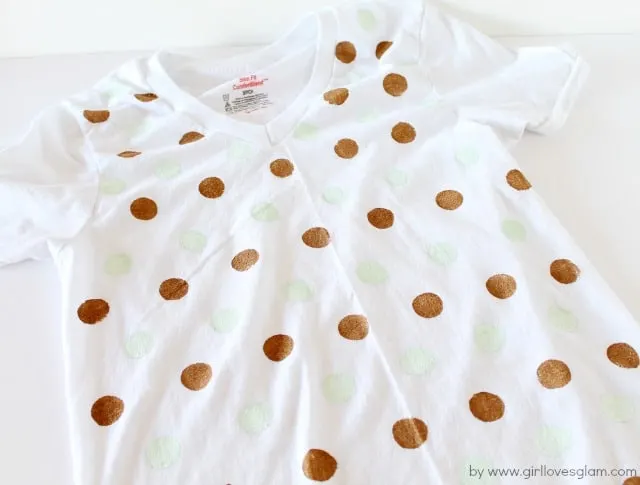 Go along your entire shirt and let the paint dry. Keep in mind that the paint will probably change colors a little bit as it dries. My gold paint lightened up a lot after it dried, which is what I was hoping for.
After your paint is dry, you can rock your new creation and feel all ready for Spring!
If you need your nails to match your new shirt, try this tutorial for this Gold and Mint Polka Dot Nail Art too!