I was given the EzPacking products to try out, but was not compensated in any other way for this post.
We took the big plunge in November and went on our first big vacation as a family. We have gone on little trips, but nothing too big that has just been the three of us. We decided to take our first trip to Disneyland together. The last time I went to Disneyland, I was in 4th grade. It has changed just a little bit since I was there last. You know, like that ENTIRE new park there?! That's right! California Adventure wasn't even there the last time I went to Disneyland. Dave and Harper had never been to Disneyland either, so we went big and not only went during their 60th Anniversary celebration, but we went during the holidays too! You can start calling us crazy right about… NOW! Honestly I thought it was going to be kind of a nightmare, but it ended up being a really special trip for our family. I am far from a Disneyland expert now, but I did learn some really valuable things about Disneyland travel. One area that I would consider myself kind of an expert in would have to be organization. This especially came in handy with packing for Disneyland. Here are a few tips that I highly recommend if you are going to be visiting the happiest place on earth any time soon!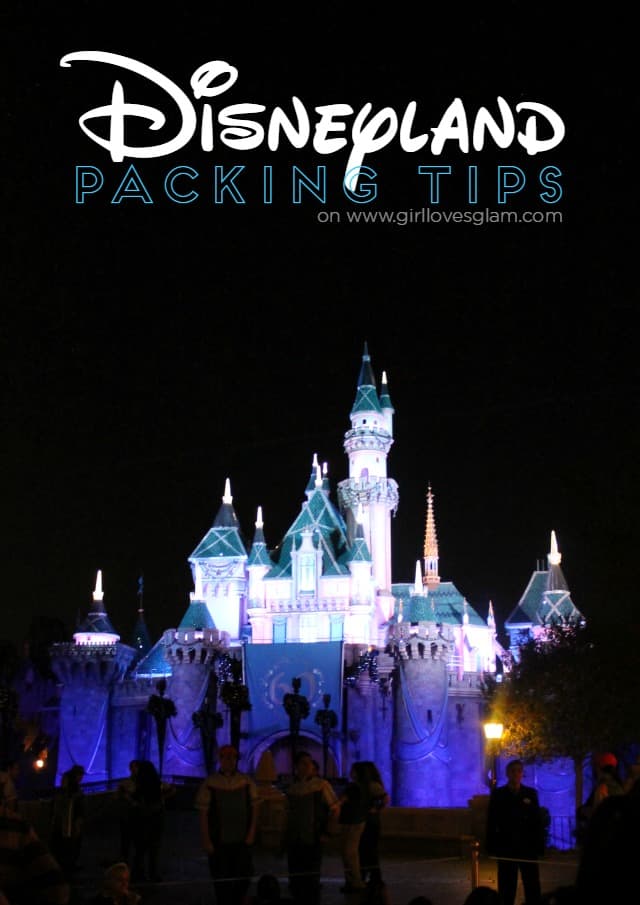 The first thing I would recommend doing is investing in some travel organizers. I got mine from EzPacking and they were PERFECT for everything that we needed them for.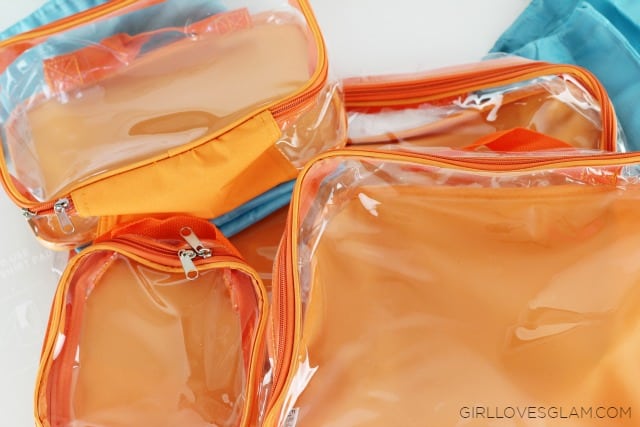 You may wonder what makes using these so great, instead of just stuffing everything into your suitcase. There are a few reasons. One thing I loved, was knowing that everyone's stuff was packed in their own containers. Once we got to the hotel and the suitcases were opened all over the room, it didn't seem like the suitcases exploded all over the room! EzPacking offers a few different bundles that you can choose from to fit you and your family's needs the most. They offer a Starter Set that comes with the four cubes like mine in the picture above. They also offer a Complete Bundle set that comes with two of the starter sets, a laundry bag, shoe bags, a duffle bag, and folding boards. It is definitely the better deal to go that way. They also ship internationally so everyone can take advantage of these great deals!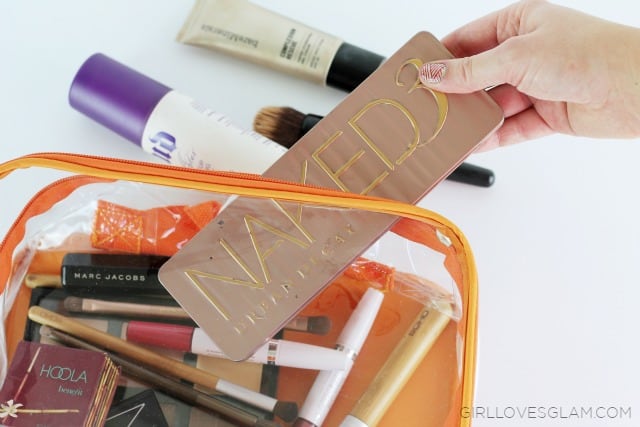 Things stayed organized and it made the hotel room a more enjoyable place to be. Another reason is that these organizers can keep your clothes nicely folded, while being able to cram more items in your suitcase. They saved us big time! One thing I hadn't even thought about before going was that our stuff would get all sandy at the beach. We had gotten a laundry bag in our set from EzPacking that I was able to keep our sandy clothes in so that the sand wouldn't get on everything else in our suitcases. I ended up doing laundry a few days later and it was nice to have all of the clothes contained in a bag so the hotel guests didn't have to see me carrying around handfuls of dirty clothes. One thing I wish I would have brought was laundry soap. I would recommend buying some of the laundry soap packs that they have and just packing a few in a little bag. I ended up spending $1.75 on each package of laundry soap for our laundry. It was a total rip off that could have been avoided if I would have just brought some laundry detergent with me.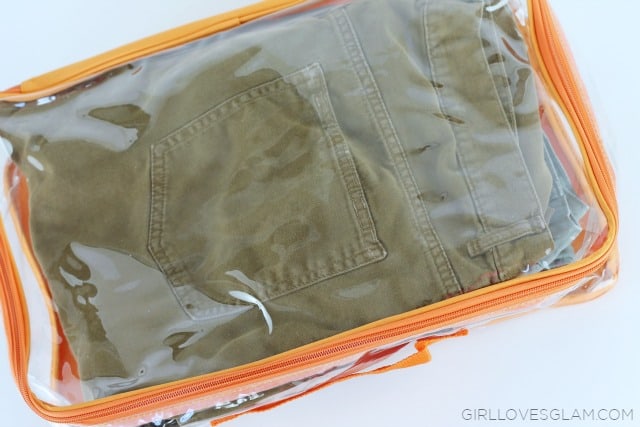 My next tip is to pack snacks and drinks to take with you into the park each day. Disneyland and California Adventure allow outside food! I would never recommend taking food to eat as your lunch and dinner because, HELLO you are at Disneyland! Eat their delicious food! But there is no sense in spending $4 on a bottled water and spending $30 over the course of your trip on soft pretzels alone. If you are going to be at your hotel for a day before you go to Disneyland, go to a grocery store and buy some drinks and snacks. We didn't have a day before we went, so we went to Costco and bought a box full of small bags of snacks, a box of fruit snacks, individual bags of almonds, a box of small water bottles, small bottles of soda, and a box of Sunny D. I packed a cooler bag that I have so we could put it in the bottom of our stroller each day. When we packed our bags to go, we had two small suitcases FULL of drinks that we checked in. We flew through Southwest airlines and got two free checked bags and a carry on bag, so we took advantage of that. Since you can't take drinks on your carry on bags, we made sure to pack accordingly so that the drinks would be checked in. The snacks could be packed anywhere, so we just packed them with the rest of our stuff. The nice thing about having those extra bags was that we could have more space for souvenirs on the way back. Having that cooler bag full of snacks and drinks saved us a lot of money and it was nice to have the snacks there all day, so we could have access to them whenever we would start to feel hungry.
That brings me to my next packing tip… Pack a stroller! I really debated about bringing our stroller because Harper was 3 years old and she doesn't ride in a stroller that often anymore. I also didn't love the idea of having to try to get through crowds with a stroller. After talking to some friends who were Disneyland veterans, I decided to bring the stroller with us. It was a major lifesaver! We were able to stuff our cooler bag, jackets, and my purse in the bottom of it while Harper sat in it so that we could cover a lot more ground than we would have if we would have only been subject to her little 3 year old legs.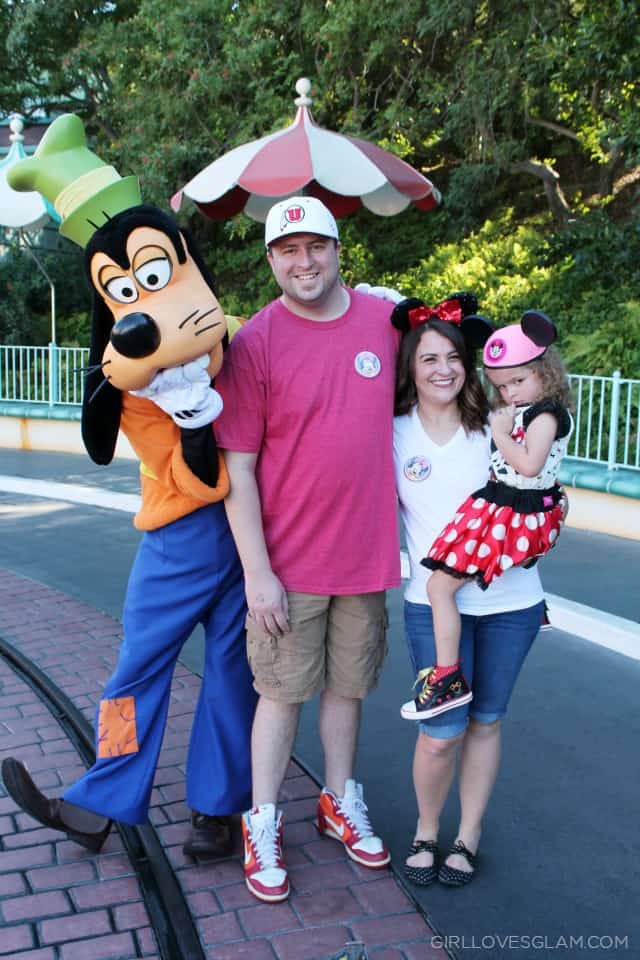 Since we are on the subject of tired 3 year olds, I will say this… Take a break if you need to! We went back to our hotel all but one day to go take naps. With the time change, the new beds, travel, and excitement of Disneyland, we were all worn out! It was nice to be able to get to the park really early each day and party until nap time, then go back and basically shut the park down after the fireworks. One of the nights, we were at California Adventure until 11:15 pm and it was so fun! It may have been a crazy parenting move, but it ended up working out great because we had taken naps and the next day was our day off from going to any of the parks.
While I was planning for our airplane rides, I knew I wanted to pack some toys and activities to keep Harper entertained. Nobody wants to be the one with the whiny kid on a flight. After a series of unfortunate events that lead to us totally forgetting her very most favorite stuffed animal, I was really grateful I had packed some good entertainment for the airplane to help her cheer up and enjoy the ride.
We packed her backpack with things to keep her entertained on the airplane. Snacks were an important thing to have in there because she wasn't really a fan of the airplane peanut option. She absolutely loves the Disney Princess clip on dress toys, so we packed one of the small EzPacking organizers with them so that all of the pieces could stay together. This took down the risk of us losing a princess or a dress, which would be pretty devastating! I also really recommend packing suckers or gum so that the air pressure doesn't bother your child too much. They can chew on gum or suck on a sucker to help their ears from building up pressure in them. The item that kept her the most entertained was definitely the Disney Imagicademy Animal book.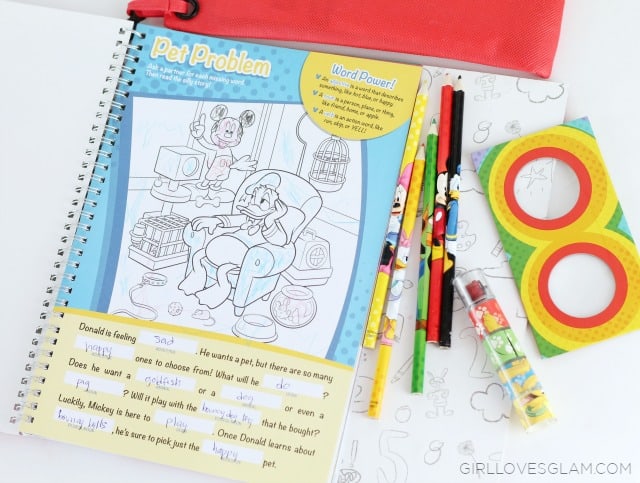 This one has coloring pages, stamps, word games, stickers, and funny glasses to look at some of the pages. She ended up playing with this on almost the entire plane ride and it kept her busy at the hotel when we would hang out there. She really loved playing with it because she could point out which characters she thought she would meet at Disneyland. I loved that it was educational too!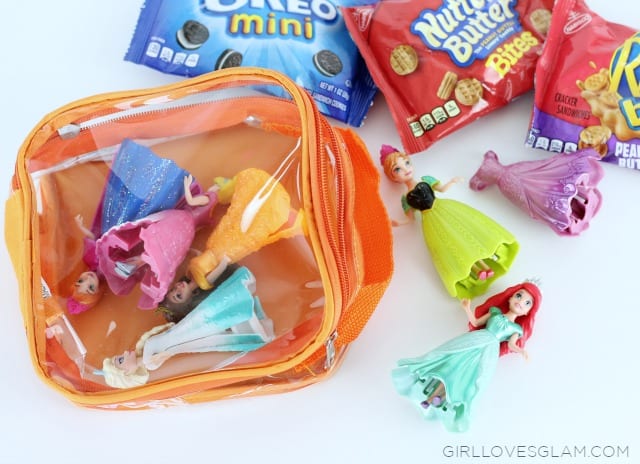 Once we got to our hotel, I took the bag with the clip on princesses and put them in my purse, along with snacks so that we could have some entertainment for the lines at Disneyland. We really lucked out and were able to get fast passes to almost everything that we wanted to ride on. We only had two relatively long lines to stand in. To a three year old, anything over about 10 minutes is too long. Keeping snacks and these princess toys in my purse definitely helped keep her entertained while we waited for our turn on the rides.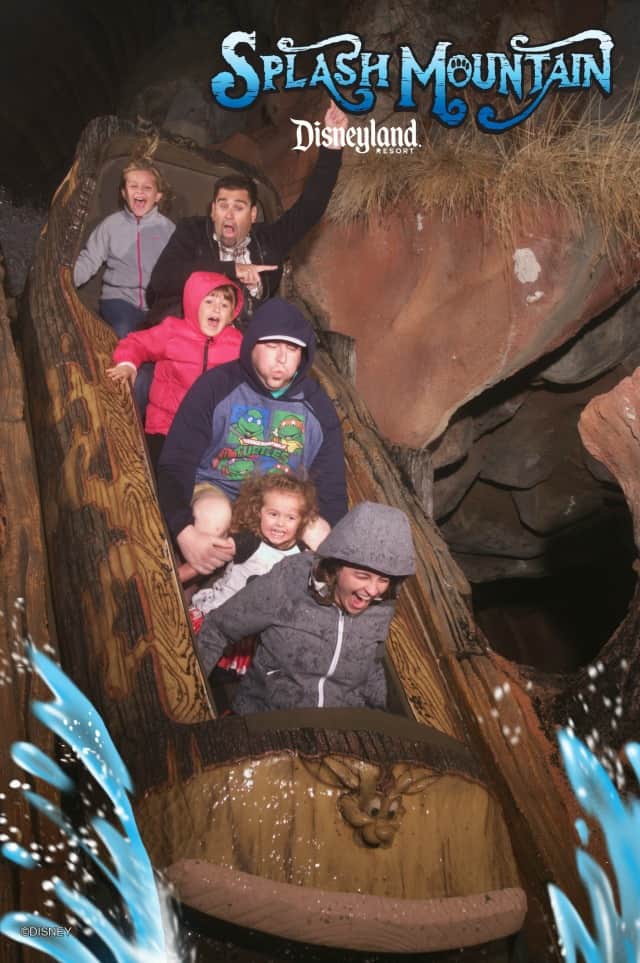 At the end of the day, Disneyland will probably end up being a major highlight of your family's memories no matter what you pack. Things just seem to go a lot more smoothly when you are prepared and organized! If you have any Disneyland packing tips of your own, please leave them in the comments! Have a magical time at Disneyland!
If you are looking for the best prices on Disneyland tickets and even discounted tickets for Character dining, definitely get your tickets from Getaway Today! They have saved us lots of money on Disney vacations! If you book a Southern California vacation, you can use the code GLG15 to get $10 off too!