When we went to Disneyland and California Adventure in November, I wanted it to be an extra special experience for us since it was the first time that my husband and daughter would be at Disneyland. I also wanted to try something that I had never done at Disneyland before, so I decided that character dining might be a great option for us. I did a lot of research before choosing our Disneyland character dining experiences and want to share what we experienced and what I have learned about them.
When I started doing my research, I was really surprised to find out just how many character dining options there were. I guess I shouldn't really be all that surprised. Disney seems to find a way to make the most money they possibly can and character dining is a great way to do that!
We went to Disneyland during one of the busiest times of the year and I knew that the lines would be absolutely outrageous to meet the characters, so the price of character dining didn't seem as unrealistic thinking about how much it would already be to eat in the park and the fact that we could eat and meet the characters at the same time, giving us more time to spend going on rides (waiting in other lines, of course) for the rest of the day.
We reserved our character dining about a month in advance, but I would suggest going on the website sooner than that to do it if you are going during the busy seasons because we didn't have that many options of what times we could eat because the time slots were filling up so quickly. Thankfully, we were able to snag tables at the two restaurants that we wanted!
The first character dining experience that we chose was Breakfast with Minnie at the Plaza Hotel.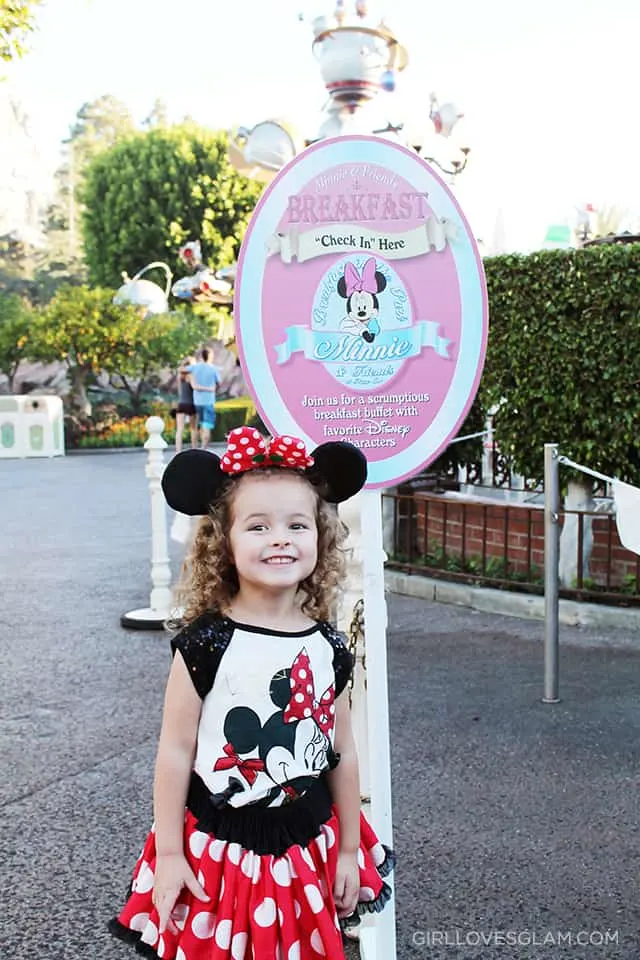 We chose this for a few reasons. The main reason was that we were guaranteed to meet Minnie Mouse at this breakfast. We have a major Minnie Mouse fan girl at our house, so it was a good decision on our part. When it comes to any Disney character dining experience, each of them have characters who are known to hang out at different restaurants, but they aren't guaranteed to be there each time. The only character who is guaranteed to be there, is the character who is hosting the meal. So if there is a character who your children would love to meet the very most, it may be the smart choice to go to the meal hosted by them (if there is one available).
This breakfast was the very first thing that we did and it was the absolute perfect way to kick off our Disneyland experience! We had Magic Morning tickets, so we got an early time slot for breakfast. I can honestly say that this breakfast was the best breakfast I have ever eaten. They know how to do food in Disneyland. I am not kidding when I say that the syrup for the french toast and waffles should win a major award, if it hasn't already. I will have dreams about it until I can get my hands on it again! We loved how this meal was set up. It is a buffet style meal, so you can go and choose whatever assortment of food you want. The food really was the best food we had in Disneyland our entire trip. Everyone was happy with this meal!
As good as this food was, the best part of this meal was the company! The characters at this meal were SO interactive and fun. I can't say it enough, but this was seriously the best way to start our Disneyland experience! The first character we encountered was Captain Hook. He didn't really give the 3 year old the best impression when he came up and put his hook on her shoulder and peeked around her shoulder. She didn't want anything to do with him, but Captain Hook was nice enough to sign the autograph book and pose behind the pouting 3 year old for a picture. He continued to make the rounds throughout the restaurant and he would come back and try to get her to warm up. She eventually warmed up a bit, thankfully!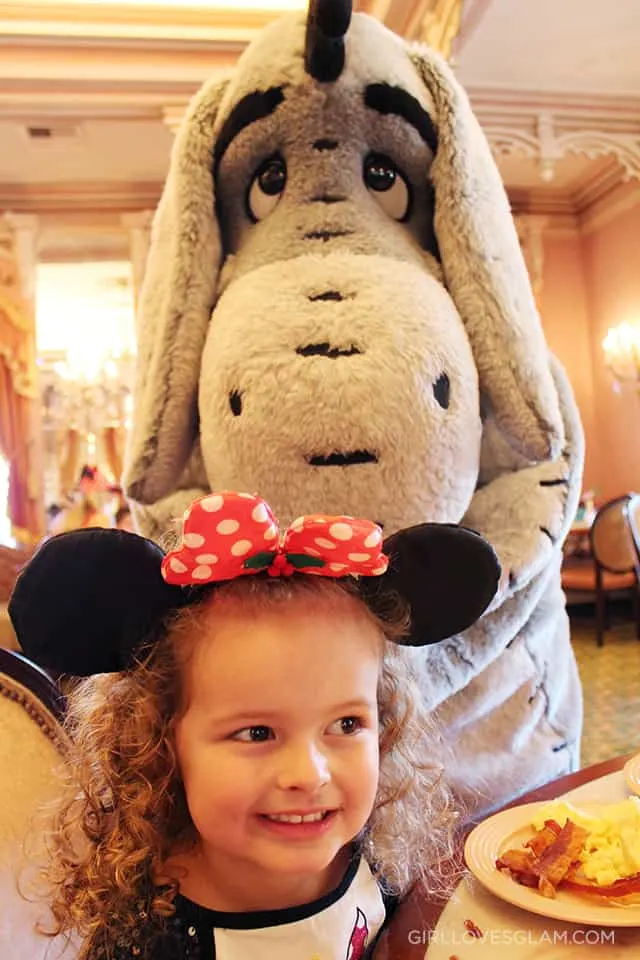 That was a really fun part about this meal though. The characters all come right to your table to interact with you, then they move on and make their rounds and they come back! We got to see each character several times during our meal.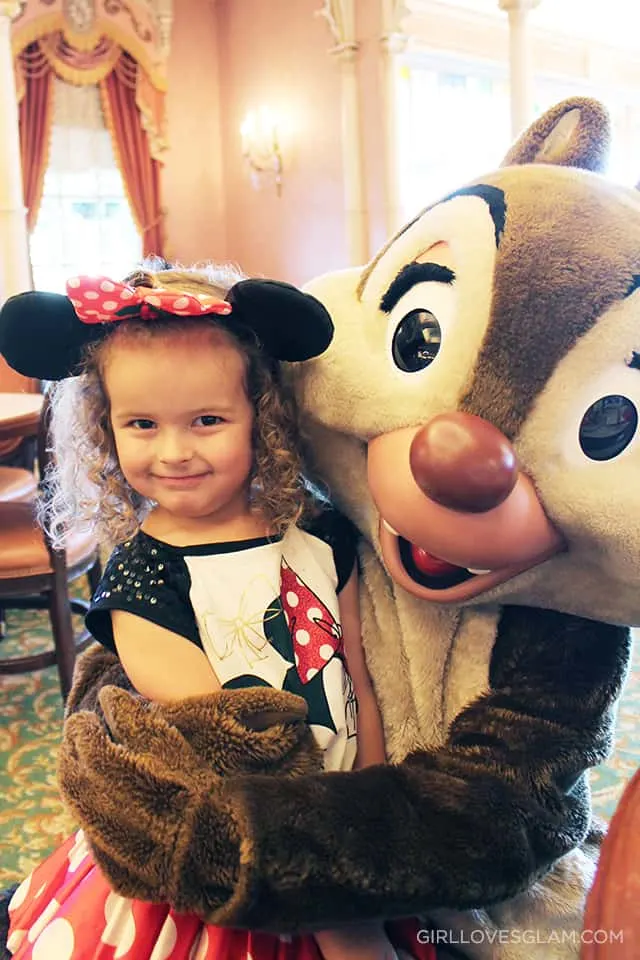 The characters that we met at this breakfast included Captain Hook, Dale, Eeyore, Winnie the Pooh, Rafiki, Fairy Godmother, and of course… Minnie Mouse!
The moment when those three year old eyes saw her most beloved Disney character made the entire trip worth it. It was a magical experience that I will never forget! Minnie was so sweet and could obviously tell that she was in the presence of someone who idolized her. She spent a lot of time at our table and made sure to come back several times after that. Each time she came, there were hugs, dances, and nervous hopping on the 3 year old's part. It really was the best!
Minnie's Breakfast at the Plaza Hotel will definitely be something that we will have to do again. It may have to be something we do every time we go to Disneyland. I had nothing negative to say about it!
The other character dining experience that we chose was in California Adventure. It was lunch at Ariel's Grotto. We chose this one because of the outrageous lines that can form for Disney princesses and the fact that some of those princesses rarely make appearances in Disneyland. Belle is known to be kind of a hidden character and we were really hoping she would be at this lunch. We lucked out and she was!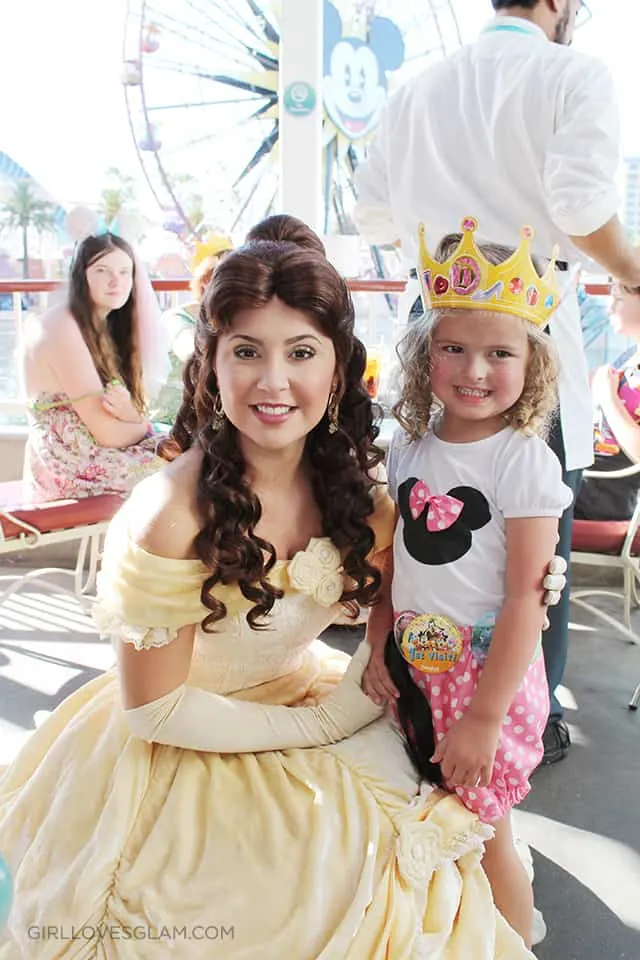 The way that lunch at Ariel's Grotto works is much different than the breakfast at the Plaza Inn. Here, we checked in and received a buzzer that went off when it was our turn to be seated. They showed us our way down the stairs where Ariel was standing to greet us. The meeting with here was extremely rushed and basically consisted of Disneyland photographers stuffing us in a corner with Ariel to get a quick picture. After getting a picture with Ariel, we were taken to our seats and given menus. The menu is pretty small. There were about 6 things to choose from and they are all themed around The Little Mermaid. I chose a shrimp linguine that was really good, but Dave wasn't impressed with his meal. The kids' menu had about 3 options and we got the Ursula Hot Dog Mac and Cheese. This meal was adorable and I am so mad that I forgot to take a picture of it! The mac and cheese is made with shell pasta and has goldfish crackers on it. On top of the mac and cheese is a hot dog that is cut up on the bottom to make it look like an octopus and along the edges of the plate was cauliflower that had been dyed to look like coral. Seriously the cutest lunch display!
The characters work a little differently at Ariel's Grotto than they do at the breakfast we attended. Since it is a royal affair, each princess gets announced and then they come around to each table to meet everyone. Once the princess is out of your area, another princess is announced and this goes on until all of the princesses have been announced. You only get to see the princesses once. They don't continue to make their way around the tables, but they do spend a little time talking to you as they come around. This was fun because they actually got to talk. Where the characters at the breakfast weren't actually characters who could talk, it made it a little harder to interact. The princesses could talk to us, get to know us a little, and talk about things that were happening in their lives as well. I was really impressed with the knowledge of each of these "princesses" about their stories as well. They all did a really great job embodying their character and relating it to our lives. When we met Belle, we were just about to go on a potty break and there were tears involved when we said to wait to go potty until we got to meet Belle. Belle could see that she was upset and she said "You know, Beast had a really bad temper and had to work really hard to get over it, but if he could get over his bad temper, you can smile for a picture for just a second. Do you think you can do that hard thing like the Beast?" As soon as she said that, there was a smile and even a conversation that happened before we bolted to the potty. After our quick bathroom break, we saw Belle as we came through the doors to where our seat was and she saw us and congratulated her on being so brave and she was so glad that she was a happy girl again. Each of the princesses were really fun to meet, but we were most impressed with Belle and Snow White.
They were the most warm and spent the most time at our table. I have heard that the princesses who attend the character dining changes frequently. I think it also depends on what meal you go to Ariel's Grotto for, but we had 5 princesses at ours and I believe that is how many you get no matter what.
One part of this meal that was a bummer for us is that we didn't end up getting a photo with Ariel because we were so rushed, we didn't get one with our own camera and we weren't about to spend $30 on a picture they came and tried to sell us. Ariel's Grotto was definitely the pricier character dining experience, but it is because they make it a little fancier since you are eating in the presence of Disney royalty. It was a fun experience to see the reaction of a three year old girl when she saw Disney princesses for sure, but this was one character meal that I probably wouldn't spend money on again. The food wasn't something I will be having reoccurring dreams about, things seemed pretty rushed, and it was quite expensive. If it is something that you will be doing only once in your life and you are only paying for one child, I would recommend it, but the more people you are feeding, the more expensive it is going to get!
Overall, our Disneyland character dining experiences were things that we will all remember forever. They were both really unique experiences that created a lot of memories. They were both really great ways to get photos with some of our favorite characters, while also enjoying our meals. I definitely recommend trying out a character dining experience on your next Disneyland trip. Like I mentioned, these were the only two character dining experiences we had, but hopefully they help you make your choice on what meal might or might not work for your family. I have heard really great things about Goofy's Kitchen and we will definitely be trying it out next time we go to Disneyland. I would love to hear if you have gone to any Disneyland character meals and what you recommend!
If you are looking for the best prices on Disneyland tickets and even discounted tickets for Character dining, definitely get your tickets from Getaway Today! They have saved us lots of money on Disney vacations! If you book a Southern California vacation, you can use the code GLG15 to get $10 off too!