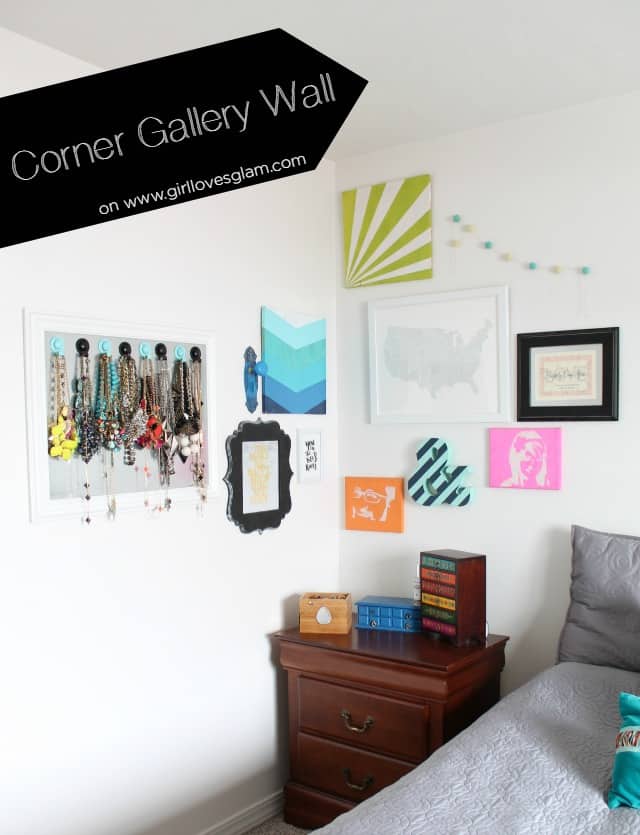 Rentals can be no fun. After owning my own home and taking on projects to make it my own, it is hard to live somewhere that I can't make any major changes to. However, I do appreciate not having to pay for the random repairs that have come up since living in our rental. I have been able to keep my decorating sanity with a hammer and nails and of course some Command Strips too, because heaven knows, I am obsessed with those things.
Our bedroom felt like it needed something funky that would make it feel like our own space. Of course there is the option of a traditional gallery wall, but why go traditional, when there is a corner just begging to turn into something more?
The thing that makes our corner gallery wall so perfect for our room, is the artwork that is in the gallery. I didn't just go to a thrift store and find colorful artwork or random art that had no meaning to us, I made sure that every item I hung on our wall had a special meaning. These canvas paintings were actually made by Dave! He gave them to me as a birthday gift several years ago. I love them and love that he put in the effort to make such a personal gift. The ampersand was something I made at a blog conference. I love that it sits between our pictures, cause when it comes right down to it, that is what our room is all about… the two of us!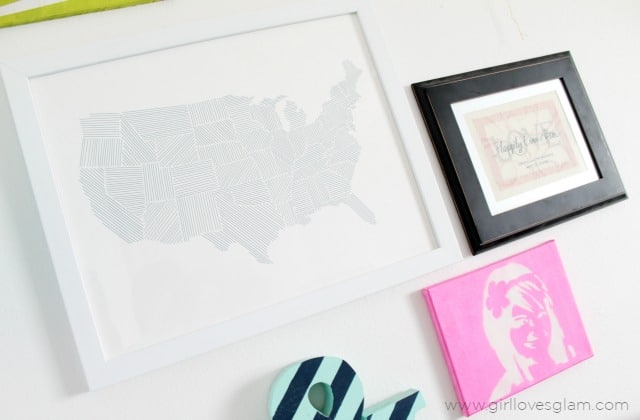 We have dreams of traveling all over and I love that this print of the USA serves as a reminder of all of the fun places we have been able to travel together and all of the many places we can still go! This gorgeous print came from Minted. I LOVE their selection of artwork and love that it is designed by independent designers! You can find this print HERE. The frame next to it is a beautiful needlepoint that we received from a dear family friend on our wedding day with our wedding date on it.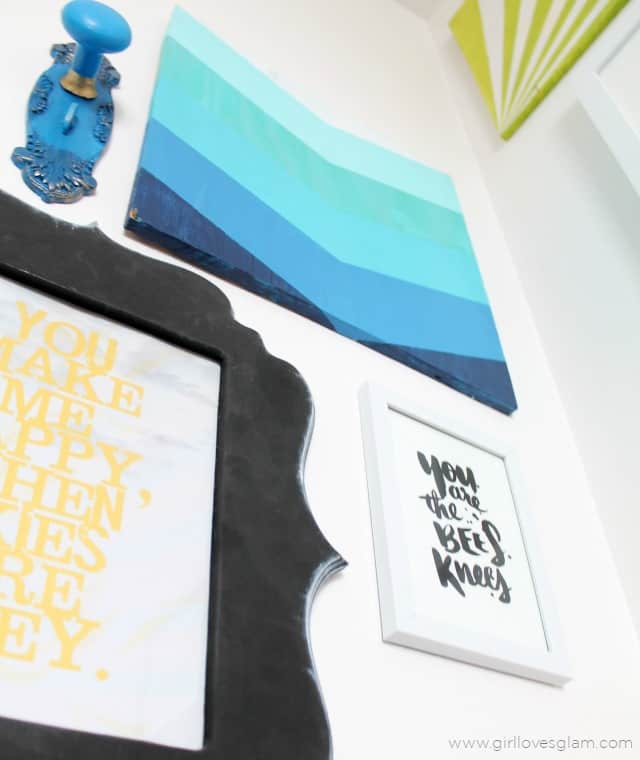 I love this "You're the bees knees" print that I found on Minted as well. They don't have that print anymore, but you can see all of their artwork, HERE. I love old fashioned sayings like this and loved the idea of having it in our room. It is a good reminder that we love each other and that we actually LIKE each other too! The "you are my sunshine" art next to us was found on Etsy several years ago. We sang it to each other a lot when we were newlyweds. I love keeping a reminder in our room of the "good ol' days". My geometric art made from scrap wood is also in my gallery wall. It reminds me of our very first home and one of my very first big projects I shared on my blog! You can find the tutorial for them, HERE.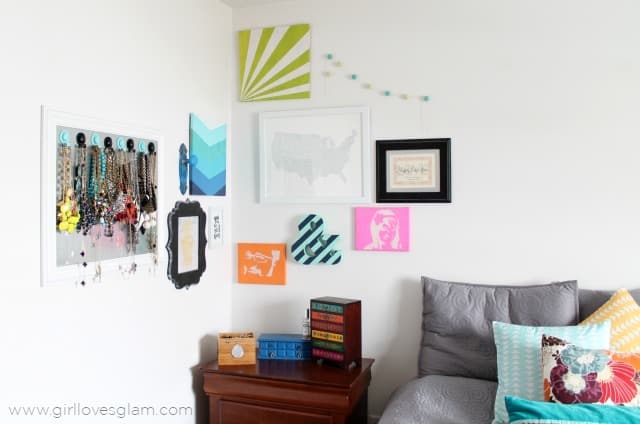 I love that my necklace hanger turned into part of this gallery wall too! The tutorial for it can be found HERE. My corner gallery wall started with my jewelry hanger. I needed to hang it on a stud, but wasn't crazy about where it needed to be hung. I decided to work with what I had and build off of where my jewelry hanger had to be.
If you are going to be creating a gallery wall in a corner, I recommend taking the bigger items that will have to be hung on a stud and figure out where they need to be and lay out your other items around in order to accommodate any pieces that need to be hung on studs. Don't forget that wall decor can also build off of height on tables. I wanted the wall to kind of blend in with my night stand so I made sure that the artwork came right down to my jewelry boxes sitting on the night stand. It all blends together to become a giant piece of art! You don't have to have huge, expensive pieces of artwork to fill up your walls! Use smaller pieces and furniture to piece together and take up more space to create something really special!
Do you have a corner that is just screaming to get a gallery of gorgeous art added to it?