This is a sponsored post written by me on behalf of ANN INC.. All opinions are 100% mine.
Finding the right career can be quite the adventure. Althought the job you got when you first turned 16 probably isn't the job you wanted when you grew up, that job helped develop your character in some way.
My first job was working at my grandpa's butcher shop. Not exactly what I had in mind when I thought of what career I wanted as an adult! Although it wasn't job I wanted for the rest of my life, I was able to learn a lot of very valuable things from that job, besides different cuts of meat. I learned what it meant to put in a full day of work. I learned what it meant to work together to get through a tough day. I learned how to interact with customers that were complete strangers. They were all characteristics that would stay with me for my lifetime.
Now that I am an adult, I can look back at that first job and really appreciate all of the growth that I got from starting there. I appreciate the hard work I saw my grandparents put in at their business every single day and knew that I wanted to be able to find something in my life that I was as passionate about as they were about their business.
Thankfully, I found that through blogging. There are some times that I wonder what I would be doing if I didn't blog. I interact with my readers and feel like I could be real life friends with all of them and hear what kinds of careers that they have and have come to the realization that in another life, I probably would have worked in fashion/retail. I worked a few retail jobs and really loved them!
The most important part about working anywhere though, is having the confidence to find a place that you truly fit! Fit is everything! That is the case with ANN INC! They believe that it is important to support and celebrate the richness of women's multi-dimensional lives. They believe that careers needs to be welcomed with a "hug not a handshake". Sounds great, right?
Well, it just got even better because ANN INC. is hiring! ANN INC. would be such a great place to work. They are the only fashion retailer to win the Gallup Great Workplace Award. I believe that the key to success in the fashion industry is to be confident in who you are and what your style is. That is what ANN INC. is looking for. They want confident people who can represent their brand well! Are you ANN INC.'s next must-have? Start a career with ANN INC. today!
Go check out ANN INC. on Facebook, Twitter, and Instagram to learn more about their company and see if you are the right fit for them. They have several career opportunities including various sales associate jobs, management positions, and even corporate management positions at their Ann Taylor stores and LOFT stores as well all over the country!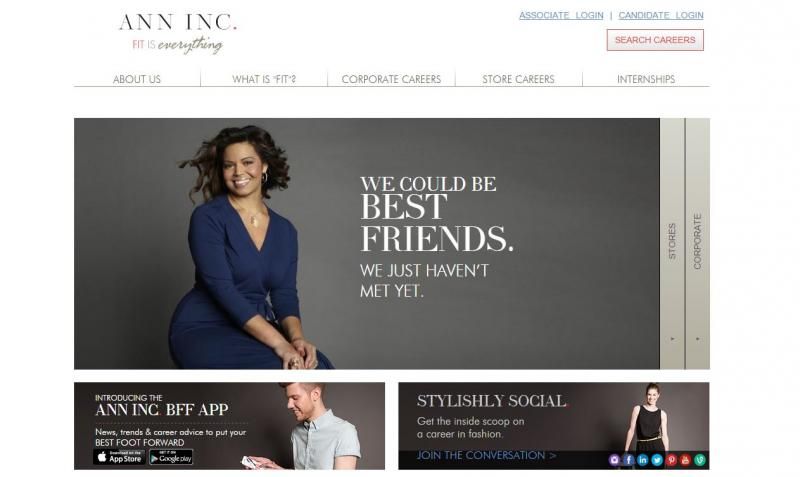 ANN INC is giving away a $25 ANN INC. gift card to one lucky reader! Use the Rafflecopter widget below to enter! Good luck!