Photography by Stayc Smart. This post contains affiliate links.
Back to school season is here for good! Now moms everywhere face the same issue of having to get ready quickly so they aren't the mom dropping their kids off while they are still in their pj's. If you have some great go to outfits, you won't have to worry about what you are going to put on really quick as you run out the door. Here are a few of my top tips to be able to put together some of your best outfits and nobody will have to know that you just woke up a few minutes before dropping those kids off!
Have a few jackets that you can put over almost anything in your closet.
Jackets, blazers, and cardigans can instantly take any tshirt and jeans look that might normally look a little slobby and make it look polished!
I love how edgy this utility jacket feels, without me feeling like I am wearing something that should go on someone half my age. It looks great over this button up top, but would look amazing over a casual t shirt as well!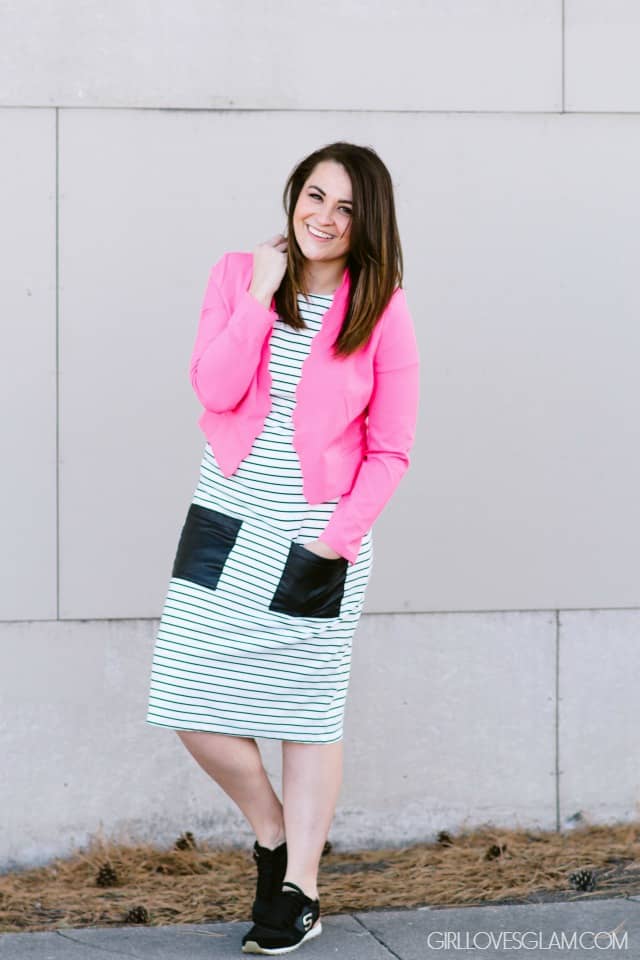 Blazers are one of my favorite ways to dress up any outfit. Throw it over a dress, a t shirt, ANYTHING! You will look like one of the most stylish moms at the school if you come rolling into the drop off sporting a blazer. This pink scalloped blazer is one of my favorite things to pair with just about any outfit in my closet.
Find some cute kicks.
Unless you are going to the gym right after you drop your kids off, don't wear your gym shoes to drop your kids off at school! Find some cute tennis shoes and rock them with a dress or jeans. Whenever I see a woman wearing tennies confidently, I instantly think that she feels 100% comfortable with who she is because she doesn't feel like she needs to rely on the height of heels to make her feel great.
Tie it up!
No, you don't have to be Justin Bieber in order to tie your button up around your waist. Although after going to his concert, I was convinced for a while that you have to be a fan of his to do so. I have never seen so much flannel in my entire life! I guess I didn't ever go to a Nirvana concert, but I would be willing to bet that a JB concert came in a close second in the contest for most flannel worn by fans.
Now that I am done with that random tangent, I am going to tell you why I love wearing my button ups tied around my waist. I love that they help give somewhat of a waist when I am wearing a tee and jeans. The waist isn't always apparent and this helps create at least the appearance that there is a waist there, even when there is an early pregnant tummy in there!
I also love adding a splash of color to my outfit. I am always so drawn to black, white, and gray. Having a button up that I can add to that look can really make my look a little more cheery!
Boots!
If you aren't the sneaker type, find some cute boots to sport. I don't think I have ever gone anywhere wearing boots without getting a compliment on them. There are so many different styles of boots available this time of year that you are bound to find some that fit your style perfectly.
These boots from Cents of Style are my newest addition to my boot collection and I can't wait to be rocking this olive color all season!
Tops, Tops, Tops
You don't need to have a closet full of perfect tops, but find some that you know are easy to pair with just about any bottoms in your closet. You also want them to be tops that you don't have to fuss over. Just some good solid tops that you know you can throw on last minute and still feel great!
I love tees with simple sayings on them. They make a statement, without being overbearing. I love my Stay Rad tee from Sunsparrow Shirts for this exact reason! They are also offering 20% off all tees to my readers with the code GLSS so take advantage of that while you are stocking up on the perfect tees for school drop off.
Lightweight tops that aren't t shirts are great to grab because you don't usually feel like you have to try to dress them up at all. I have loved this striped button up top from Cents of Style for that very reason. It is short sleeved, so it is easy to layer as the weather gets colder too!
Now you are all set to be the best dressed mom in the school drop off line!
Let's face it, it probably doesn't really matter what you look like when you are dropping your kids off at school but if you are already dressed for the day and your kids are gone for a few hours, why not go and be productive instead of going back home to get ready for the day before being productive? If you have your arsenal of good pieces to put on, you can get ready quickly so that you can be productive as soon as the kids are at school! Sounds like a major bonus to me!