Just because you are buying your kiddos back to school clothes right now, doesn't mean you have to miss out on getting yourself a few things for this "school year" too! I love finding clothes that I can buy without making a huge investment. That is how I have always felt about Forever 21. The problem is, I'm no longer 21. I'm far closer to 30 than I am to 21. There are so many cute things they sell that I can picture a younger version of myself wearing and I had almost given up hope shopping there ever again. Then I discovered a treasure trove of Forever 21 goodness that is totally appropriate for moms who want to look fabulous, but don't want to spend a lot of money on themselves after spending it all of their kids' back to school needs. Here are 60 Forever 21 finds that I am totally obsessing over right now!
I will admit, I probably purchased more of these items than I care to admit but I love when I can find a great price on stylish clothes! The greatest part about all of these pieces is that they are modest too. I am a momma who can appreciate finding stylish pieces that don't have to be altered too much in order to make them modest. I hope you can find some goodies to suit you this Fall too! There was a lot of research that went into this post and there will be affiliate links throughout this post. Please use them! It will help me justify spending all of this time (and money) researching this for you guys and I will know if it is something that I should do again in the future. Who doesn't like doing some shopping when someone else has done all of the work for you?!
First up, this outfit that I'm sporting. I will admit that I was unsure about the idea of overalls coming back in style but when you find some with just the right amount of fit around the hips and just the right distressing, you must buy them! I love these overalls and sadly even though they fit me two weeks ago, this baby belly can't fit in them anymore so I am hoping this trend will stick around until next year!
This baseball tee is beyond dreamy as well. It is under $10, comes in several color combinations, and has a really great fit.
Let's not ignore the cute little handkerchief scarf! I love this trend and will be fully embracing it. I'm not quite ready for the tattoo choker fad again, but I can do this!
Now let's really dig in and start with skirts! I love me a good skirt and love wearing them casually and more dressy. Here are a few of my favorite pieces that I found and thought would be totally age appropriate to wear as a mom too!
Skirts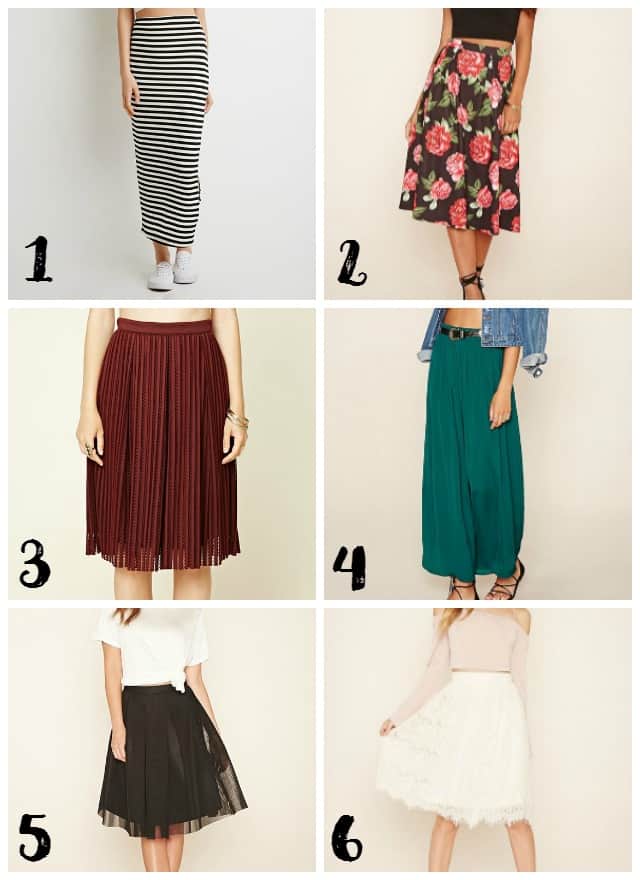 1 Stripe Maxi Skirt | 2 Pleated Floral Midi Skirt | 3 Pleated Eyelet Skirt | 4 Satin Maxi Skirt | 5 Pleated Mesh A-Line Skirt | 6 Eyelash Lace Skirt
I think it is important to find shoes that are both functional and stylish. There is no reason why any mom should be wearing running shoes everyday unless she is going for a run! There is a time and a place for running shoes but as a part of an outfit that you wear everyday… not the place. Branch out a little and find some cute flats or booties this fall!
Shoes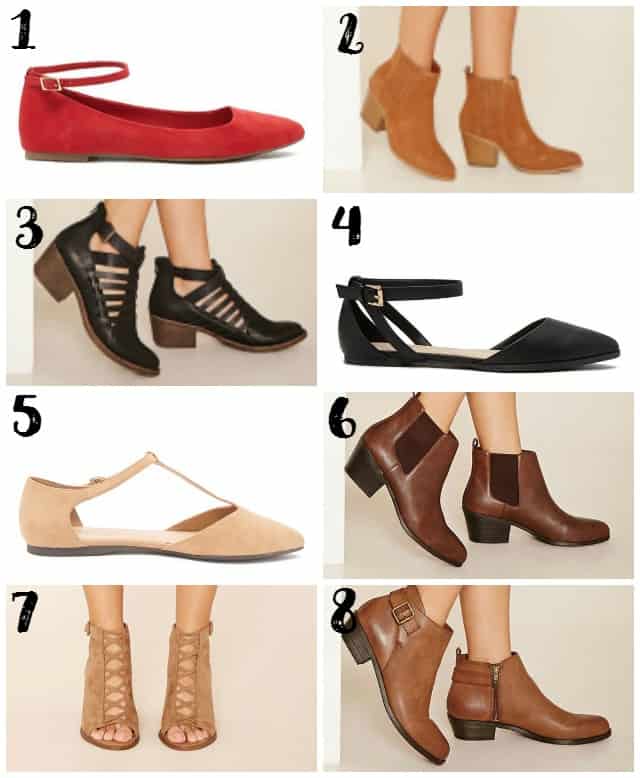 1 Faux Suede Ankle Strap Flats | 2 Faux Leather Boots | 3 Caged Boots | 4 Faux Leather Ankle Strap Flats | 5 Faux Suede T-Strap Flats | 6 Faux Leather Booties | 7 Cutout Booties | 8 Faux Leather Ankle Booties
Finding stylish tops that are cute and age appropriate for moms is a tough task sometimes. A huge part of making them look age appropriate is in the way they are styled. I love wearing graphic print tees that may be a little on the young side but styling them with a bold necklace or blazer to make them more age appropriate. The same goes for the opposite end of the spectrum. Sometimes tops can look overly matronly when they aren't styled well. So enjoy these favorites I found, but remember to style them properly too!
Tops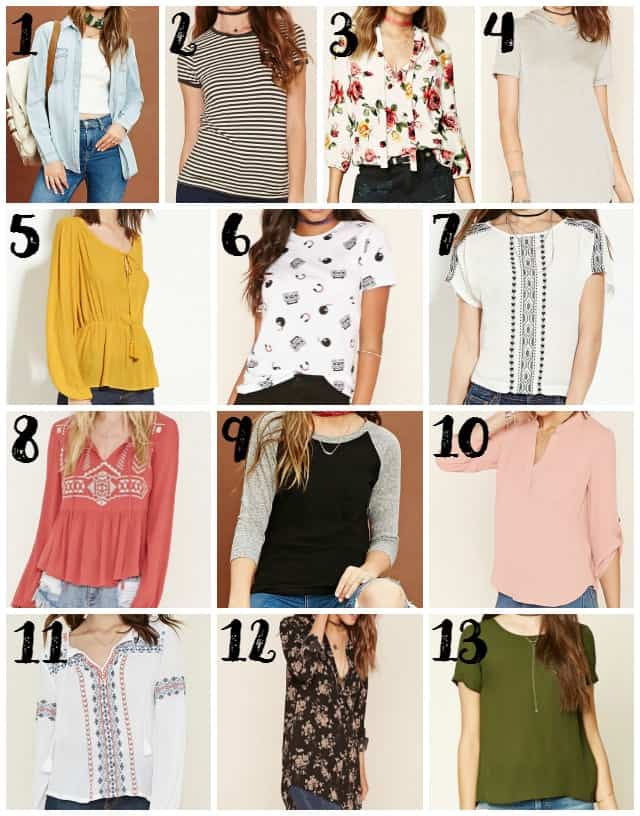 1 Chambray Top | 2 Striped Tee | 3 Floral Self-Tie Top | 4 Hoodie Tee | 5 Contemporary Peasant Top | 6 Boombox Tee | 7 Embroidered Top | 8 Embroidered Crepe Top | 9 Baseball Tee | 10 Popover Top | 11 Self-Tie Peasant Top | 12 V-Neck Floral Top | 13 Woven Cuffed Top
No outfit would be complete without accessories! Accessorizing in just the right way can be the cherry on top of the perfect outfit! These accessories are ones that I think would be beautiful and totally functional for busy moms.
Accessories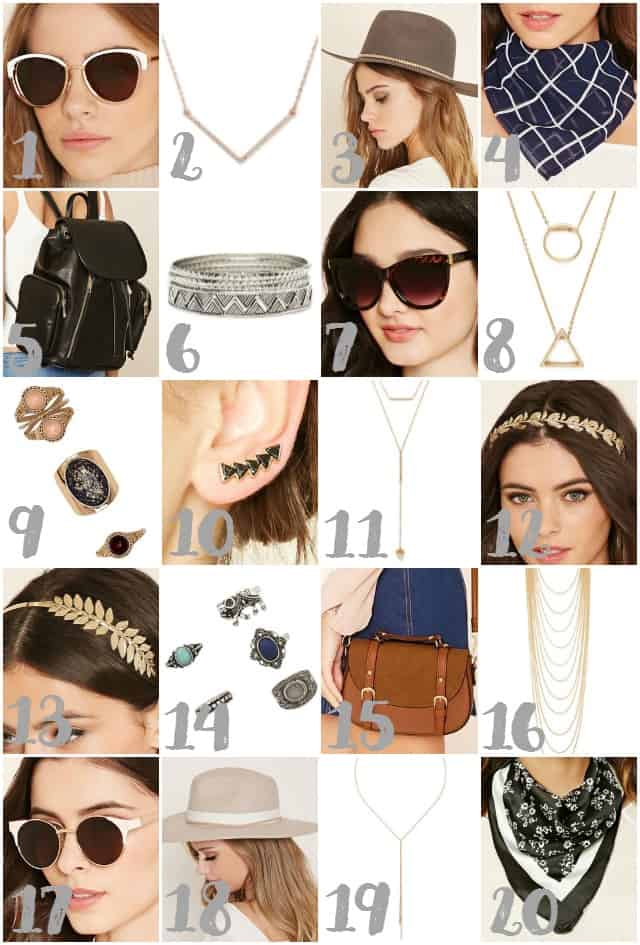 1 Cutout Cat Eye Sunglasses | 2 Chevron Rhinestone Necklace | 3 Metal Trim Fedora | 4 Grid Square Scarf | 5 Faux Leather Backpack | 6 Silver Bangle Set | 7 Cat Eye Sunglasses | 8 Geo Shape Necklace | 9 Statement Rings | 10 Arrow Ear Pins | 11 Crystal Layer Necklace | 12 Etched Leaf Vine Headband | 13 Etched Leaf Headband | 14 Elephant Rings | 15 Mini Crossbody Bag | 16 Chain Layered Necklace | 17 Browline Cat Eye Sunglasses | 18 Wide Brim Fedora | 19 Rhinestone Drop Necklace | 20 Floral Square Scarf
Cardigans and jackets are a major Fall staple in my closet. I love what they can do for a boring outfit!
Cardigans and Jackets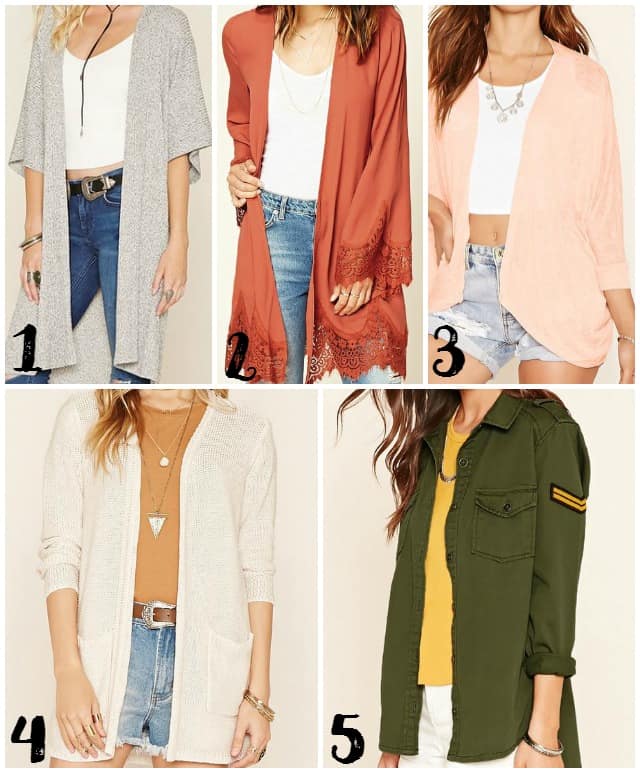 1 Long Knit Cardigan | 2 Lace Crepe Cardigan | 3 Knit Open-Front Cardigan | 4 Lightweight Open-Front Cardigan | 5 Utility Jacket
Fall wouldn't be fall without denim! I love introducing a lot more denim into my wardrobe when the weather starts to cool down. I know I said it before, but I absolutely love the overalls that I got from Forever 21 and just can't wait to be able to wear them again!
Denim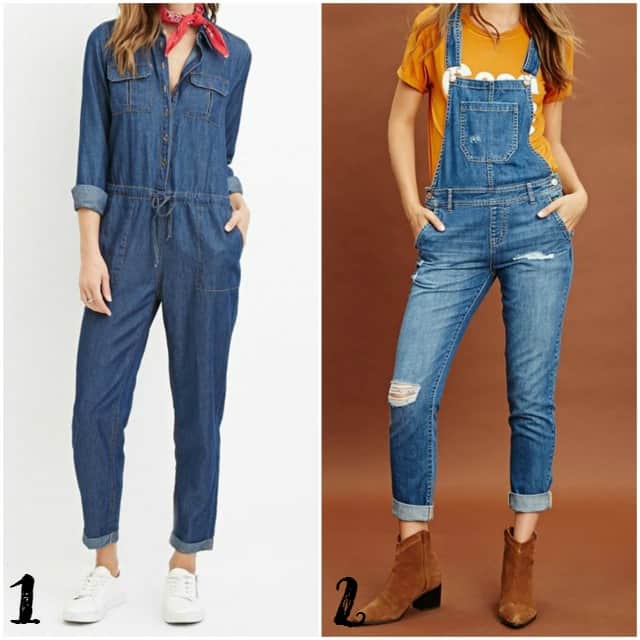 1 Denim Jumpsuit | 2 Distressed Denim Overalls
I personally think I saved the best for last. I love dresses! I love how effortlessly elegant I feel when I wear them. I also love how easily they can be dressed up or be worn casually. The floral dress I wore for the big gender reveal was a huge hit and it is from Forever 21! Not a maternity dress, but it totally works and would be beautiful on a girl who isn't pregnant too!
Dresses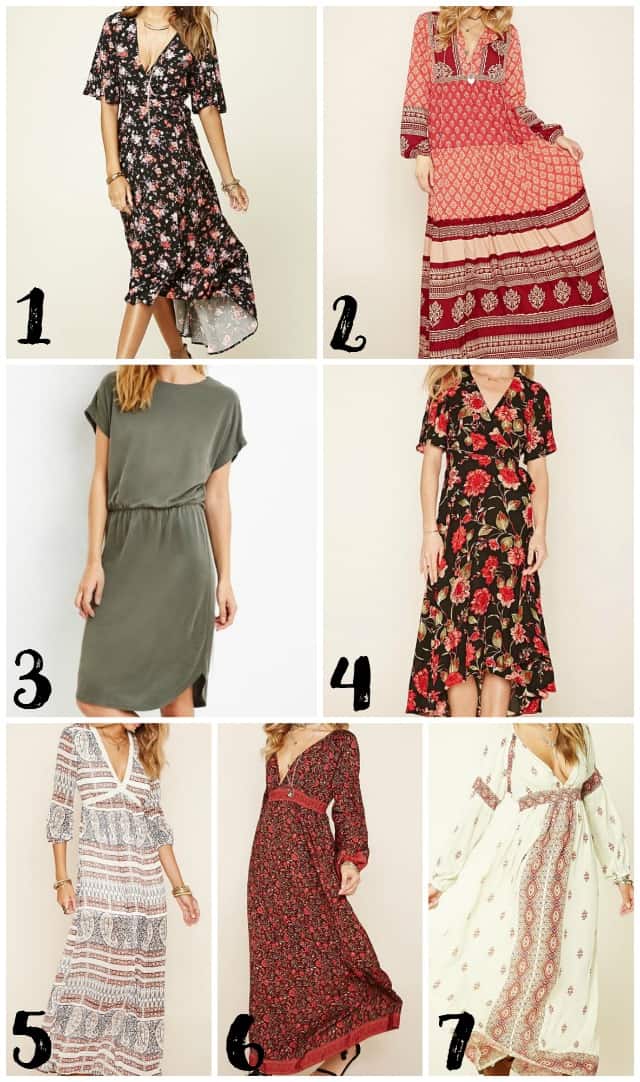 1 Floral Wrap Midi Dress | 2 Floral Maxi Dress | 3 Dolman Smock Dress | 4 Floral Wrap Dress | 5 Crochet Trim Maxi Dress | 6 Red Floral Maxi Dress | 7 Abstract Maxi Dress
How many of you stuck around for all 60 items?! I want to know what items you will be grabbing to treat yourself this back to school/fall season!