This post contains affiliate links.
I am a member of the LDS church. All of the leadership positions are volunteer positions that we are called and asked to do. I have two callings. I teach the 4 year old children each Sunday and I am part of a group who is planning girls' camp for all of the girls ages 12-17 in our area. We call it stake girls' camp. I am specifically in charge of the older girls in the group who will be helping with several responsibilities at camp. They are called Youth Camp Leaders. We had a big kick off party for the YCL's so they could get caught up on what our theme is for the year, what the responsibilities will be, and what to expect this year.
The event was a lot of fun! We got all of the YCL's to come to the church, where we had pulled all of the couches and chairs from the lobby of the church and put them in the gym with several bean bag chairs so that it would feel like a cozy sleepover. The event went from 6 pm until 11:30 pm. We fed them homemade Chinese food, they played a group game to get them comfortable, and then we had them settle into their seats to introduce the theme. This year, our theme is a superhero theme. I am not in charge of the theme, so I can't remember all of the details with the theme. There is a great scripture about the power of Christ that they are using to go along with the theme. The power of Christ is the super power that they are using the superhero theme with.
We wanted to tie in that theme with our kick off party, so we invited inspirational women to come and speak to the girls. We introduced these women as everyday superheroes. We told them we wanted them to go everyday like they have a pretend superhero mask on to be an everyday superhero and to also look for the examples of everyday superheroes all around them. We gave them necklaces with glasses on them to represent their superhero masks and I made a little printable to go along with it.
We found this adorable saying that ties in all of the Young Women's Values in with the superhero theme. We found a printable from Kandy Kreations where she used this saying, but we needed it to work with our necklaces we were giving out, so I made a new printable for them.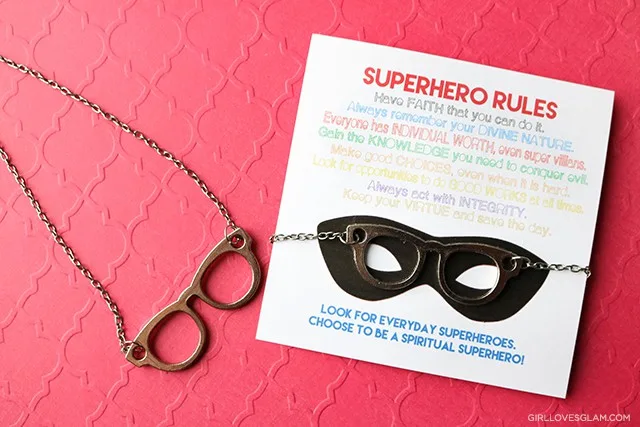 I printed out the tags on cardstock paper and I put a glue dot on the backs of the glasses to keep them in place over the superhero masks.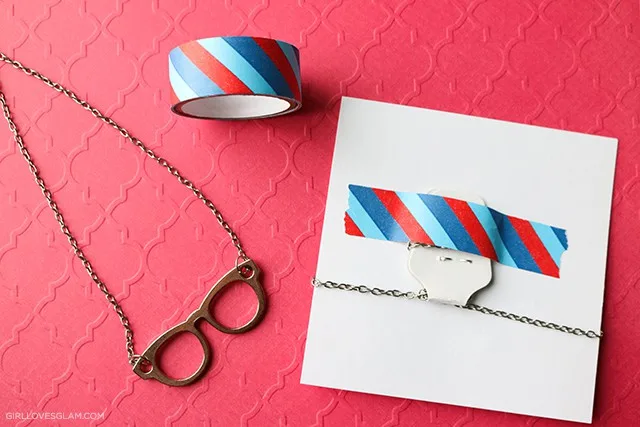 I wrapped the necklaces around the carstock and wrapped the chain around the tag on the necklace. I took some washi tape that matched our theme and taped it into place on the back.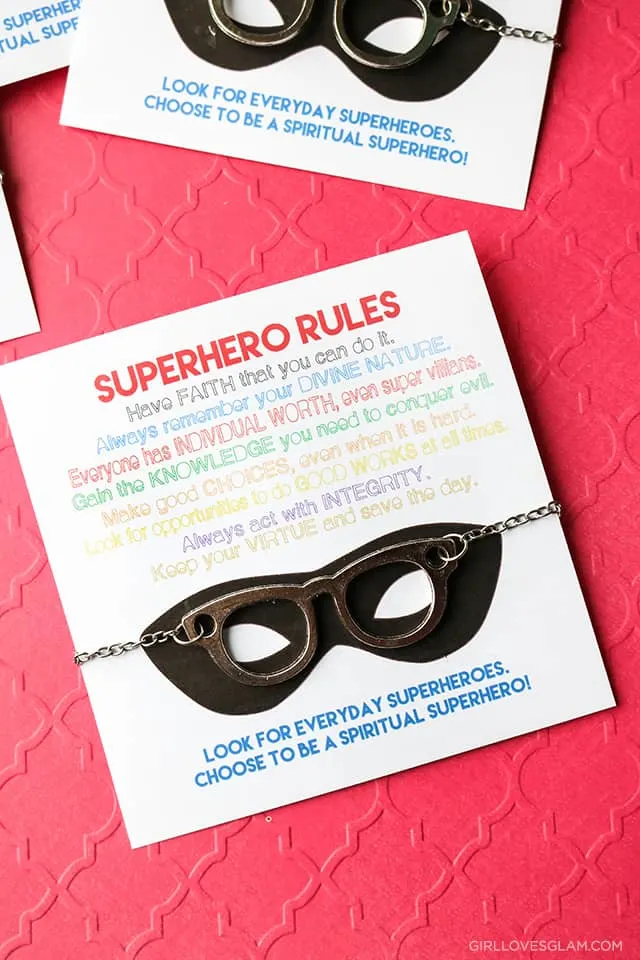 The girls were all really surprised by the necklaces and loved that they were actually something they would wear on a normal basis. They definitely helped our kick off party and all of our YCL's are very excited for girls' camp this year!
You can get your free printable of this tag by clicking on this link.
P.S. If you are looking for necklaces like this, we had access to a wholesale account so we could purchase these for under $1 a piece. If there is someone in your stake who has a wholesale account, look into doing that. I found these spectacle glasses on Amazon that were the cheapest I could find. If neither of those work, you could give them sunglasses, or even order these glasses charms and have them make their own bracelets or necklaces.