I am a sucker for online shopping. There is just nothing that beats spending money while sitting on the couch in pj's! The other bonus about shopping online, is the mail! I love getting packages in the mail! Today's what I wore post is all based on my love of online shopping!
Sweater: c/o Swagger Boutique | Leggings: c/o Kohl's | Boots: Target | Necklace: c/o Apple of My Eye Jewelry |
Cuffs: c/o One Little Momma | Bag: c/o Sage and Harper
Now for these amazing shops… First, let me tell you about Swagger. It is a local boutique in my area, but they also sell online through their Facebook and Instagram page. I own a few pieces from there and I am obsessed with them all! This sweater is probably my favorite though. I love the different colors and the stripes! Next, is the Apple of My Eye necklace. This thing makes a STATEMENT! It is huge. I feel like I can wear it with absolutely anything! The bag is from Sage and Harper! Can I just tell you that I have been DYING, like literally dying for a Sage and Harper bag? They are amazing. They are handmade goodness. I can't even tell you how immaculately made they are. The leather is exquisite and the fabric is perfection! Words can't describe the perfection that is Sage and Harper. They are taking over the world, one fabulous bag at a time. They are even giving my readers a 20% off discount on their bags when you use coupon code, GIRLLOVESGLAM20.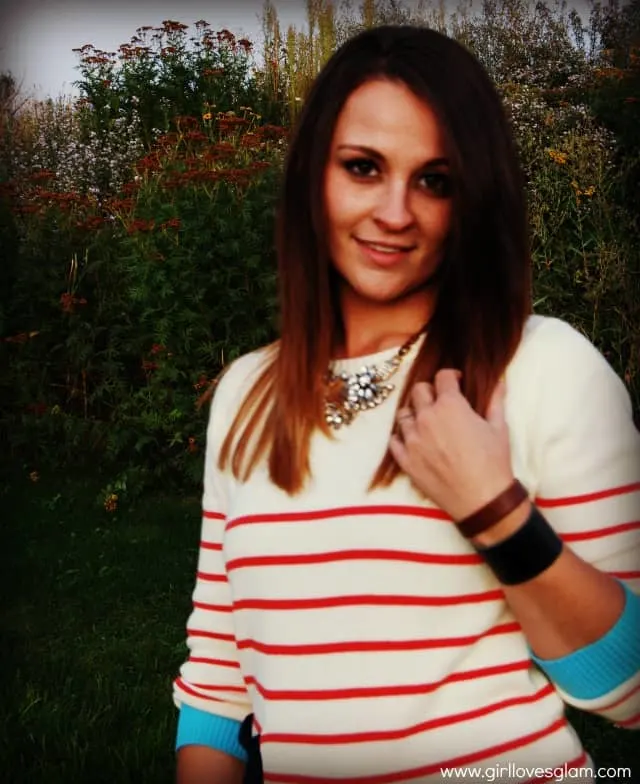 Now for the cuffs. They are from One Little Momma! I love her blog and when I met her at Snap this year, she gave me the brown cuff. Now, she has an Etsy shop full of cuffs, including the thick, black cuff that I wore too! She has a separate Etsy shop too called One Little Belt that is full of baby and toddler belts that are to DIE for!
What are your favorite online shops? I would love to hear about them!