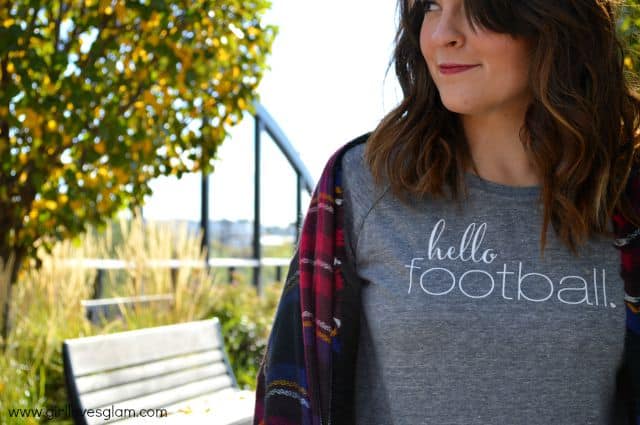 I love football. I didn't grow up in a house that football was a huge part of our lives. My dad enjoys watching football on TV, but we didn't have any strong football team preferences or anything. We were always much more of a baseball family. When I got into high school, I started to learn just how great football is. My high school has a rivalry game that is ranked in the top 10 rivalries in the entire United States. That definitely started to light my fire!
When I was in high school, my best friend and I went to Cinderella Story in the theaters. We were the only two people in our theater. It was right before the school year started and we went crazy when Chad Michael Murray leaves his football game to kiss Hillary Duff. We both looked over at each other and said "I am so excited for football season to start again!"
After high school, I was so busy with beauty school that I didn't get much of an opportunity to enjoy football games anymore. That was the case until I met my husband. He was definitely unlike anyone I had ever met before. If you have read any of our love story on here, you know that he was a rapper when we met. That was only who he was on the surface. When I got to know him more I realized that he was also passionate about reading, loved his parents more than anything, and had a serious love of football.
When I met his dad, "Big Dave" I was not prepared for just how passionate he was about football. Not just any football… University of Utah football. This was what he loved! Thankfully I had had a high school government teacher who loved the Utes and made us learn their fight songs for extra credit. As I dated my husband and we were married, I quickly was thrown into the love of the Runnin' Utes.
Big Dave had ALS (Lou Gehrig's Disease) and would watch the Utah football games from his hospital bed. They were playing better than ever and he loved to cheer them on. Then something really amazing happened… Big Dave got a visit from the University of Utah's head coach, Coach Kyle Whittingham. He brought Big Dave all sorts of U of U gear and visited with him for quite a while. He also told Big Dave that when he got out of the hospital, he would have sideline tickets waiting for him. If we weren't already Utah fans before then, we became even bigger fans after that.
Shortly after Coach Whittingham's visit, Big Dave passed away due to complications with his disease. That was seven years ago to this day. We were newlyweds and were faced with one of the most trying times of our entire lives. When we were planning the funeral, my husband Dave wanted to call and leave a message for Coach Whittingham to thank him for visiting his father and to let him know that he had passed away. Instead of getting an answering machine, Coach Whittingham answered his phone. He expressed his condolences and told Dave that he knew that the game they were playing the following night was sold out, but he had two more tickets that we could have if we wanted to attend… of course we did!
That game was electric. The game was completely full of people, except for one empty chair that happened to be right next to us. Imagine how we felt knowing that somehow there was an angel sitting in that seat next to us. The Utes came back from behind and won in the last play of the game and the crowd stormed the field. It was seriously one of the most fun memories of my entire life. The Utes ended up going undefeated that season. I know they are a talented group, but I think they had a little extra help from heaven that year.
Now, after 7 years we are still major fans. I surprised my husband and told him that to honor his dad, we splurged and we are attending a Utes game in just a couple of weeks. I can't think of a better way to honor his father's legacy.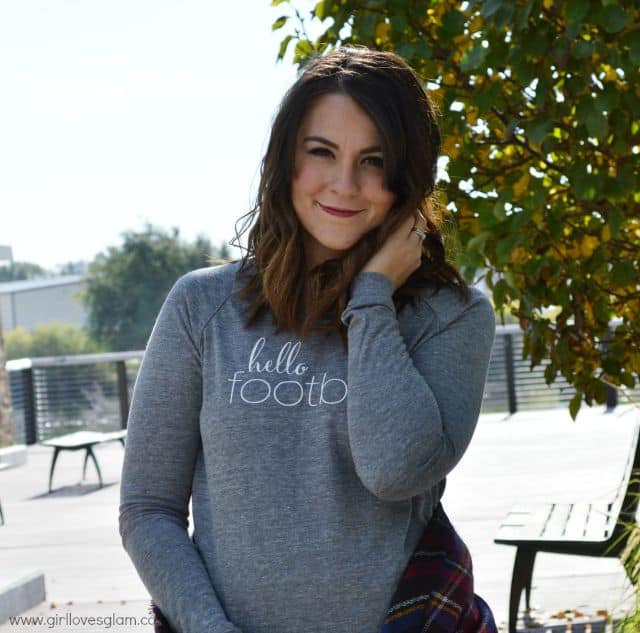 When I was approached by RubyClaire Boutique about their new Hello line they launched today, I just knew that I needed the Hello Football shirt. It seemed really appropriate to launch this shirt on this day. They have a few other "Hello" phrases that they launched today as well that are just adorable. They are also offering 15% off your entire purchase Sept 29-Oct 5th when you use coupon code HELLO.
They are offering an awesome giveaway as part of their launch as well! Use the Rafflecopter widget below to be entered to win. Good luck!
What are you passionate about that has a deeper story behind like my passion for Utah football?