Since we moved into our townhouse, I knew I wanted to turn my daughter's room into a completely new space from what it was in our house. She is growing up! She isn't a baby anymore, but she also isn't a big girl yet so I wanted to be sure to create a room that is fun and soft like a nursery, but has character like a grown up room.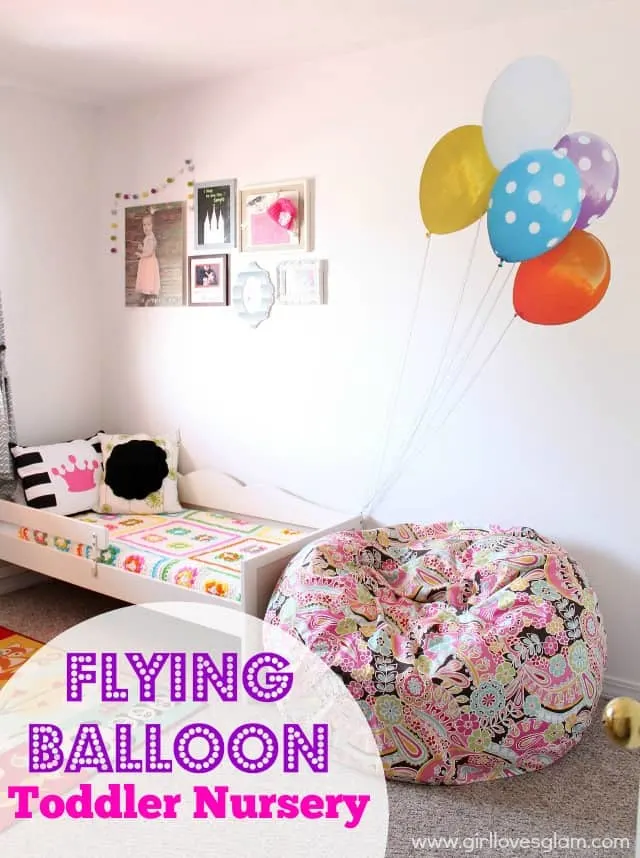 I could just squeal every time I walk into this room! I absolutely love how it turned out. I knew that I wanted to stick with the colorful theme and include all of her favorite things within the decor. She absolutely loves princesses, so I decided to include crowns and princess decor throughout the room, without getting too cheesy. She also is obsessed with balloons! I mean, what little kid doesn't love balloons?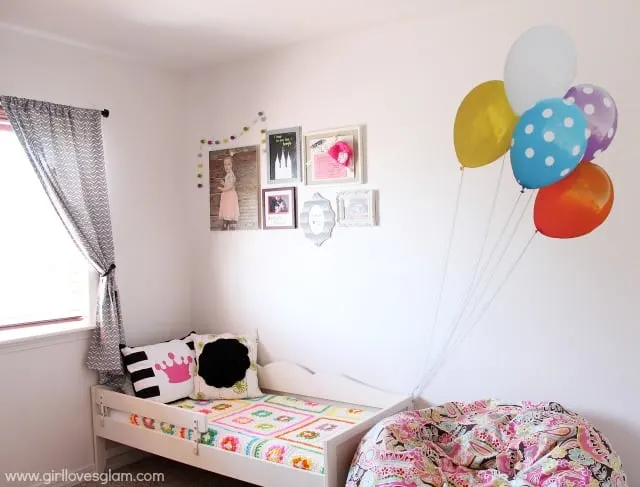 To make these DIY giant balloons for her room, I went to Shutterfly! They have custom wall decals that you can make so that you can have giant wall decals of absolutely anything! When we had our family pictures taken, we had balloons in the background, so I used those balloons to turn into my wall decal. If you want to make your own, I recommend getting balloons and going somewhere with a high contrasted background from the colors of your balloons and taking some pictures of the balloons. Go into Photoshop and use your lasso tool to cut out the balloons without the background and upload that image to Shutterfly. If you don't have Photoshop skills, you may be able to get away with just having a high contrasted background and the awesome people at Shutterfly can work their magic to cut around the balloons. Just make sure that the background is a solid color so that it is easy for them (or you) to cut around. When you order your decal, write in the notes that you want the decal to be cut around the balloons. I ordered the 48×36 inch sized decal. You can find all of the custom wall decal sizes and more info about them, HERE. Once my decal came, I put it where I wanted it on my wall and then cut baker's twine to the sizes that I needed and put little pieces of twine under the decal, where the balloon strings would come from and then tied the twine to the corner of her bed. Now, this isn't going to be something you will want to do if you are worried about it being a choking hazard or something, but my daughter is old enough that I don't worry about it. The twine isn't super secure in the balloons and comes out from the decal very easily.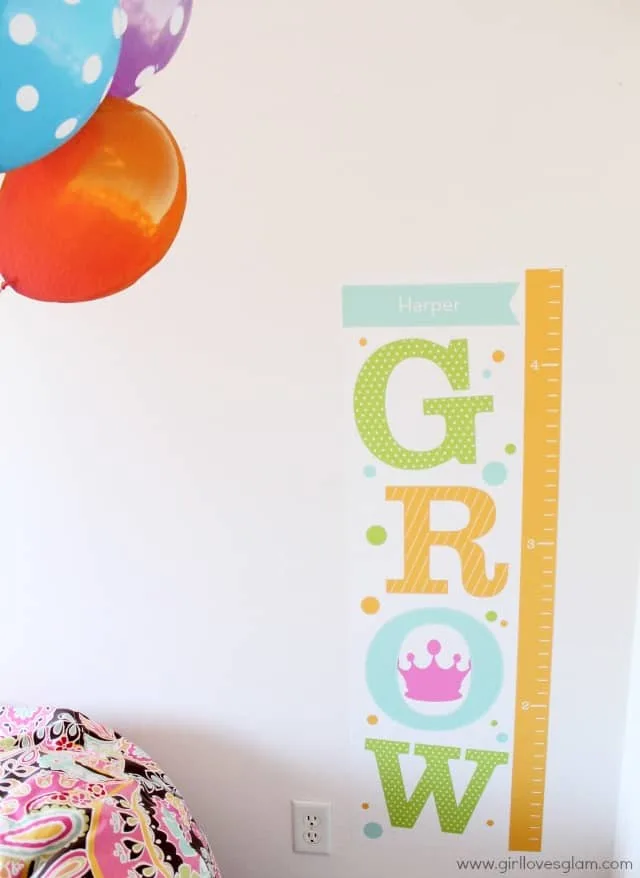 Another decal I got from Shutterfly was this awesome growth chart! I love that it is easily removable from the wall so that it can come from house to house with us so we can continue to chart her growth as our family continues to grow and move in the future. These are really fun because they are personalized too. You can add your child's name and picture to it, but because I wanted to keep with the princess theme, I chose to add a little pink crown instead of her photo so that it never seemed outdated. Shutterfly has tons of different growth chart styles too that can fit any decorative style. You can see them all, HERE.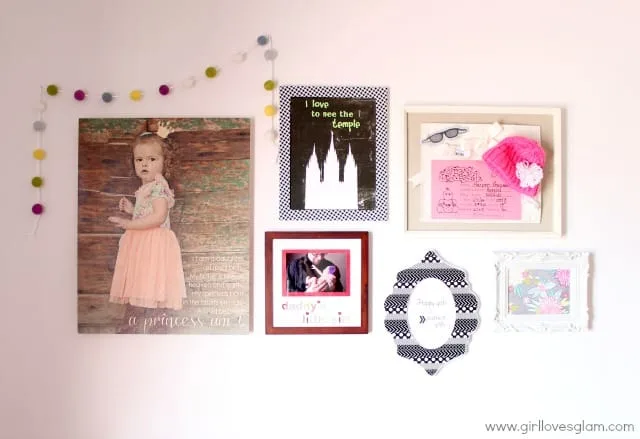 Her gallery wall was really fun to put together because I put different pictures up that meant something to our family, including baby photos, a shadow box full of goodies from her time in the NICU, and uplifting quotes.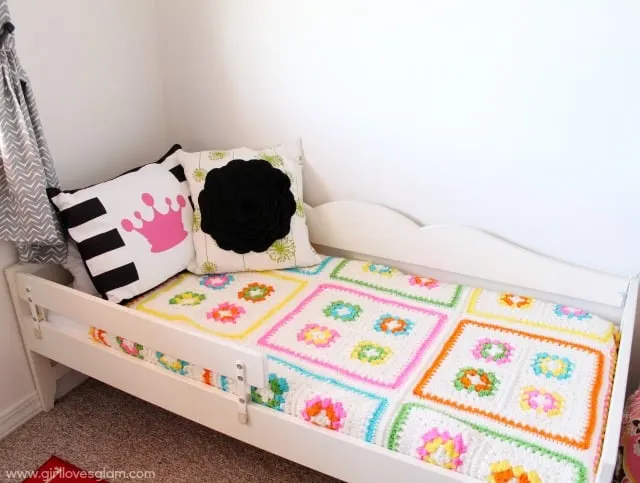 I feel like this striped princess crown pillow completes the entire room. It brings together the crowns that can be found throughout the room, but also brings in my love of geometric patterns and shapes that can be easily seen throughout the room as well. I was able to find a free crown image online and I just turned it pink in Photoshop before uploading it to Shutterfly to turn into this awesome pillow. I think many people automatically think of putting photos on the things on Shutterfly. That doesn't have to be the case every time. I order plenty of Shutterfly goodies with our photos on it, but it is fun to create custom home decor with images that I want to incorporate into the room as well! You can find this gorgeous custom, striped pillow on Shutterfly, HERE. The adorable afghan can't be overlooked either. This was crocheted by my sweet grandma when my daughter was just a baby.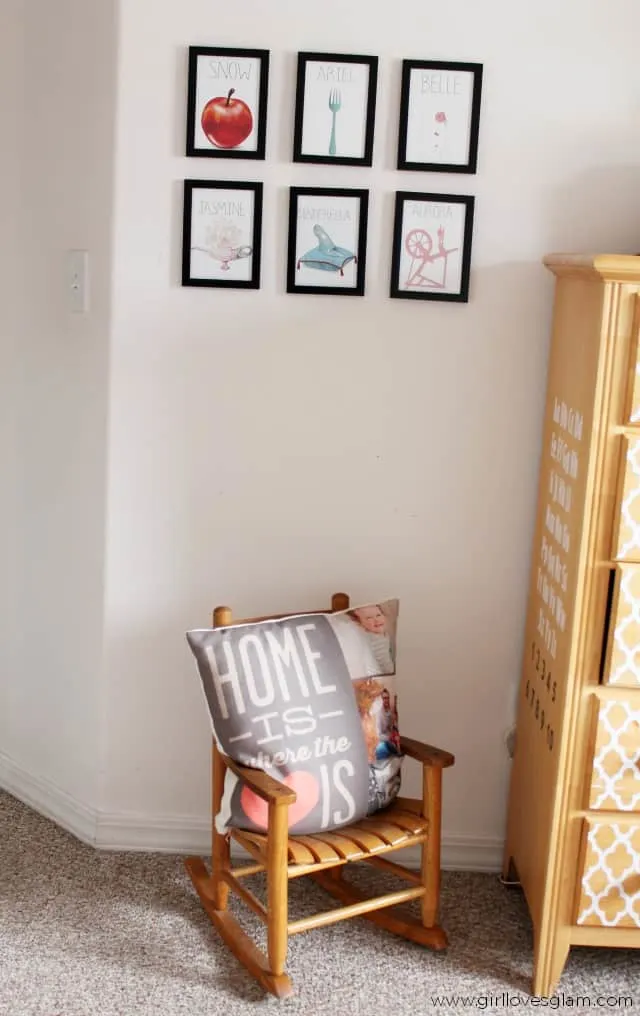 This little reading corner is just perfect for my little book worm. It is complete with these adorable princess pictures that I featured in my August favorites video, her little rocking chair, and the custom Shutterfly pillow I got a few years ago! She loves to sit in this chair and read while looking at her ABC 123 decals on the side of her dresser.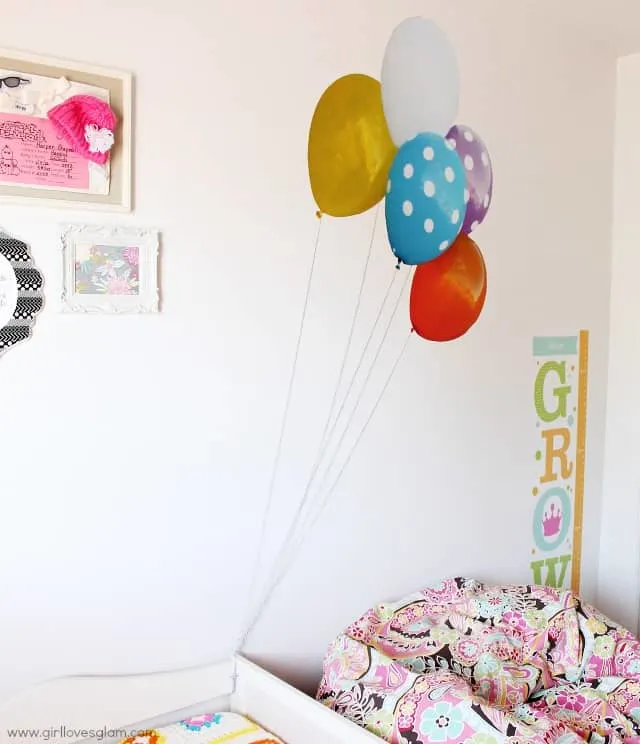 I love how all of the little details in this room come together to create a happy little space for my little growing princess. It still feels like a nursery, but is a grown up enough room that she can grow up in it!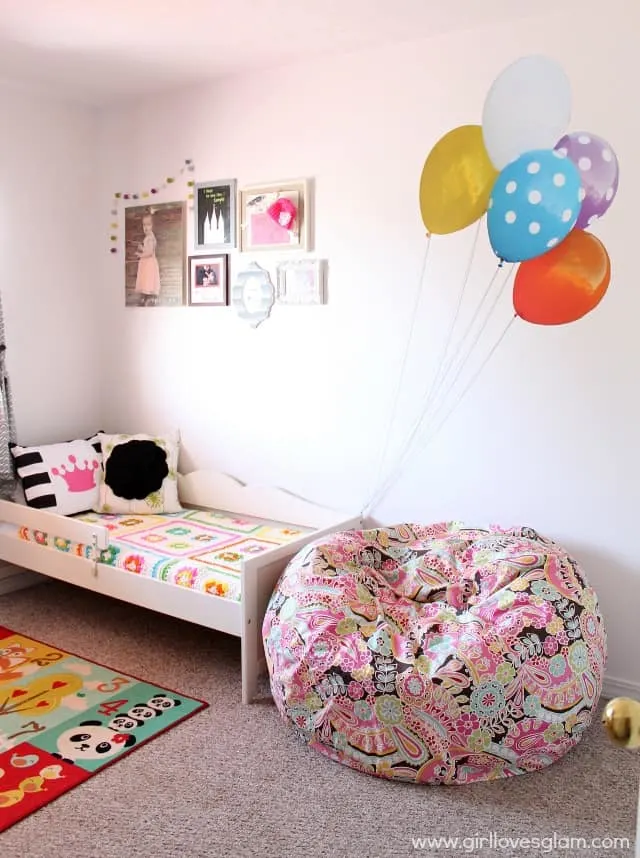 Shutterfly can be the perfect place to decorate any space in your home or even to get the perfect baby gift! How would you use Shutterfly to customize your baby or toddler nursery?