I know that most of you probably don't know me personally, but I will let you in on a little secret that most people who do know me personally know… I LOVE water parks! I have never lived close to a water park, so going to a water park was always a special event for me. I love to swim, I love to float around in the lazy rivers, and to go down water slides. To me, water parks represent everything that summer should be! In our area, we have a pretty sweet YMCA that has a nice indoor swimming facility with a small lazy river and one water slide. It seems silly, but I am so excited to have that nearby!
I love finding new swimwear each year. I grew up absolutely hating swimming suit shopping. It is sad that I felt that way from such a young age. All of my insecurities would come when I would try on bathing suits. The older I have gotten, the more I have realized that being insecure in a swimming suit should be the least of my worries. I remember going to a water park when I was in high school and seeing a mom there who was pretty overweight, but it didn't keep her from flaunting her body in a bathing suit and playing with her kids. I don't think that anyone there would have judged her for the way she was shaped in that moment. I was so impressed with her confidence and her willingness to get in and play! I wanted to be just like that when I became a mom.
I have learned a lot about my body over the years. I have learned what types of suits fit me well and make me feel confident while I am in them. I have always loved Lime Ricki swimwear! I own three of their suits and I added another one to my bathing suit collection this year!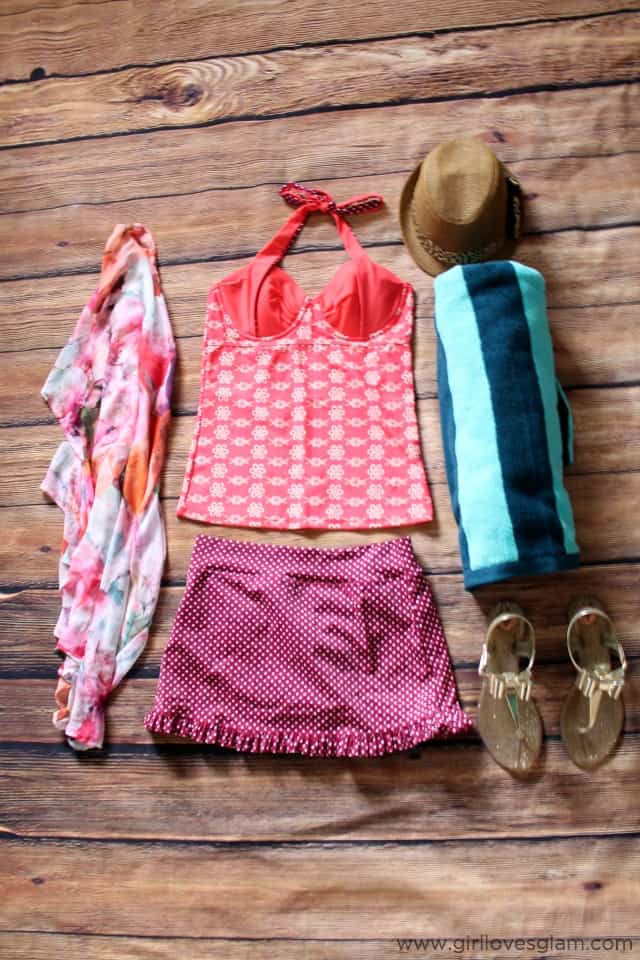 Isn't this suit adorable?! I would have braved it and put it on to show it off, but we have not had the weather to do so AT ALL! Talk about rain city over here! I just wanted to show you a few of the pieces that I will be styling it with this summer! I always love a good kimono with swimwear. I think it adds an elegant touch and a little coverage while you are hanging out around the pool. These gold jelly sandals are my favorite to wear with any swimwear. Try to find a pair of neutral, preferably metallic sandals, to wear all summer long. They will match everything, and they look a lot better than cheap flip flops. I adore hats during the summer. Find a cute floppy hat, or fedora to rock with your swimming suit so that when you aren't swimming, you can cover up your wet hair and still feel fabulous! No day at the pool is complete without a towel, but why get an ugly one? This cute striped towel is so nice and it is at Costco!
You can find the top of my Lime Ricki suit HERE and the bottoms are found HERE. You are also in luck because Lime Ricki is offering a 15% off discount to Girl Loves Glam readers with the code GLG until June 4th!
What are your swimwear must haves?