I love shopping when the seasons change. Okay, okay I love shopping anytime… BUT I especially love shopping when the seasons change. I like to look at my wardrobe and look at what the new trends are for the season and see what must have items I need to add to my closet. I have already started adding some of this goodness to my closet, but I wanted to share some of my summer style must haves with you! Recently, I was introduced to ShopLately, an online marketplace that is full of tons of different shops that you can shop from all at the same time! It has been my new one stop shop for my Summer style and I found all of these goodies there.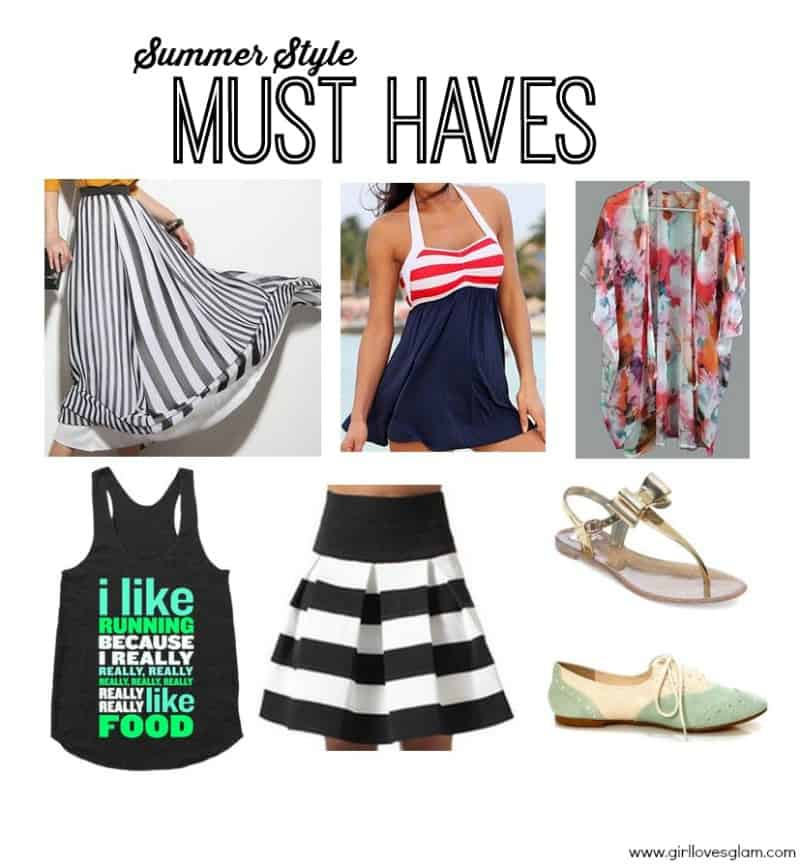 Printed Maxi Skirt– Maxi skirts are the greatest invention on earth for moms with young children. You can feel super chic while you wear them, but you can also bend over, climb up, and do any other task motherhood asks of you. I am in love with printed maxi skirts this season. I am always a sucker for stripes and I love that this skirt has vertical stripes so it can make my short 5′ 4" frame look taller than it is.
Vintage Inspired Swimwear– I love all of the vintage inspired swimwear that is available. Years ago, I had to search high and low to find a vintage inspired swimming suit and now you can find them all over the place. The great thing about vintage inspired swimwear, is that it is usually much more flattering on curves than many other swimming suits are. I am completely smitten by this swimming suit because I think it would literally look good on anyone! It hides everything without wearing an ugly "mom suit". And let's be honest, you can't ever go wrong with a nautical theme in my book. Perfection!
Floral Chiffon Kimono– Oh, you guys. I was really torn about the kimono trend at first, but I am totally on board now. I own this floral kimono and I literally wear it weekly. It looks amazing with skinny jeans, shorts, skirts, as a swimming suit cover up… everything! I feel like I can throw it on top of any top and it instantly dresses it up. This particular kimono is so soft and luxurious feeling too. I am basically obsessed. I can't wait to add to my kimono collection throughout the summer.
Work Out Tanks– There has got to be some sort of study done to prove the theory that when you have cute workout clothes, you work out more often. Even if there isn't an official study done, I am a firm believer of that. If I have cute workout clothes, I workout more often and I feel like I even work out harder if I can actually see my body instead of wearing big, over sized shirts. I love exercising outside during the summer and although I don't actually love running, I think this tank is hilarious and partially true on my part. I workout because I love food…. like a lot.
Flirty Skirts– There are always going to be those special events during the summer months that you need to find something a little more special to wear. I am a huge fan of having a few skirts that you know you can count on for moments like these. When the time comes, you don't have to put a lot of thought into what you are going to wear. I absolutely love stripes and love all of these black and white striped skirts that I have seen around lately. This skirt would be perfect to wear to a wedding, girls' night, or date night.
Dressy Flat Sandals– I love tall shoes. I am so short that I feel like I need to wear tall shoes to make up for the lack of height that I have genetically, but tall wedge sandals aren't always the best thing to wear to every occasion. I should now tell you how much I hate flip flops. I am a total hater of flip flops. I own them and wear them when I am going to a water park or something because I don't really care if they get stolen because they are so cheap, but I am a firm believer in having some classy flat sandals. I am so in love with these gold bow sandals. I own them and wear them all of the time. I feel like I can wear them with a skirt, jeans, or shorts. The best part? They are actually jelly sandals! They don't even look like it, do they?!
Oxfords– Words can hardly express my gratitude that oxfords are in style. Like I said, I love anything vintage inspired. I have owned several oxford type shoes in my lifetime and still love them to this day. They are a summer must have for me because sometimes you just need a great pair of closed toe shoes during the summer. I think that oxford shoes are perfect because you can wear them without socks (or no show socks) and they look fun and casual without wearing your running shoes. You can run around in them and still look totally chic.
Now that I have spilled my guts about my Summer style must haves, what are yours? What pieces of clothing do you plan on adding to your closet this season?