I will admit it. I am a lazy cook. I don't love cooking. In fact, some days I flat out hate it. Some days, I want to look at my family and say, "Find something to feed yourself" but since I have a two year old who would literally sit down and eat nothing but marshmallows and chocolate milk if I told her that, I have to cook for my family. Sigh… such is the life of a mom, right? Thankfully, I have a few recipes tucked away for such occasions as these (sometimes that is every freaking day). One of those recipes is my 5 minute Navajo Taco recipe. Yep, I said FIVE minute Navajo Taco recipe. It is easy, delicious, and you won't even have to stop watching Netflix on your iPad while you make it. Please tell me I'm not the only one who does this. I watch Netflix all. day. long. While I am doing household chores of course!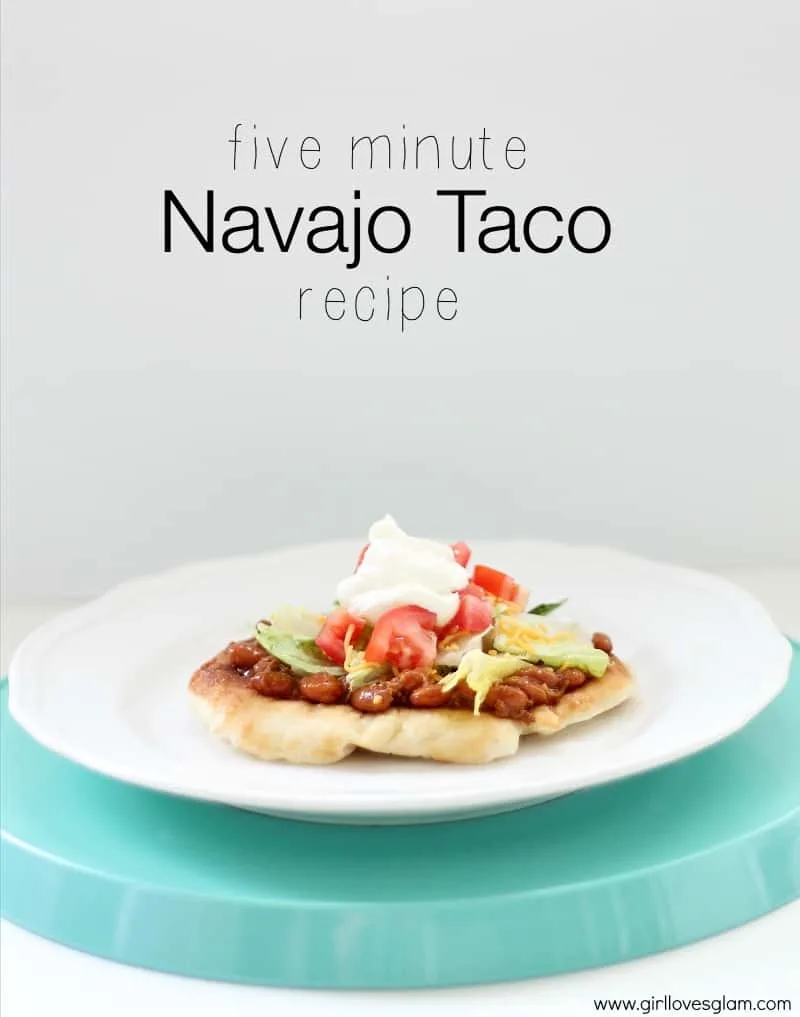 Anyways, on with the Navajo Tacos. When we were first married, I had no idea what to make for our dinners. I asked Dave what some of his favorite meals were and on the top of his list? Navajo Tacos. I had never had a Navajo Taco before in my entire life. The only place I had ever even seen them was at the fair. I did a quick Google search to see what was typically on a Navajo Taco and I created my own version. Now, before we get deep into the recipe, keep in mind that this meal does in fact only take 5 minutes to cook, but you will have to take the dough out of the freezer to thaw earlier on in the day. Make sure to take the dough out in the morning or around lunchtime so it has plenty of time to thaw. If you don't think about it, it isn't the end of the world. If you forget to take the dough out of the freezer early enough in the day, you can put the dough in the microwave and microwave it in 30 second increments until the dough is thawed out.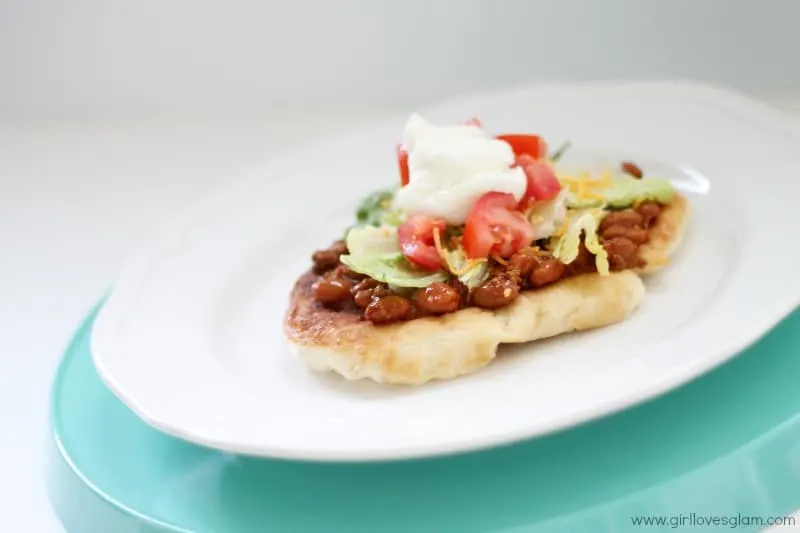 Easy 5 Minute Navajo Taco Recipe
Author:
Ingredients
1 can of chili
8 frozen dough balls for rolls (I use Rhodes) that have been thawed out
1 tomato, diced
Vegetable oil
Lettuce for topping
Sour cream for topping
Shredded cheese for topping
Instructions
Pour enough vegetable oil to cover the bottom of a pan and put on medium heat.
Open can of chili and heat it up over medium heat.
Once oil has heated up, smash together two of the roll dough balls together and smash them flat. Put it in the oil and let it cook on one side, then turn it over to cook on the other side.
*Be so careful when you are cooking the scones! Hot oil can be very dangerous to work with!*
Lay the fried bread on a paper towel and wipe oil off.
Repeat step 3 and 4 until all 10 of the dough balls are used up and you now have 4 scones for the bottom of your tacos.
Layer chili, cheese, lettuce, tomatoes, and sour cream on the scone and enjoy!
I hope that you love this recipe as much as we do! My husband has even given me the compliment of saying that these Navajo Tacos are just as good as the ones he gets at his grandpa's restaurant. I guarantee they spend more than 5 minutes on theirs!