I am so excited for Summer! Some of my blogging besties and I decided to join together to put together different Summer themed baskets to giveaway as a celebration of summer fun!
15 of my favorite bloggers have put together themed, Summer Activity Packages that each value over $75! Packages filled with everything from healthy summer snacks, a family movie night, crafts and boredom busters (for the kids), summer pampering and fashion (for you), capturing summer memories, and so much more!
Here's a sneak peak of ALL of our giveaway packages:
Are you ready for a chance to enter 15 AMAZING Giveaways AND meet some of our favorite blogging friends?
Welcome to The KICK OFF SUMMER Giveaway + Blog Hop!!
Here's What You Do:
1. Scroll down in this post to see a more detailed description of what I'm giving away.
2. Enter my giveaway at the very bottom of the post.
3. Time to start "blog-hopping!" Click on each of my friends' links below & enter ALL of their giveaways!
4. While you're there, spend some time looking around the blogs – maybe you'll find something or someone new that inspires you!
Click on the links to view each site, and enter to win their "Ultimate Summer" package.
(If you receive an error message, click to the blog's home page.)
|1. Photo Booth Fun with Capturing Joy | 2. Kids Crafts with A girl and a glue gun | 3. Fashion and Beauty with Girl loves Glam | 4. Summer Decorating with the Crafted Sparrow| 5. Healthy Summer Snacks with Simply Sadie Jane | 6. Summer Memory Keeping with SNAP | 7. Summer Reading (and Fort Kit) for kids with My Sister's Suitcase | 8.Day at the Beach with The Girl Who Ate Everything| 9. Memory Making with Eighteen 25 | 10. Boredom Busters (Amazon gift card) with Delia Creates | 11. Summer Crafting with The Creative Mom | 12. Summer Sewing with Sugar Bee Crafts | 13. Memory Keeping (Project Life) with No. 2 Pencil | 14. Summer Pampering with A Pumpkin and a Princess | 15. Family Movie Night with Tatertots and Jello |
I am getting you geared up for summer with this fun fashion and beauty giveaway! This is full of some of my favorite beauty products, clothing, jewelry, my makeup book, and cosmetic bags. It is valued at just over $100 and will get you all set for what you need to feel fabulous this summer.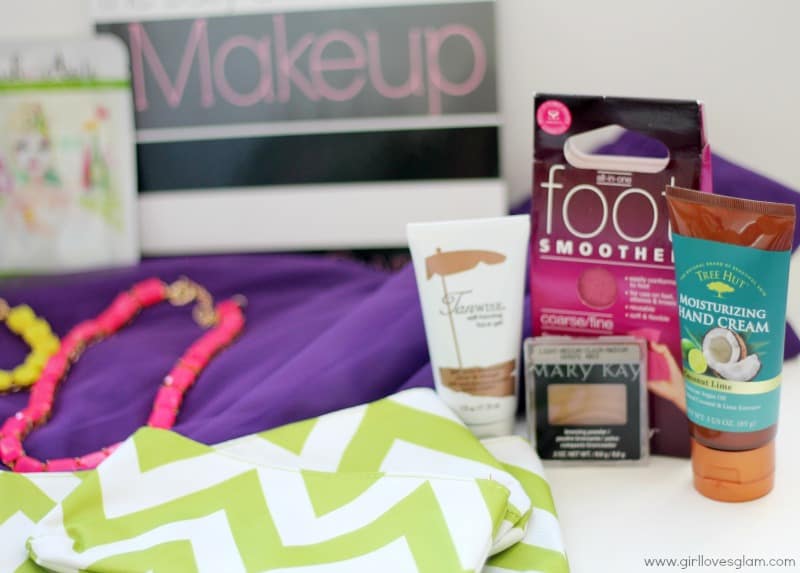 I am including this awesome Tree Hut hand cream that I love, a foot smoother so you can get your feet sandal ready, this great Mary Kay bronzing powder to give your skin a healthy glow, this amazing Tanwise self tanning face gel that will give your skin just the right amount of color without all of the sun damage, and these adorable chevron cosmetic bags.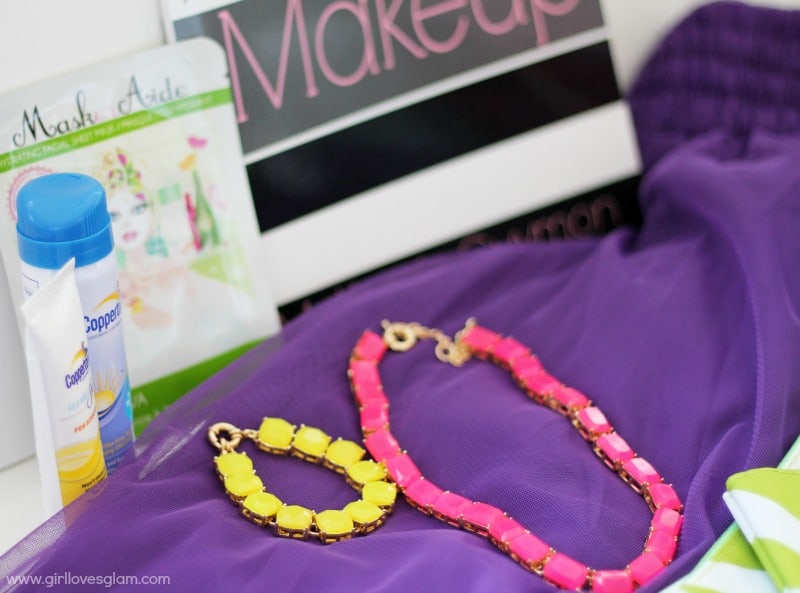 I am also giving away this bright colored jewelry that is perfect for Summer, some of my favorite sun screens, a face mask, and a purple tulle maxi skirt like the one I wore. You will LOVE it!
Last, but not least, I am including my book, The Busy Girl's Guide to Makeup. It is full of fabulous makeup tips and tutorials to keep you looking your best all of the time, not just during this summer! You can learn more about my book, HERE.
Are you as psyched for this giveaway as I am? You can enter it by using the Rafflecopter widget below. Giveaway ends June 8th. Good luck!