I am a member of the Collective Bias® Social Fabric® Community. This shop has been compensated as part of a social shopper amplification for Collective Bias and its advertiser. #CelebrateEveryGoal #CollectiveBias
We recently became a diaper free household! Potty training is over and it is just in time for summer. It is nice to know that we can go out as a family on all sorts of adventures without having to worry about remembering the diaper bag or having to change diapers in awkward situations. We plan on being on the go a lot this summer now that we are diaper free. What a better way to celebrate, right? Since I know that we will be out and about a lot, I wanted to put together a little kit to keep in our car that is a little bit first aid and a little bit survival of the summer. It is perfect for when you get in situations that you realize that you need something ASAP and you aren't close to home to get it.
I knew that the perfect place to find great items for a summertime survival kit would be Walgreens. I headed over and found just about everything I needed for my kit on one end cap.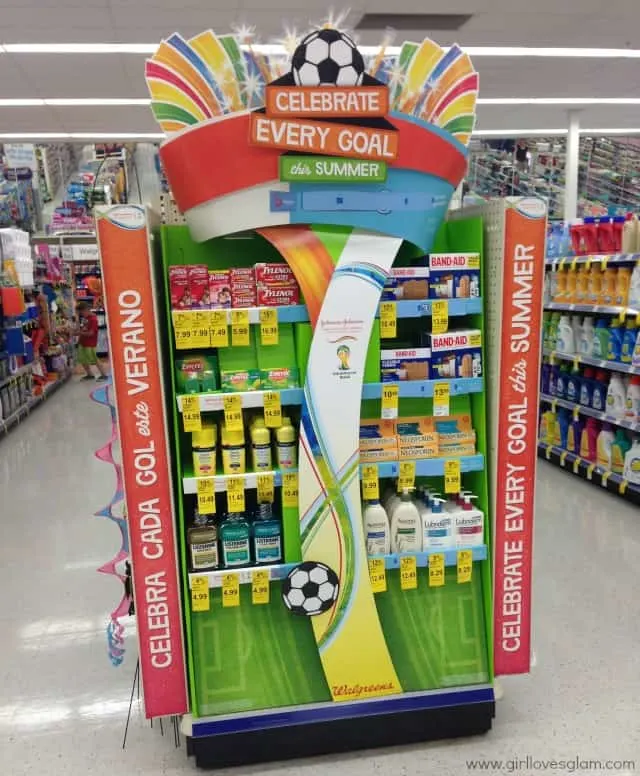 Johnson & Johnson and Walgreens have put together this awesome deal so you can celebrate every goal in your family too! If you purchase $15 of select Johnson & Johnson products on these select end caps, you can earn 3,000 points for your Walgreens Balance Rewards. It is totally a win, win situation because they are items you use all of the time!
Here is what I included in my summertime survival kit…
I got Band-Aids, Neutragena Sunscreen, Tylenol, lip balm, and almonds. I also got a pencil case to put all of this in so that it is nice and compact for the car. Each of these items are great to have on hand in your car during the summer because you seriously don't know when you might feel a headache coming on, or your child gets a scrape, or your lips are killing you because they are so chapped, or you are starving, or you forgot to pack the sunscreen. I could go on and on about why I chose each item for my survival kit. I wanted to be sure to keep it simple so I could fit it all in a pencil case, but if you wanted to make a larger one, you could include tons of other great items too like Aveeno lotion, Zyrtec, and Neosporin.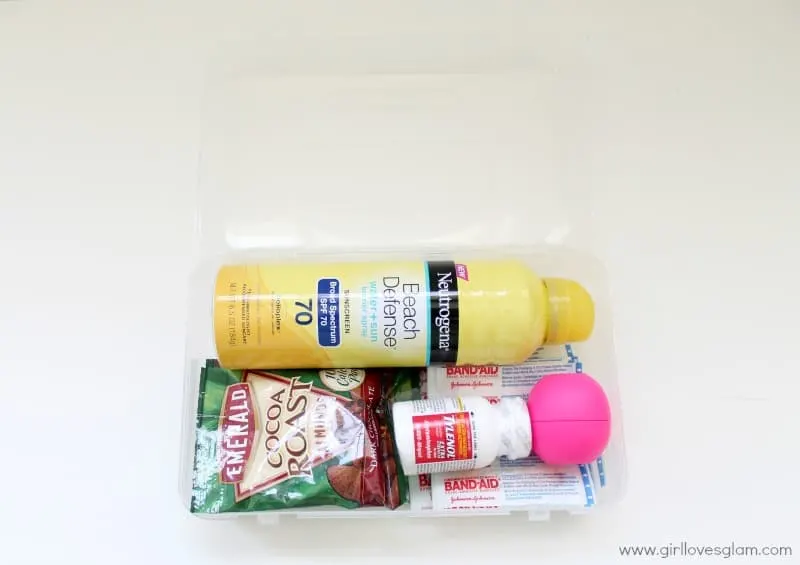 I took the Tylenol, the lip balm, and the Band-Aids out of their packaging so they would fit in the pencil case more easily. I put each item in the pencil case and actually had room that I could put a few other items in there too!
The pencil case is just the right size that I can slide it under the seat in my car and I can have it handy for all of our summertime fun. What do you have that is worth celebrating this summer?
What items would you include in a compact summertime survival kit?