One of my favorite parts about holidays is getting my daughter all dolled up for them. Even the most simple holiday can turn into something special with the right outfit! I haven't ever been the biggest fan of St. Patrick's Day. I have always felt like it was a little cheesy. I made it my mission to create a cute outfit that wasn't super cheesy.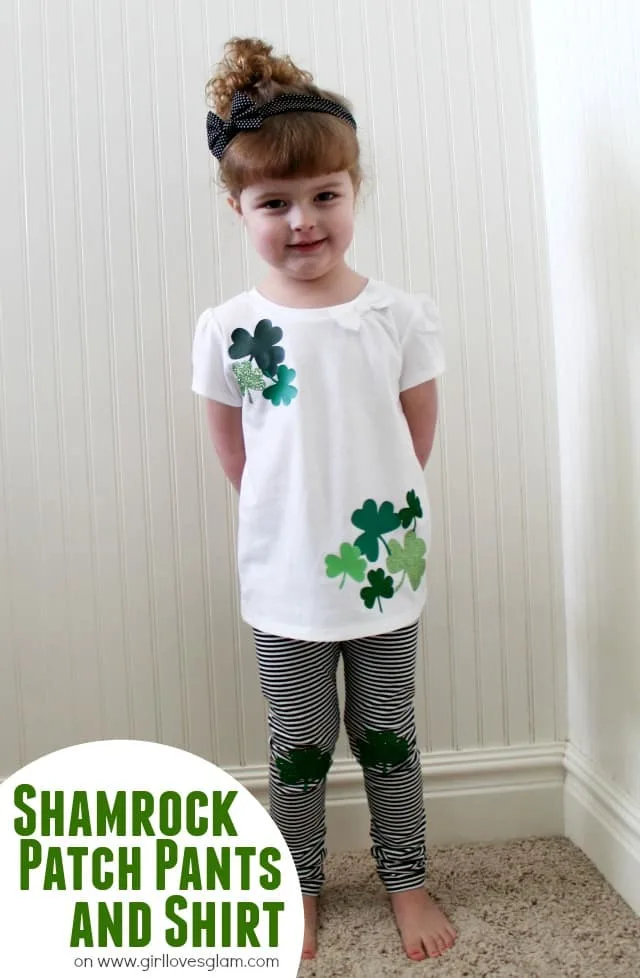 I have been obsessed with elbow and knee patches lately. I love them in every way! I decided to throw some shamrocks on an adorable pair of pants and create a unique tee to make the cutest darn St. Patrick's Day shirt you have ever seen!
Here's what you will need to make your own…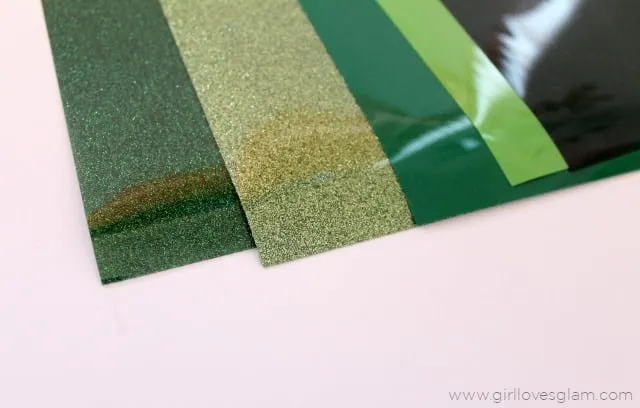 Green heat transfer vinyl from Expressions Vinyl (I used different shades from their Mint Pack and Cabin Pack)
Electronic cutting machine or shamrock paper punch
Iron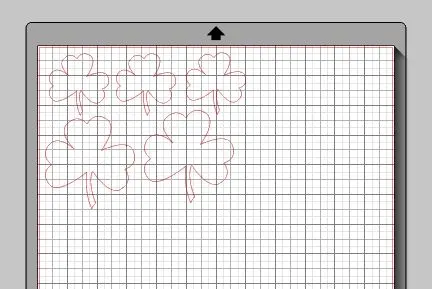 First, go onto your image software for your electronic cutter and get an image of a shamrock. I use a Silhouette Cameo and was able to find these perfect shamrock images in the Silhouette Studio store. I made them two different sizes and only did five of them. Cut out this exact same thing on each of the pieces of vinyl. Remember to change your cut settings and blade settings if you are using regular heat transfer vinyl and glitter heat transfer vinyl like I did. The glitter vinyl is a little thicker than the other heat transfer vinyl.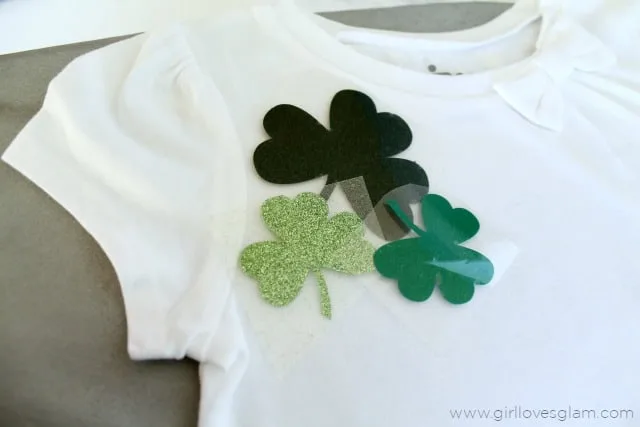 Weed out the excess vinyl and cut apart the shamrocks. Lay them out on the shirt until you have them placed in the pattern that you want. Take apart the pattern and iron on each shamrock separately.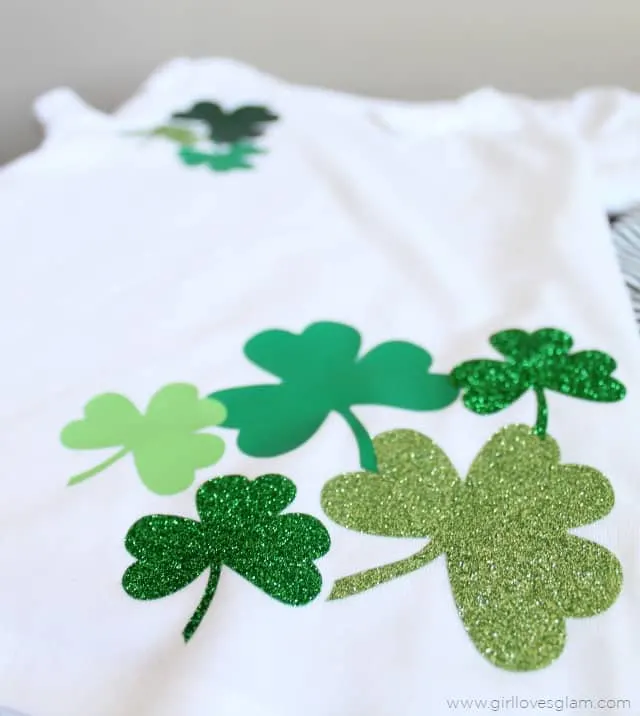 When ironing on vinyl, have the iron set to the cotton setting and slowly move the iron over the image and let it sit for at least 15 seconds. I like to move mine around for a good 30 seconds, just so I know it is very secure.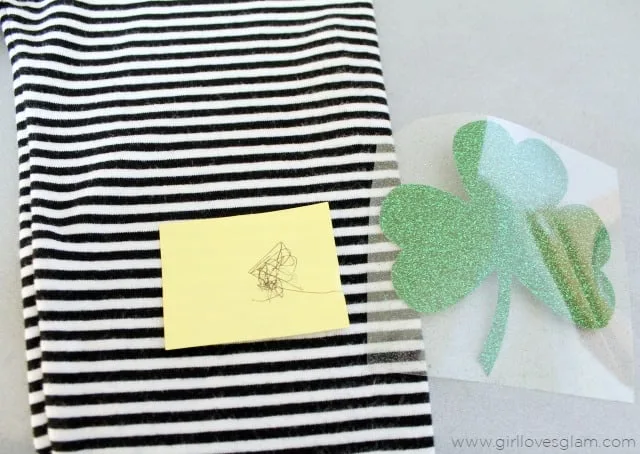 Place pants up to your child and stick a sticky note where their knee hits so you can get the knee patches right where they belong. Take the sticky note off and iron on your shamrock knee patches.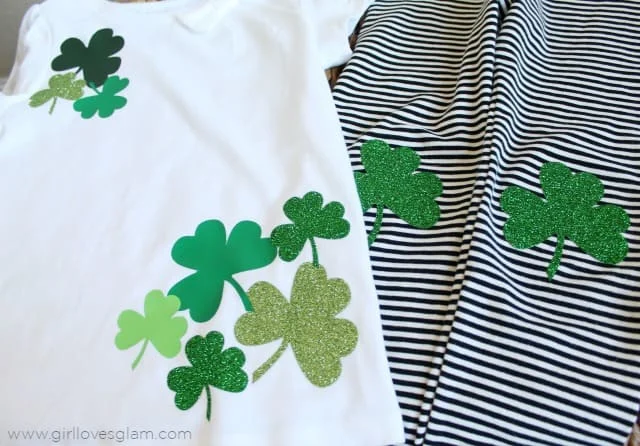 Now you have an adorable outfit for your child for St. Patrick's Day! They won't have to worry about getting pinched and will be the most stylish pinch proofed kid out there!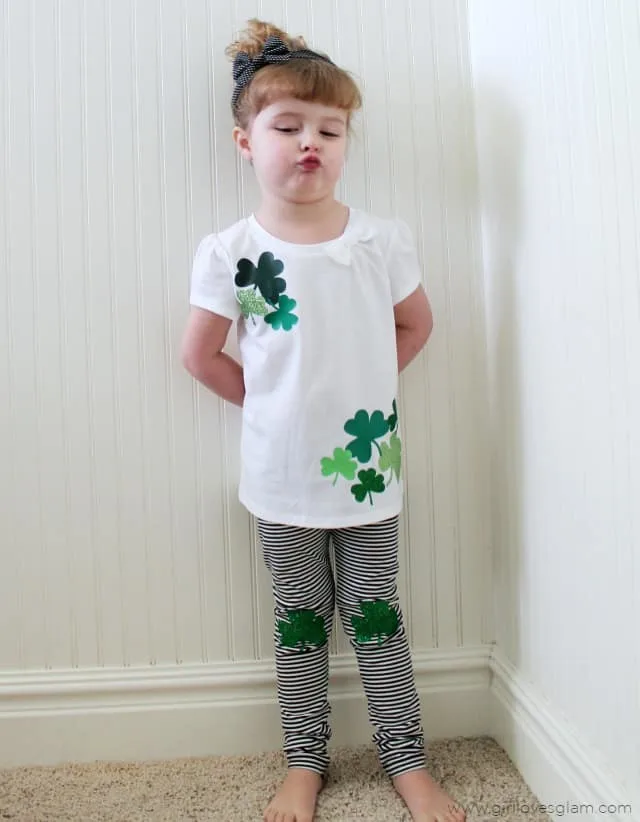 This one is just for your entertainment. Don' you just love it when you are trying to get three year olds to cooperate for photos?
Don't miss out on these other great pinch proof ideas from my fellow Expressions Vinyl Ambassadors!