Last June, I ran my first 5k. It may not seem like much to many runners out there, but it was a huge deal to me. I grew up battling asthma and always had a mental block when it came to running because I was afraid I would have an asthma attack. I overcame a lot to be able to run that first race and was able to run a few more 5k races and even a 10k! I have saved all of my race bibs and medals, but they have just been taking up space on a shelf in my closet. I wanted a way to display them without them taking up too much space, so I came up with this beautiful race bib and medal display!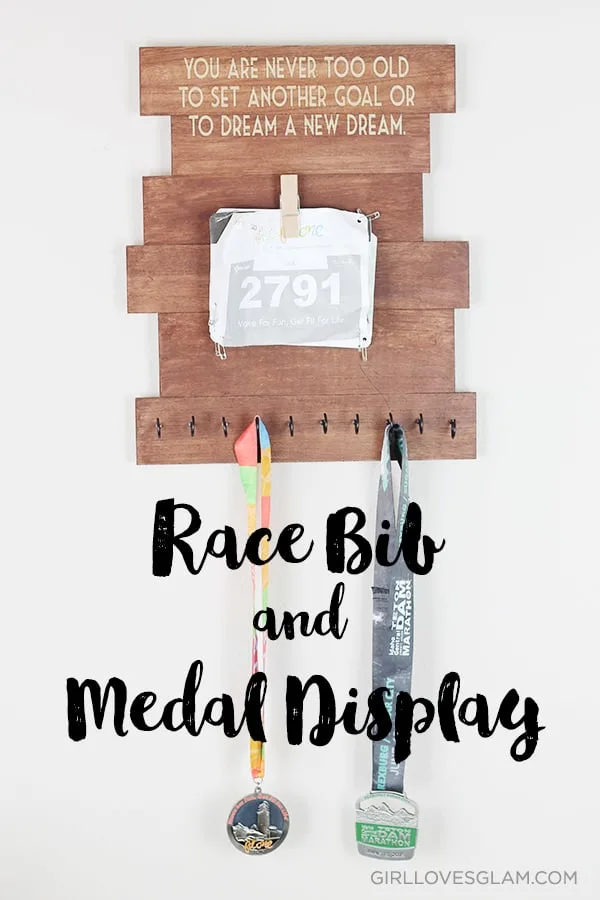 I love that I have a place to put my race bibs and medals now! It didn't take long to put together at all which is a major bonus!
Here is what you need to make one. These contain some affiliate links…
Outdoor vinyl from Expressions Vinyl
Transfer Tape from Expressions Vinyl
Silhouette electronic craft cutter
Unfinished wood sign. Mine was from Hobby Lobby but they didn't have it online, so I linked to a similar one.
Metal hooks. Mine was from Target but wasn't on their site, so I linked to similar hooks.
Drill
Command Strip
Clothes Pin
First, find a quote that you want to put on your board and design it on the Silhouette Studio program. I used the font Market Deco. Measure the area that you want the quote to be on your board and design it to that size.
Take your outdoor vinyl and put it on your cutting mat and place it in the Silhouette Cameo to have it cut. Make sure that your cut settings are set for vinyl on Silhouette Studio.
Peel off the negative space from the vinyl. I like using the weeding tool to help lift off the vinyl and then use scissors to cut it off as I go, so I don't have a bunch of excess vinyl to get in the way.
Put transfer tape on top of the vinyl after you have gotten all of the negative space off. When it comes to getting the negative vinyl off of letters, it is nice to have someone else look at it and make sure it all looks right and that you didn't forget any vinyl that should be taken off. Lay your transfer sheet on top of the vinyl quote and use the vinyl application tool to really rub it on there so that the letters are stuck to the sheet.
Peel the transfer tape off and make sure it takes off the whole quote. Lightly place the quote onto where you want it to go and peel it up until you have it nice and straight. Once you get it where you want it, use the vinyl applicator tool to really press the quote onto your wood. Make sure that the quote gets pressed on there REALLY well so that the wood stain doesn't get underneath the vinyl.
Take one of the stain cloths and wipe it along with the grain of the wood. When you are doing it over the vinyl, be careful not to rub too hard. After you rub the stain on, go back and rub it off with a paper towel and let it dry.
Peel off the vinyl letters with your weeding tool. It is so fun to see how the wood stain contrasts with the natural wood to create a beautiful quote!
Measure where you want your hooks to go for the medals and mark where you want the hooks to go with a pencil.
Drill small pilot holes where you marked your spots for the hooks. The back of the package of hooks told me what size of pilot hole I needed.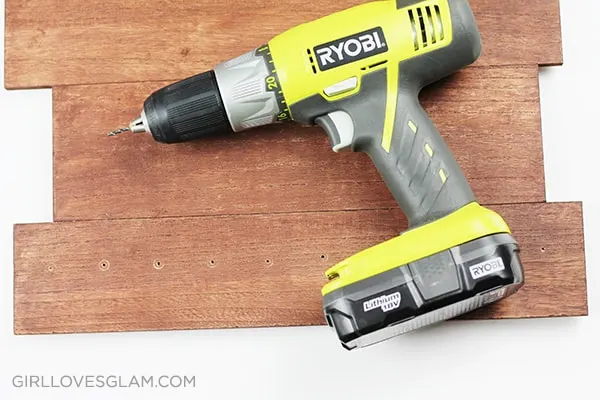 Screw hooks into the holes that you created.
Take the clothes pin and a race bib to find the perfect spot to hang them on the board. Put the Command Strip on the back of the clothes pin and stick it to the board.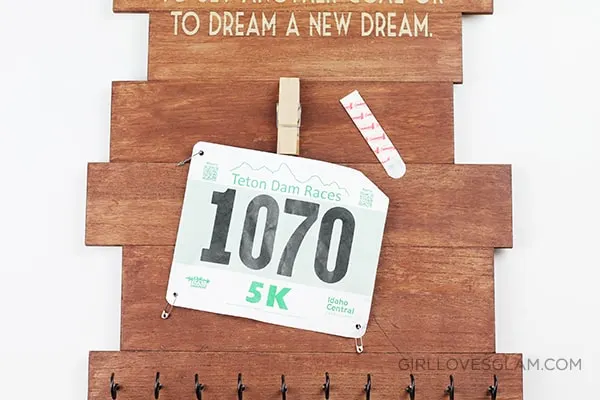 Now you can hang up your beautiful creation! I think it is a great way to stay motivated and to celebrate just how far I have come.
Expressions Vinyl is giving away some credit to their shop! To enter, use the rafflecopter widget below. Good luck!
Where would you display your race bibs and medals?