You've seen the paint color, the gallery wall, the furniture, the triangle art wall, the functional decor, and the pictures that I am using in my living room but you haven't seen how they all come together yet. Well, I am happy to say (or sing, rather)…
Da, da, da, don. Da, da, da, da, don. Da, da, da, don. Da, da, da, da, don, da, don, da, da, don, da, da, don, don, don, DA, DON, DA, DA, DA, DA DON….
It's the final countdown people.
It is finally time for the moment you have all been waiting for… My living room makeover reveal!
Because I know you would rather see pictures than listen to anymore of my singing, I will grant you your wishes to see the reveal very soon. But first, let's take a little trip back in time. So let's all put on our puffy vests and hop in my DeLorean for a little trip back in time to see what my living room used to look like.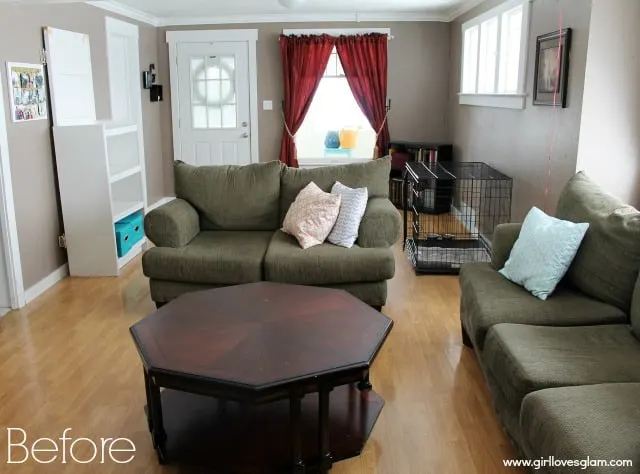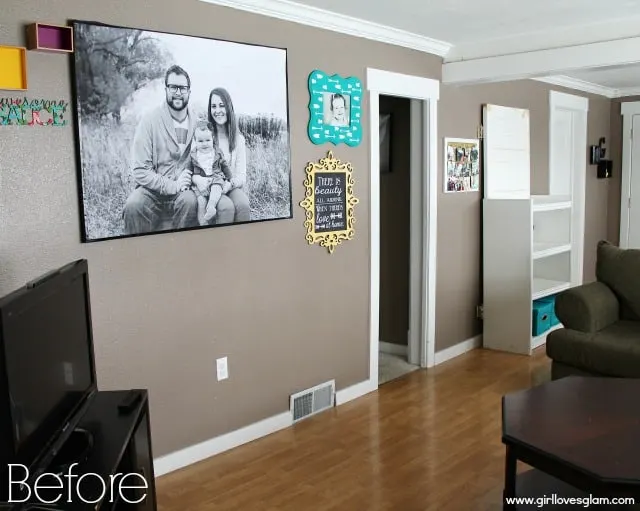 Blehhhhh. That's all I have to say about that. Dark and boring. Besides the giant picture of my family, it looked like someone else lived in my house. There wasn't anything about the design that I felt really represented who we are as a family. I am happy to report that isn't the case anymore. Are you ready to see the reveal?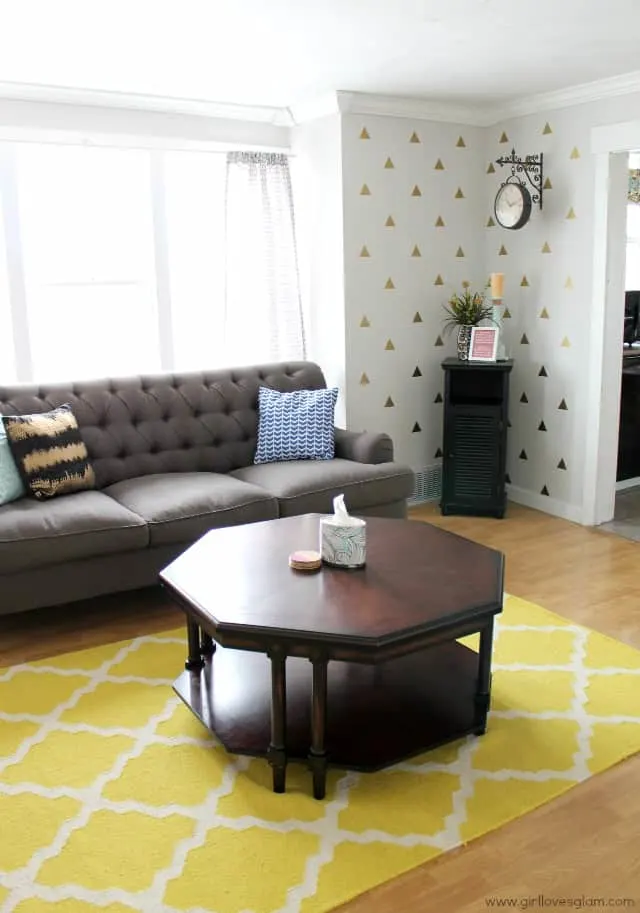 BAM! Miracles really do happen. With the relatively small budget that I had to work with, I was able to transform the space into a place where I feel like truly represents my family. It all started with a can of Sherwin Williams paint that instantly brightened up my space. My love of Sherwin Williams Crushed Ice color runs deep to my very core!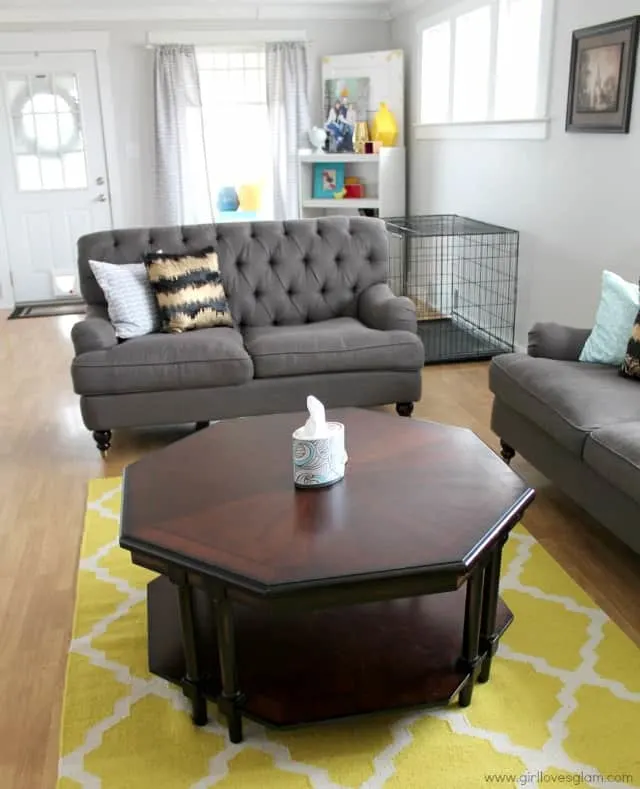 Because my house is fairly small, our living room is the only space that can house our dog kennel. I tried really hard to find another space for the giant kennel we have for our tiny dog, but I just couldn't do it. I do feel like having so many fun details all around the room kind of keeps your attention enough to make you forget about the giant black metal elephant in the room. I got the yellow rug from rugs.com on their Black Friday sale. You HAVE to shop that sale for the best deals on rugs. I got this puppy for 70% off with free shipping!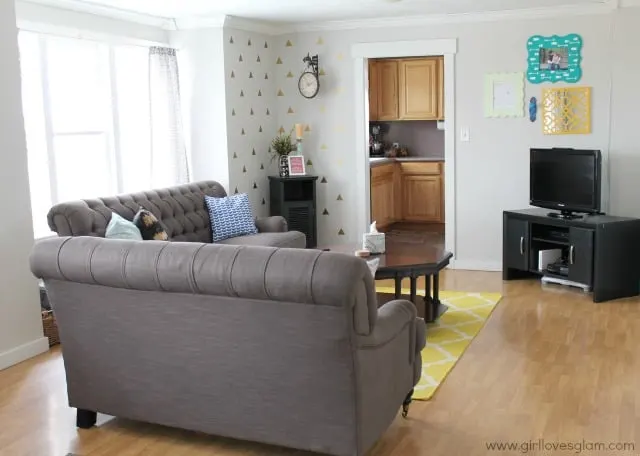 I love the little pop that my triangle art wall brings to the room and the artwork that I was able to display. I chose not to replace every piece of furniture I owned because it just wasn't in the budget, so I kept my TV stand for now. For now, it works. When it gets warmer outside, that will most likely either turn a different color, or be replaced entirely. P.S. See the kitchen peeking through the doorway? That's one of my next projects!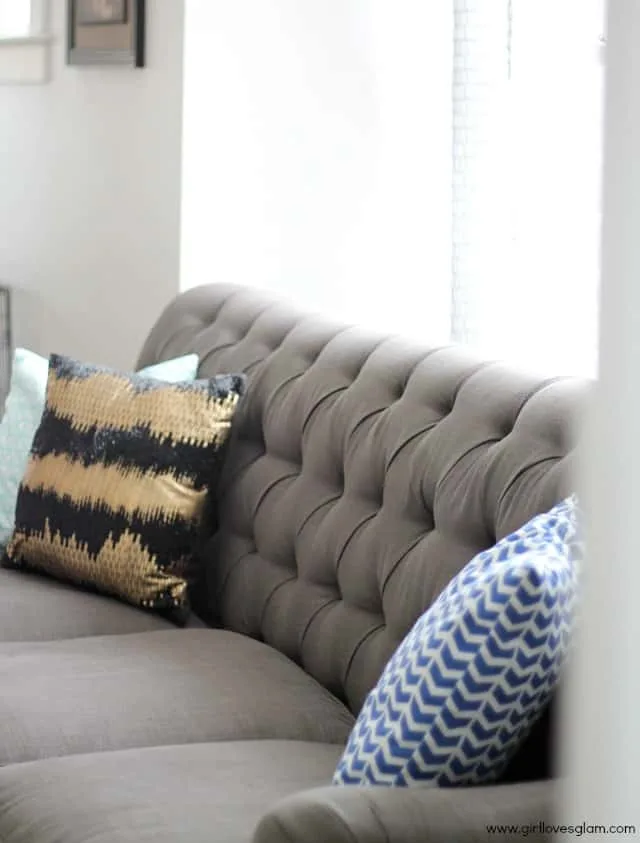 Oh the couches. How I love my couches. They might as well be members of my family. I love them that much. Shout out to DownEast Home for having killer prices and awesome taste in furniture design. Pillows are from Groopdealz and the black and gold pillows are Nate Berkus for Target.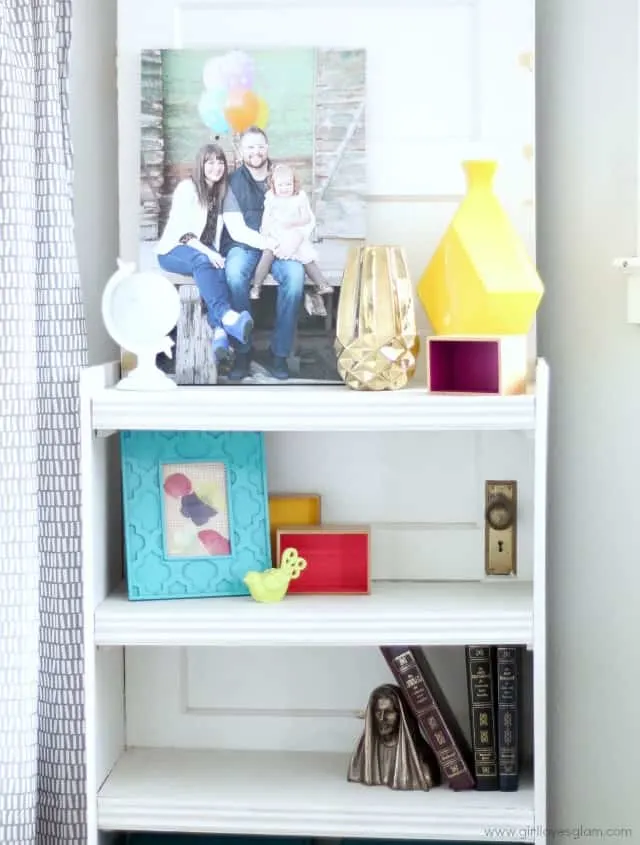 It was so fun to finally pull out all of the random crap that has been sitting around in my garage forever. I loved decorating this space.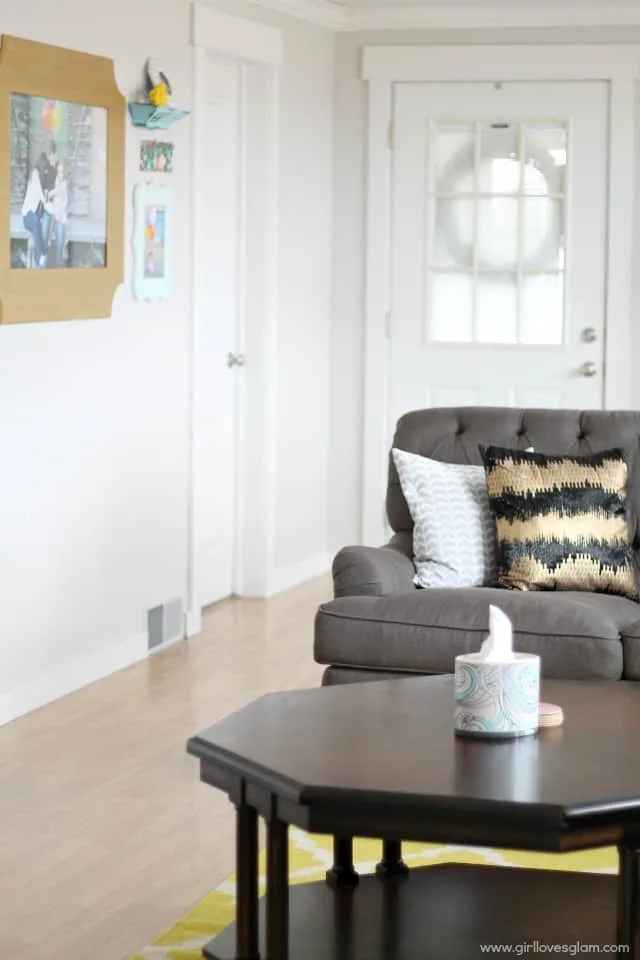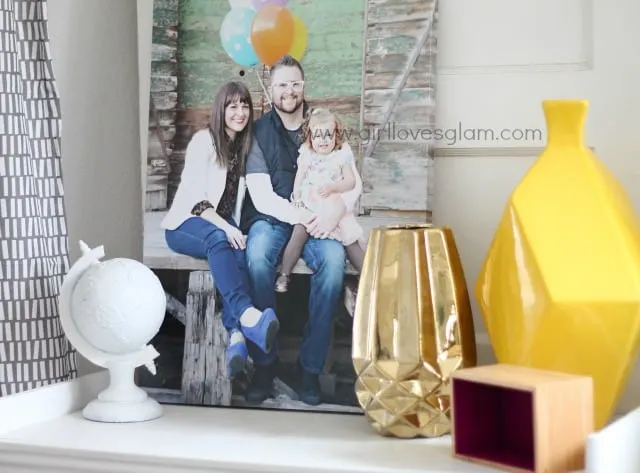 Curtains are from Target.com. They added the perfect amount of pattern without taking away from any other element of the room. The best part? They are really inexpensive!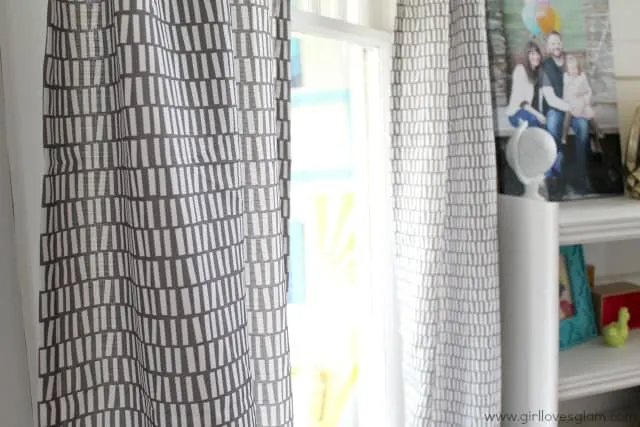 The curvy frames are from Cut it Out. They are the best to get because they can be totally customized to how you want them! I love the shapes of these frames and the colors I chose to paint them. I feel like they really bring the color scheme to life.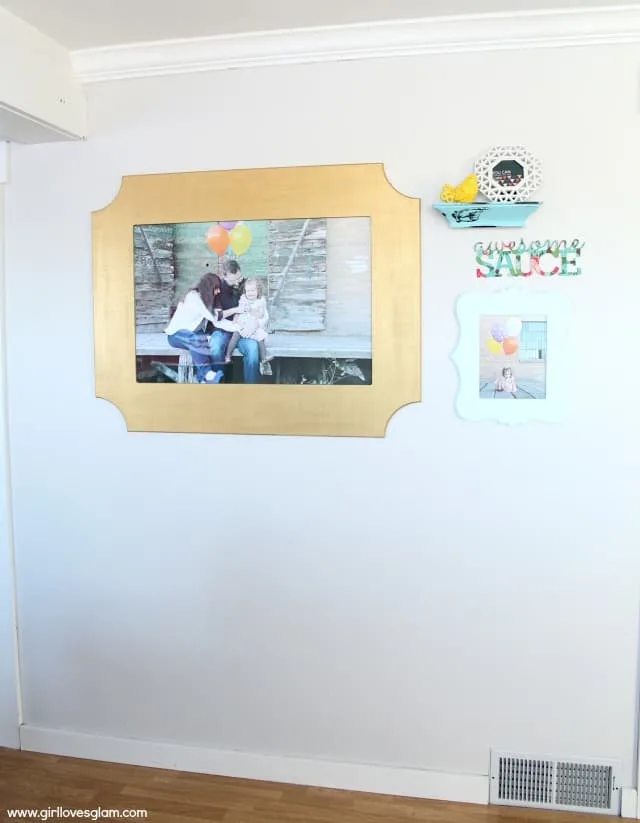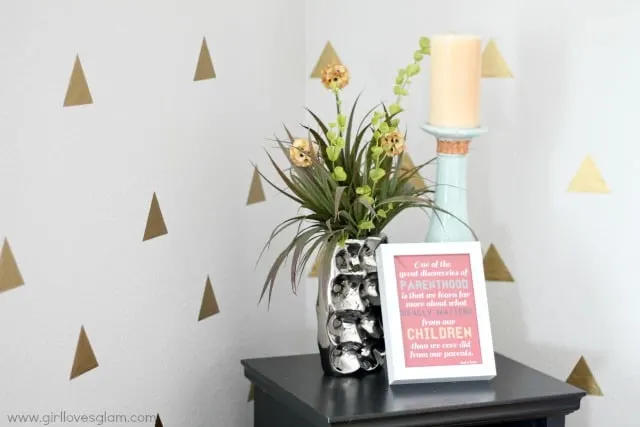 Well, there you have it! A gorgeous room. I now look forward to spending time in there.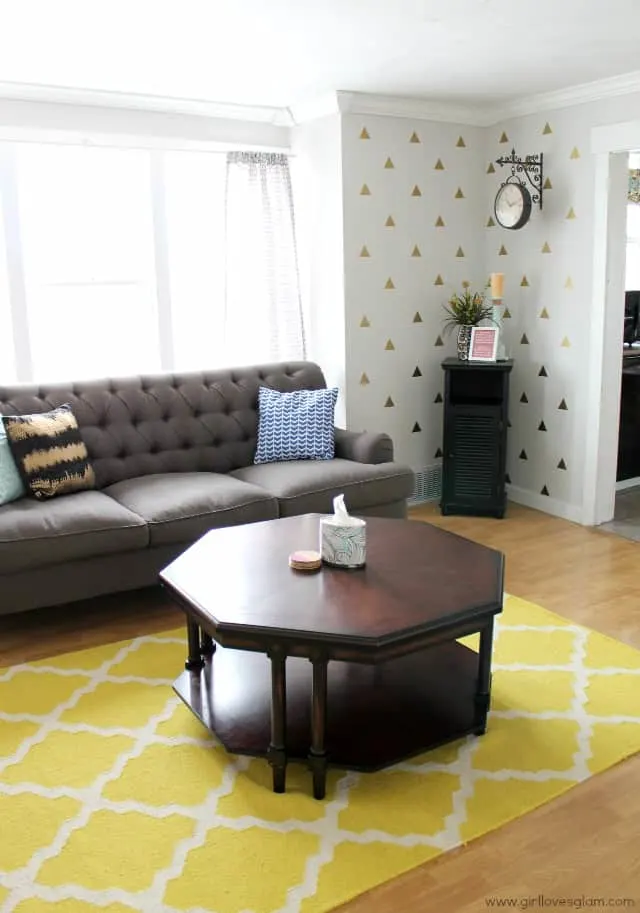 If you missed any of the previous posts or tutorials for this living room makeover, you can find them here…
Decorating with Pictures and Quotes
Thank you so much for all of your excitement about my living room makeover! It really does mean the world to know that people actually care about this and get as excited about my house as I do! You guys are seriously the bomb. If I haven't told you that lately, you are. Thanks again for believing in me and for supporting this blog of mine.