We have a little artist at our house. She is constantly creating pictures, books, crafts, etc. Kids all over the world are just like her! The dilemma is that children's art is so cute, but where do you display kids art in your home? We have had different versions of kids art displays in our homes we lived in in the past but none of them seemed to be big enough for the amount of art that this little girl keeps pumping out! That's why I took matters a little further and made this giant kids art display station that is in her bedroom! Not only is it the perfect place for her to display all of her most treasured creations, but it is a place for her to be inspired to create even more artwork!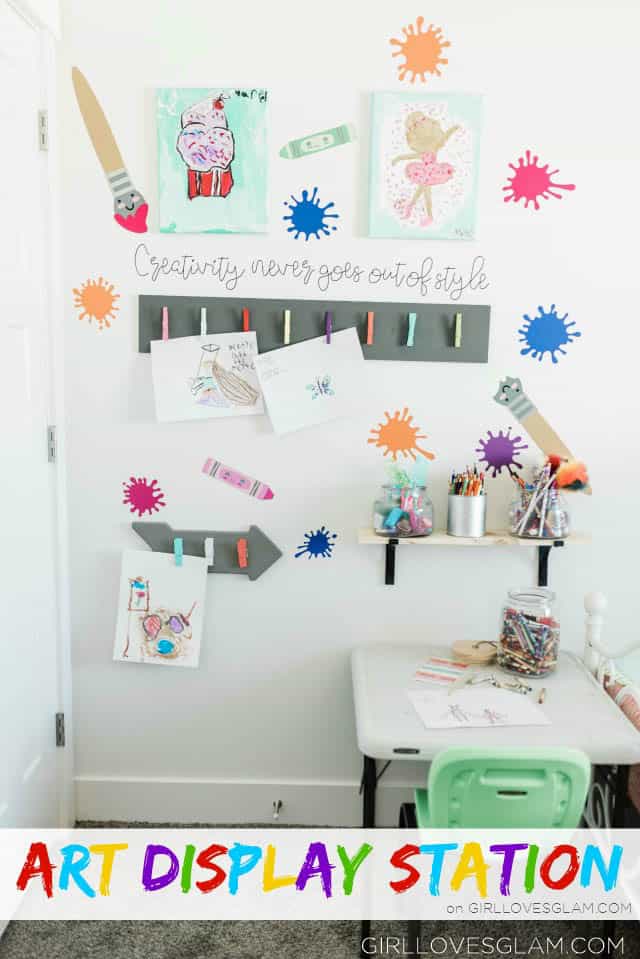 DIY Kids Art Display
Finding the perfect quote for this art station wasn't too hard. There are so many good quotes about creativity out there but the quote, "Creativity never goes out of style" just seemed to stick!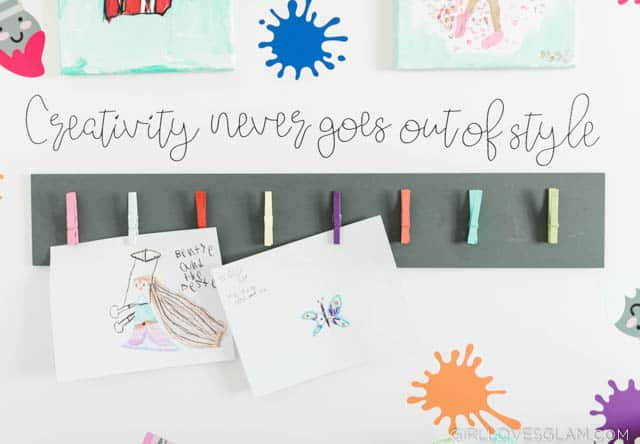 I wanted the artwork to be the real star of the show but creating an area that makes the artwork really fit in was important to me! That's why I knew that I needed to look nowhere else but to my Silhouette.
How to find art in Silhouette Studio
As much as I like to think that I would be able to draw all of the fun designs I want to cut with my Silhouette, I know my limits and know I would be better off buying cut files from Silhouette.
Thankfully, Silhouette Studio is full of images! I am always able to find the cut files I need. This time, I needed paint splatters and art supplies.
Using your Silhouette Studio program, click on the "Store" button in the top right side of the screen. This is where you are going to find EVERY design you will ever need. Search the type of item you are wanting, by typing into the search bar on the top right.
After the results have come up, you can filter them based on what type of design they are. You can check off if you just want regular cut, print and cut, fonts, 3D crafts, etc. For the art display, I just wanted regular cut.
This is where Silhouette Studio never ceases to amaze me. I went on the search for some cute paint splats and some art supplies that I could put on the wall. When I was looking, I found so much more than that. They had art supplies with darling faces on them! It doesn't get any better than a giant, happy paintbrush and a cute crayon smiling at you!
When you are looking at these designs, keep in mind what materials you have to create them. I knew I had a lot of vinyl but I didn't realize how much I would actually need when I was layering these art supplies. I did have enough, but I ended up having to use slightly different colors than I had originally planned on.
How to display children's artwork in their room
There wasn't really a plan for how big I wanted this art display station to be, so I just cut out enough of everything to feel like it would cover a decent amount of area.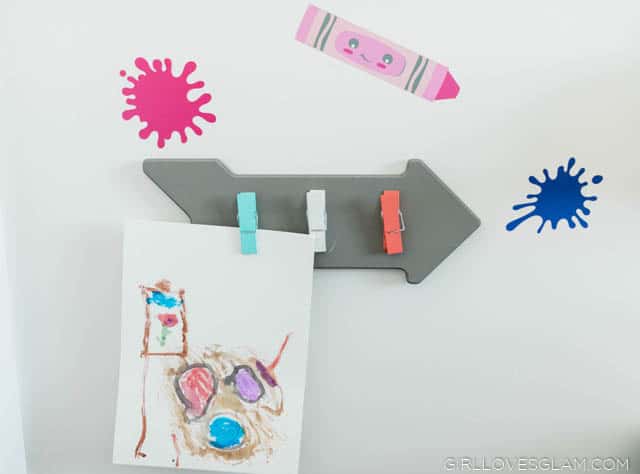 I started by hanging up the boards where she would be able to hang her artwork. These are shared this arrow kids art display several years ago on my site and it is still being used!
We made a larger version of it a few years ago too. I hung both of them up, slid the table and chair up to where I would want it. Then we decided where I wanted to hang up a small shelf.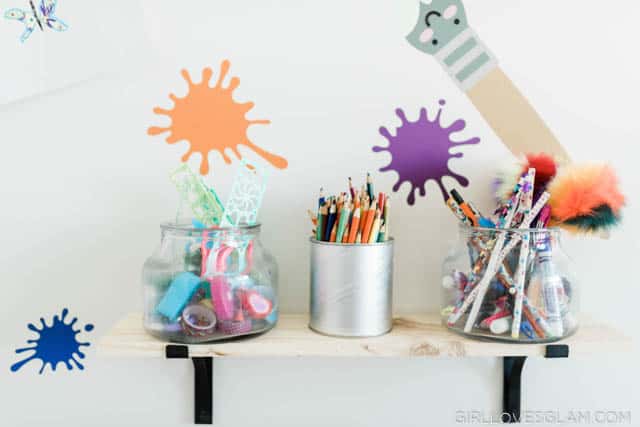 It was really important to me that there was a shelf in this art station so that the art supplies wouldn't always need to be taking up table space. My daughter isn't exactly the cleanest crafter, so she could use all the room she can get on that table!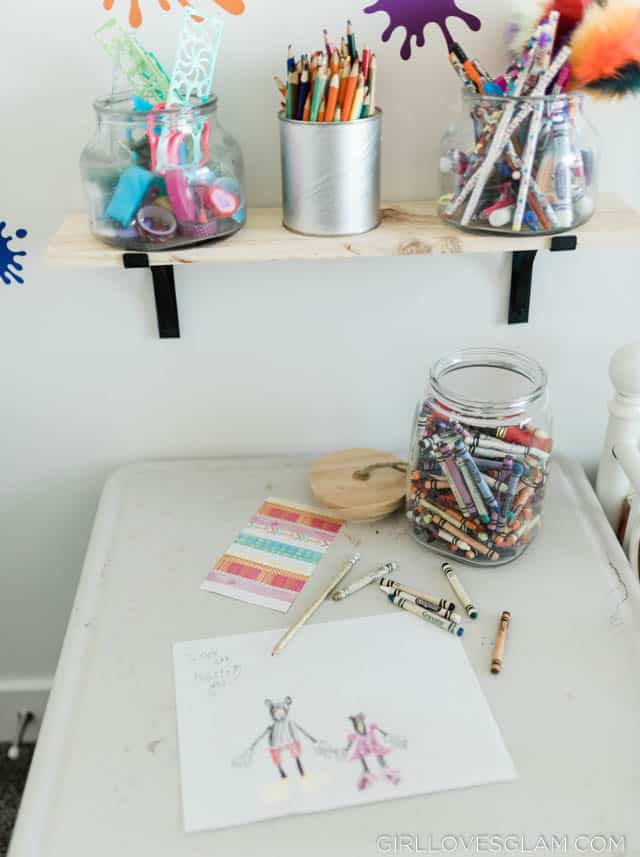 After everything was hung up, I placed the vinyl. I started with the large items, like the paintbrushes and the crayons. Then finished it off with the paint splatters.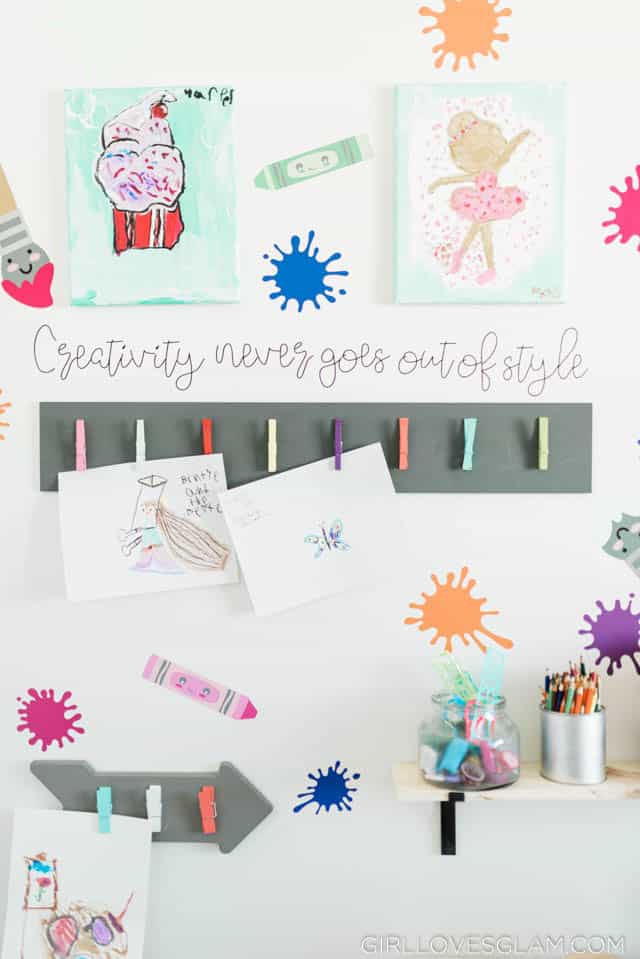 This art station is definitely the highlight of her room. It accurately represents her interests and what she loves doing most! She proudly displays her artwork and I don't have to worry about having (as many) pieces of her artwork scattered throughout the house!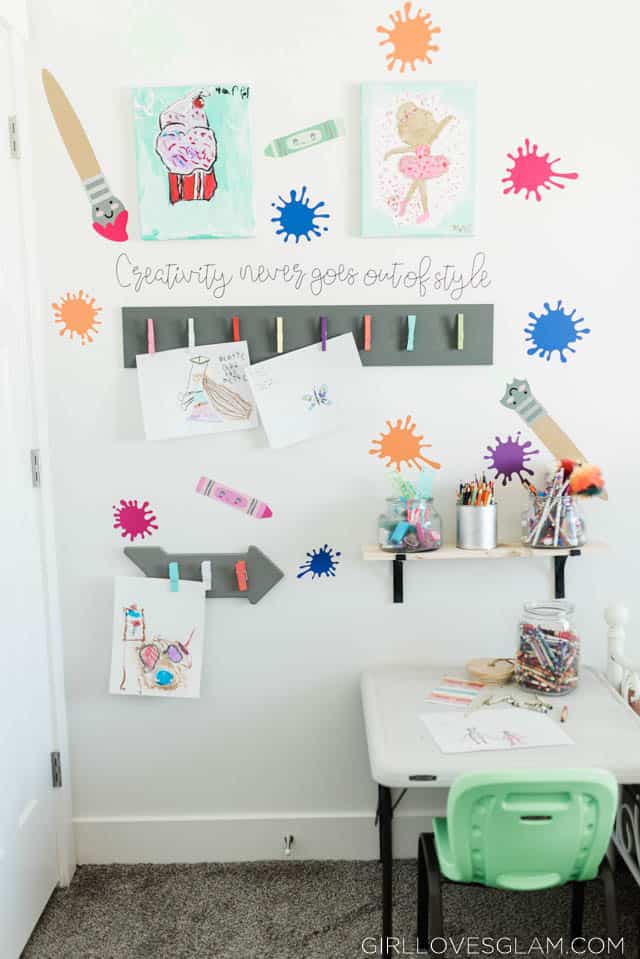 How do you display kids artwork at your house?
If you have a little artist, you are going to love the art themed birthday party we had! You can find posts on the art birthday party decorations and the art party games!