This is a sponsored post by Kleenex Brand. However, all opinions expressed are my own.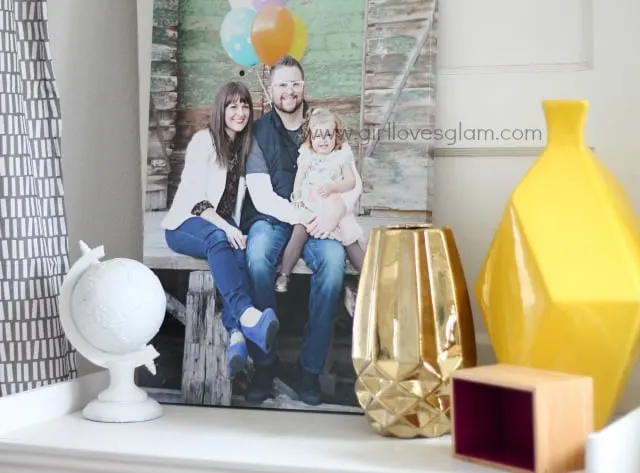 The living room makeover is finally complete! I can't wait to show you all of the details! Today, we're talking functional pieces in my living room. While it is fun to have pieces in a room that are purely decorative like the ones pictured above, it is important to have pieces in a room that really serve a function. Since we're focusing on the photo above, let's take a minute to talk about it. The pieces on this self are purely decorative, but the shelf itself is much more of a functional piece than you would think by just looking at this photo. What you don't see, is that on the bottom shelf, you can find two cute boxes that are filled to the brim with toys. This is a perfect way to bring decorative pieces, like cute boxes and a shelf together to create something functional. For me, those items help keep the toys cleaned up, while still keeping them very accessible for my toddler.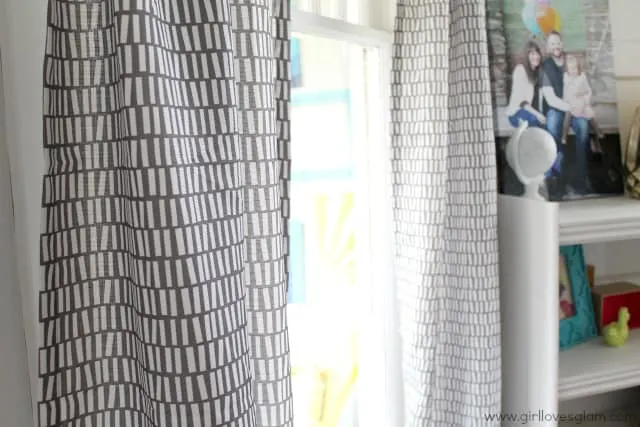 The next functional decor I'm focusing on? Curtains! After going three weeks without curtains, I have grown to realize just how important curtains really are. Not only do they really add to the overall look, but they serve a lot of purpose too! I had no idea how much I would feel like a sitting duck in a big room without curtains! Nights were sometimes a little creepy without any curtains and I am happy to report that the curtains are where they belong and we can now have privacy again!
While you are talking about functional decor, you can't skip the mention of furniture. Of course furniture is a crucial part of a living room and serves a lot of function, but I have already talked about my love for my couches and that is a little too obvious for this discussion. I want to talk about a few that might be a little less obvious.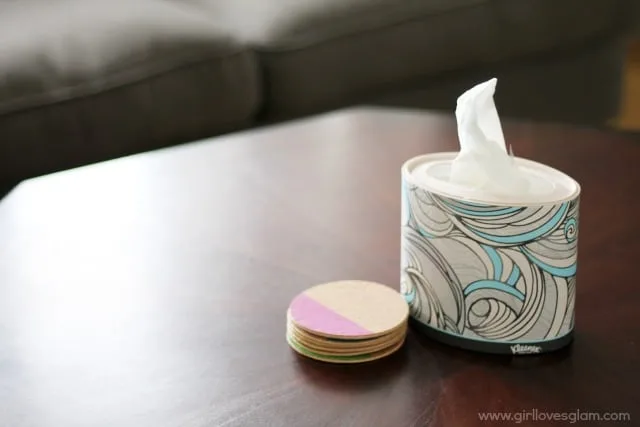 For my table, I knew I would want to keep things pretty simple because the table top is often used for coloring, Legos, and princesses. I didn't want to put any sort of a centerpiece that would get in the way of toys. I also didn't want to just leave the table bare. I put my decorative coasters on the table so they would be handy, right where I would need them. They are decorative and functional so I didn't feel like I was wasting any space by putting them there. They fit right in with the decor and help add a little splash of color to the table.
I knew the coasters couldn't just sit on the table all by themselves, but I wanted to still have some sort of function with any other pieces I would be putting on there too. I was so excited when I found out that Kleenex had their Kleenex Expressions line because I was able to put a box of tissues on the table without it totally looking out of place. This couldn't be a more perfect decoration for my family too. My husband actually told me last week that he doesn't know anyone who blows their nose more than I do. I get seasonal allergies, but not just during the Spring and Fall! I actually get them worst during the Winter! Boo! Sadly, I am pretty sure I handed down that genetic gift to my toddler who has now already mastered the art of nose blowing at the young age of two. This Kleenex box is really the perfect functional decor piece for our space because it goes perfectly with the decor and really does serve a major purpose in our family.
Kleenex is turning 90 this year and they are celebrating by coming out with all of these fabulous runway inspired styles for your home! As part of their celebration, they are sending one lucky Kleenex fan to NYC to meet a famous designer and to go on a $5,000 NYC shopping spree! Just follow this link HERE and play the game, "Catwalk or Kleenex?" to get you automatically entered! Be sure to visit their site and play the game, because it helps get me a chance to go to NYC too! Maybe we could party it up together?
Who's excited to see the rest of my living room details? More to come on Monday!