If you have kids, they probably love Frozen. That is definitely the case at my house. I have a full blown, Elsa loving princess who seems to react to any Frozen memorabilia like it is the last Frozen item in the planet. She treasures them. She is obsessed! That's why I knew I needed to make her holiday dreams come true and make her a Frozen Elsa Christmas Tree for her room!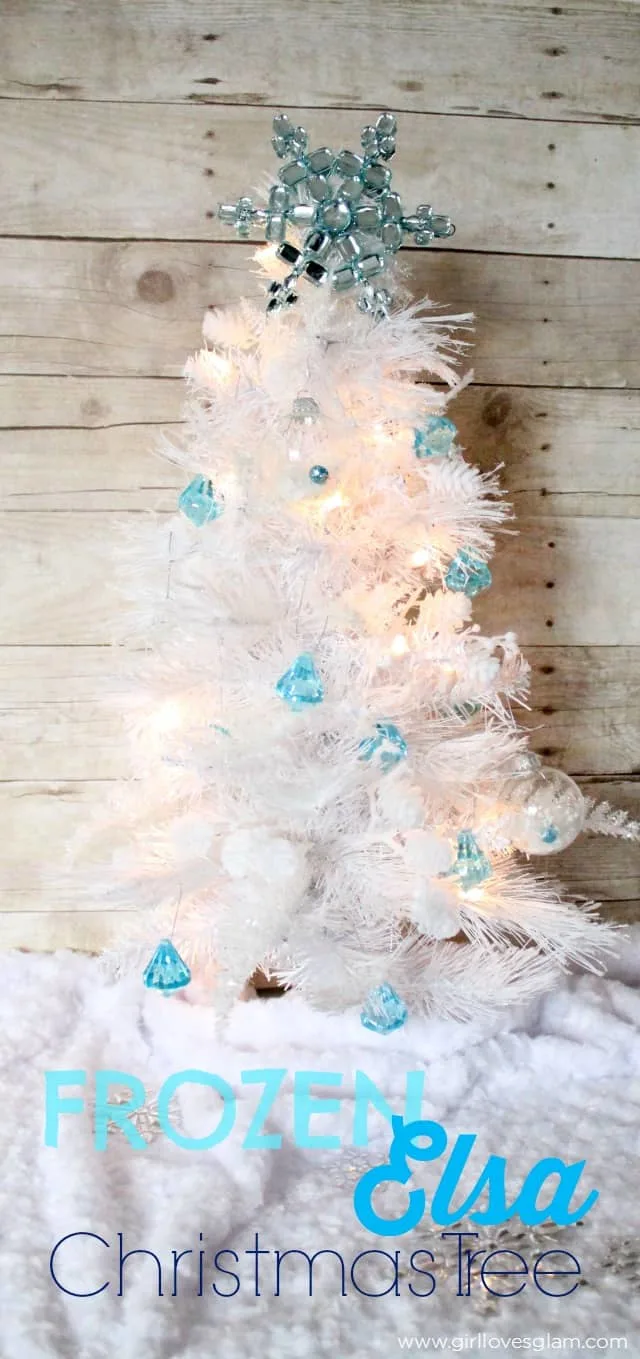 I am not one who is about to plaster character's faces all over my house, so I decided to go with more of an "inspired by" theme instead of so literal. I LOOOOVE how this tree turned out! I think it is absolutely stunning! Photos seriously don't do it justice. It just sparkles! This tree was really easy to whip up and I just know your little Frozen lover will love one too!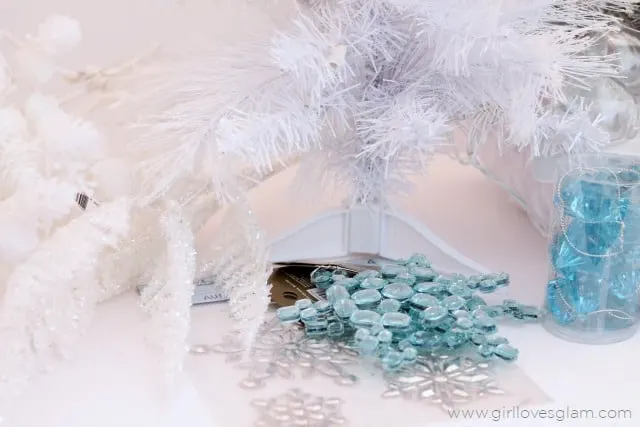 Here's what you'll need to make your own…
-White mini Christmas tree
-White floral twigs and branches (found at Michaels)
-Two blue snowflake ornaments (found at Target)
-Blue jewel ornaments (found at Target)
-Clear ornaments
-Faux snow
-Blue beads
-Snowflake stickers (found at the dollar store)
-Faux fur fabric
First, cut apart the floral twigs and glue them into the tree. I got one that was very glittered so it looks like it has been frozen. Very authentic! I love the twigs with the pine cones added in too to make the tree look more like a real, living tree.
Next, comes the fun, Elsa inspired ornaments!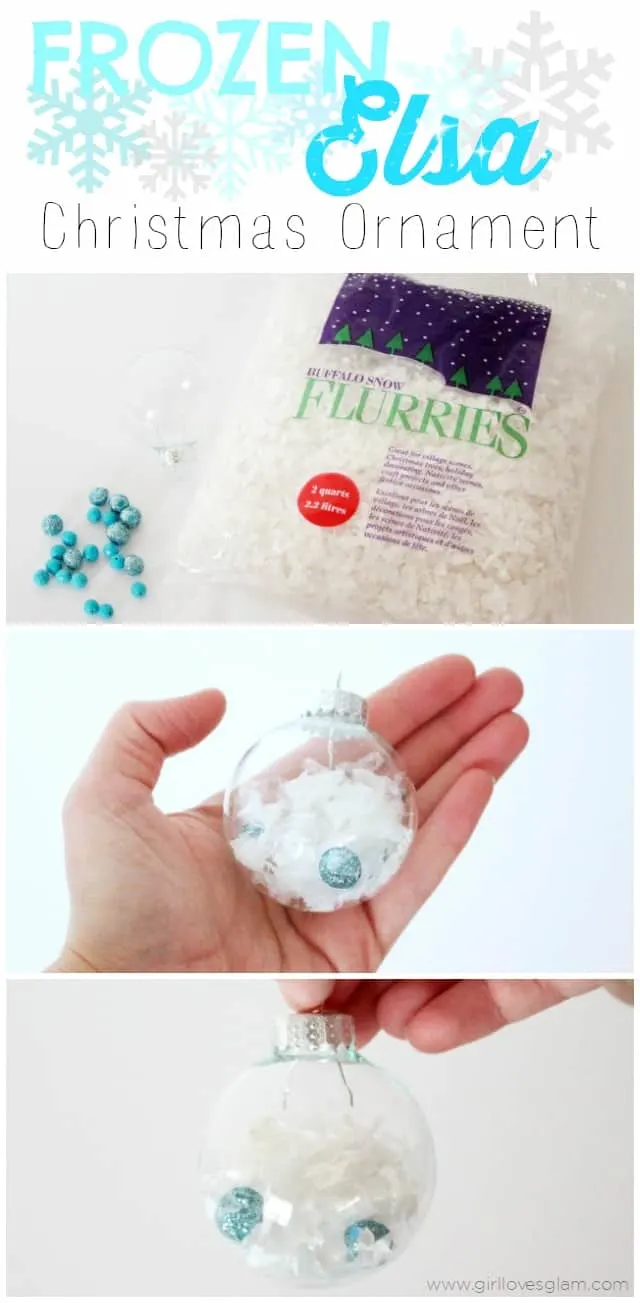 These sweet little ornaments would be cute on any tree, but they are especially perfect on this gorgeous Elsa tree! To make them, stuff the faux snow into the ornament. You could leave it just at that, but what makes these ornaments even more Elsa inspired is by adding the glittery blue beads inside too. They turned out so great!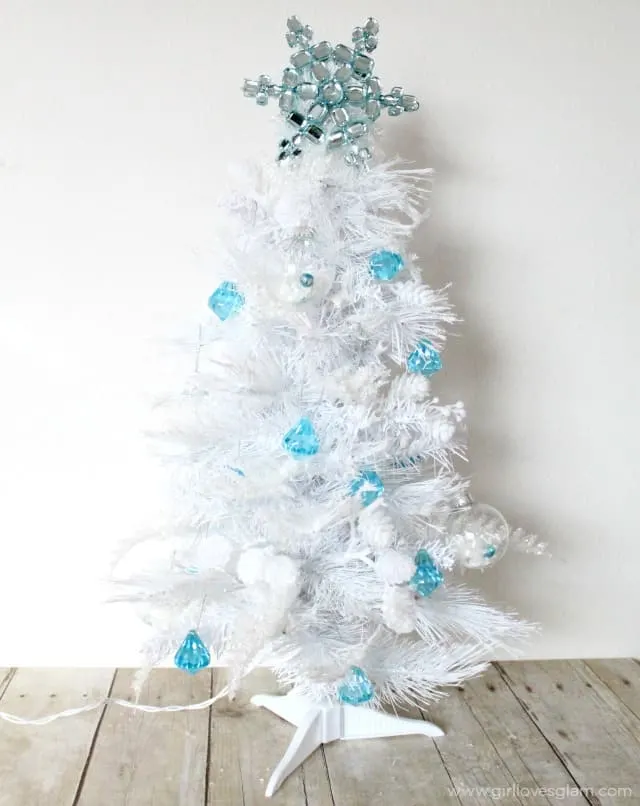 Tear the strings off of the snowflake ornaments and glue them to the top of the tree as the tree topper. Then decorate the tree with the new Elsa ornaments and the blue gem ornaments. You could end there, but I loved the idea of adding a little "snow" to the bottom.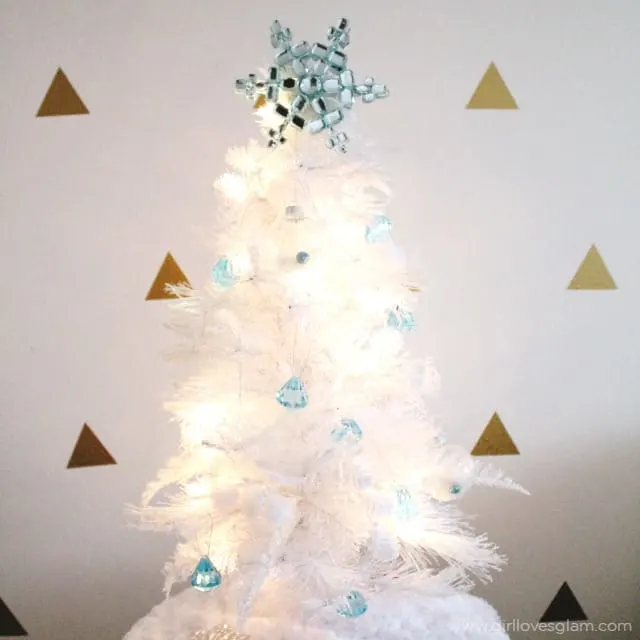 Puddle the faux fur fabric around the bottom and stick the snowflake stickers to the faux fur. You will be able to use the fabric later for another project too if you don't cut it like a tree skirt. It is kind of a win, win situation!
Who has a Frozen lover who would be obsessed with this tree?!