Before any of you start thinking I am a pro at everything, let me tell you a little story. I am not a pro at everything (shocker)! I was so excited to bring to you a new video series I will be doing once a month. It is called First Try and I will be trying new products for the first time on camera and sharing my opinion of those products and seeing how user friendly they are on the first try. Well the first one is coming to you today… sort of.
As you can see, I filmed my video and tried the products. The problem is that when I went to go edit the video, there was no sound. NO SOUND! This is just a happy reminder that not all bloggers can afford to pay for a film crew and have to rely on their own knowledge to do just about everything. Sadly, that came back to bite me this time around and I honestly have no idea why it did that! The good news is that I did try these products and really liked them and would love to still give you the info about them so you can go give them a try too!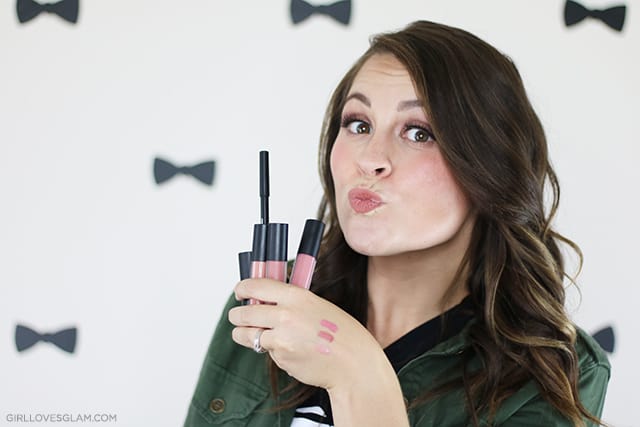 bareMinerals just launched the Gen Nude lip line this summer. It includes 60 different shades that are between their matte liquid lipcolor, lipstick, lipgloss, and lip liner. There is literally a perfect nude for every mood!
I don't own absolutely every shade they have, but I got to try three of the matte liquid lipcolors, three lipsticks, three lipglosses, and one lip liner. The product that absolutely blew my mind was definitely the matte liquid lipcolor. For some reason, the thoughts of having liquid lipcolor that ends up being a matte finish just kind of a crazy science experiment to me. I really loved the colors that the matte finishes were. They were absolutely beautiful and I felt like they would moisturize my lips more than a matte lipstick would.
I really enjoyed the lipgloss and the lip liner as well. The nude lip liners are great to have for just about everyday. You can line your lips with them for any lip color and they can help correct the shape of your lips.
The only product that I wasn't completely crazy about was the Gen Nude Radiant Lipstick. I think I was just comparing it to the other lipsticks from BareMinerals and I just didn't love the consistency as much as their other lipsticks. It was very soft and made my lips feel really good but I do think you would have to apply it pretty often.
Overall, I really loved these products. Nude colors are always a good idea but they are HUGELY popular this year and I would definitely recommend giving them a try! Follow the links below to find these products for yourself!
These contain affiliate links
BareMinerals Gen Nude Buttercream Lipgloss
BareMinerals Gen Nude Radiant Lipstick
BareMinerals Gen Nude Under Over Lip Liner