This post contains affiliate links
As you know, my favorite things posts each month come with a video. Things are different this month. I have ZERO voice! I still really wanted to share my favorite things with you though because I had to cut down my favorite things list because there were so many things that I just fell in love with this month.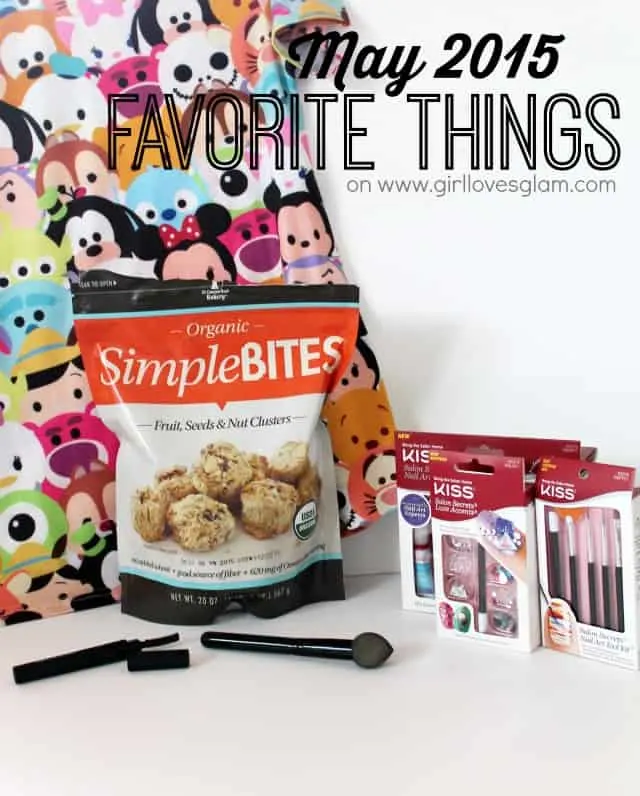 1. Get Away Today (The Disney Shirt)- If you didn't see it from THIS post, we are going to Disneyland this Fall and Get Away Today totally hooked us up with killer deals on tickets and a layaway payment plan for them! They are hooking up Girl Loves Glam readers with $10 off your Southern California trip when you use the code GLG15 I am so excited for this trip and I just had to own this shirt to wear when we go to Disneyland. If you need to own one of these too, I found it HERE for super cheap!
2. Organic Simple Bites- These are found at Costco and they are pretty much a match made in heaven for Greek yogurt. They are perfect for breakfast!
3. Heated Eyelash Curler– I was introduced to this by a friend at Snap Conference and I instantly fell in love… well, as soon as I went and bought one and got home and put batteries in it. Note to self, if you are buying it and want to use it instantly, buy batteries too! This little tool can curl eyelashes like none other!
4. Beauty Blender Sponge Stick- I found this one at Forever 21. It was super cheap, but it has already fallen apart and been glued once. I will be purchasing a new one eventually. I LOVE having the sponge on the stick! I found some other decently priced ones HERE too.
5. KISS Nail kits– I recently discovered these and I just love them! I love that they can be purchased at regular stores like Walmart and Walgreens and I love that they are making nail art more accessible to create for anyone. I just had to get a few of them! I especially love the tool kit. It seriously has everything you would need to start doing nail art!
These are the favorite things I can't live without this month. I have a few honorable mention items that I will probably save for next month, but I want to know… What are YOUR favorite things this month?