Ever since we moved last year, I have been given totally new decorating challenges. Not only are the spaces in my home much different than they were in my old house, but we are renting this time around and that brings totally new challenges! When we walked through our rental options, I was immediately drawn to the townhouse we chose because it had white walls. A clean slate! With that comes different challenges though. I love color! I like to create happy, colorful rooms and painting walls is no longer an option!
I have learned a few easy ways to bring color and texture into a space without paint! I am going to give a few tips, based on my daughter's colorful bathroom. It is a very "builder grade" bathroom. Cheesy cabinets, counter top and sink with bland floors and white walls. Very basic and probably what a lot of renters deal with.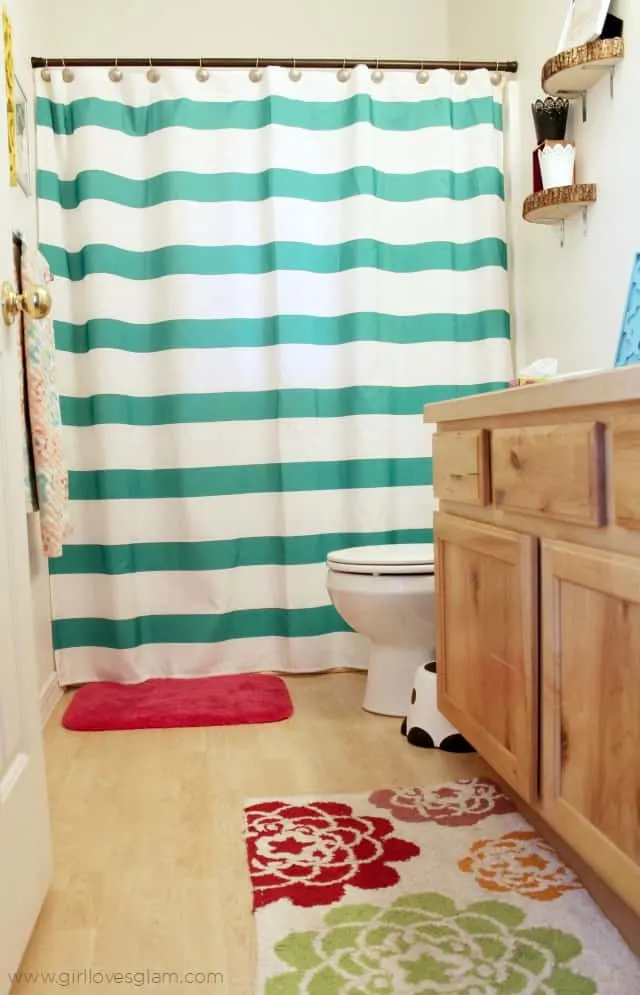 The first thing I address with any room, is the color scheme I am working with. I am not a big believer in having an exact color scheme and making sure everything you put into the room fits that perfectly. I believe there should be room to add new colors in as it goes too. If there is a trendy color that you just love, add it in a few places so that you can easily switch it out when it isn't in style anymore! I usually like to find a rug, pillow, curtains, or something that I just love the colors in and work around it for the inspiration for the entire room. This was the case with this floral rug in my daughter's bathroom. I loved how bright and happy it was and I knew it was just the right thing I wanted in her bathroom. I already had the green and white striped shower curtain and although it is a different shade of green as the rug, I feel like it has the same whimsical feel to it and it works for me. Your textiles are a very easy way to bring color into your space. Go bold with your pillows and if the budget allows for you to be bold with the more expensive items, go bold with a rug or the curtains! In a bathroom, you can bring color in with the rugs, towels, and shower curtain. These are all relatively small investments that you can feel good about making a statement with.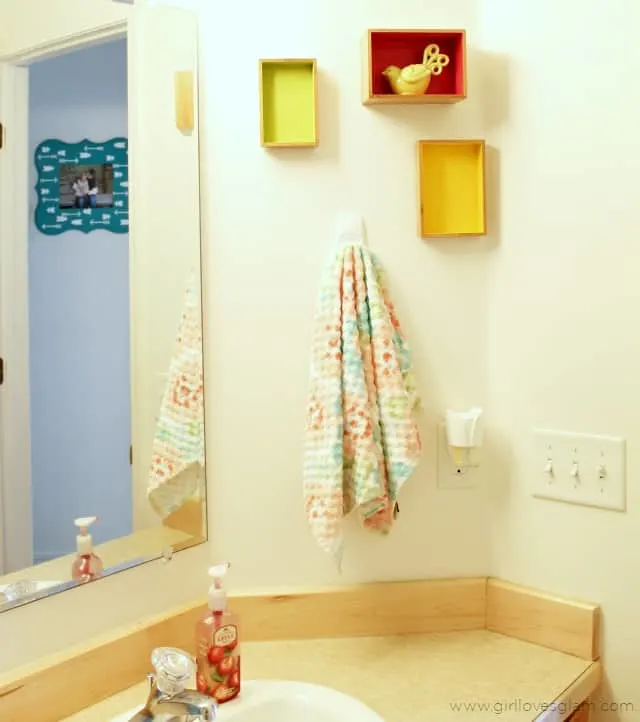 Before I get into my next tip, I want to take a little moment to tell you that Command hooks are my saving grace at any house, especially rentals! This bathroom had no hook for a hand towel, (weird!) but this was easily fixed with a Command hook. They are my saving grace!
My next tip is to find colorful pieces of art that can either be functional, or that can hold some other decoration. I love these little boxes that I painted the insides of (you can find the tutorial for them HERE) because they are pieces of art, but they serve as mini shelves as well. Sometimes I put medicine in them when I know I will be needing it often, but I want to keep it out of reach of my daughter.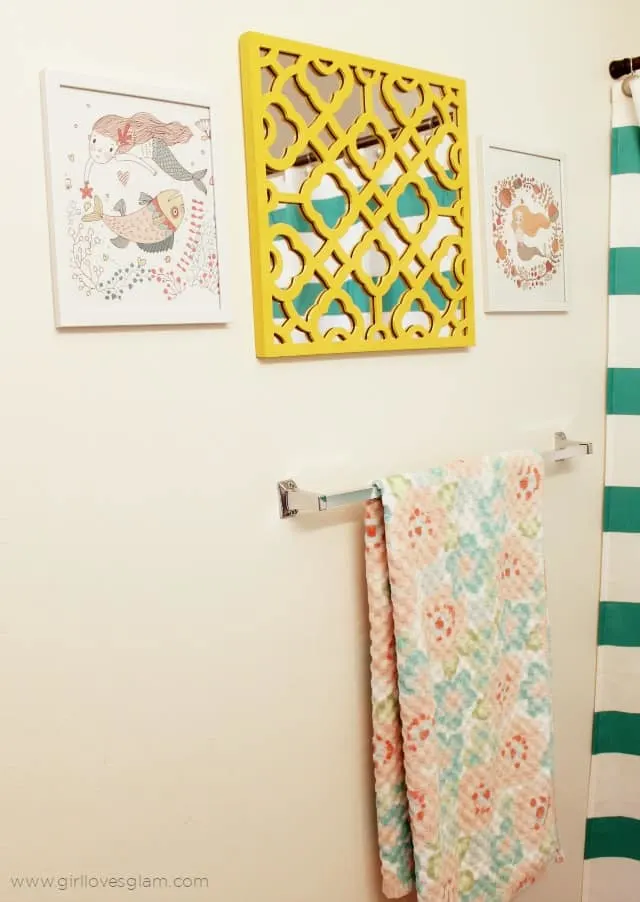 Find colorful artwork! This is so easy to do now that there are so many great freelance designers out there selling artwork. You may even be able to customize a piece with different colors if you needed it to be in a different color scheme. I loved these mermaid pictures from Alice and Ivory. It made this bathroom feel like a little girl's bathroom and they are bold enough to add color, without competing with the amazing mirror between them. Another side note, I am also obsessed with the Command picture hanging strips! These are so great because you don't need to put holes in your walls, which is also great for renters. (PS this post is NOT sponsored by Command in any way! Ask my husband, I buy Command products constantly because I run out of them all of the time. They are the best!)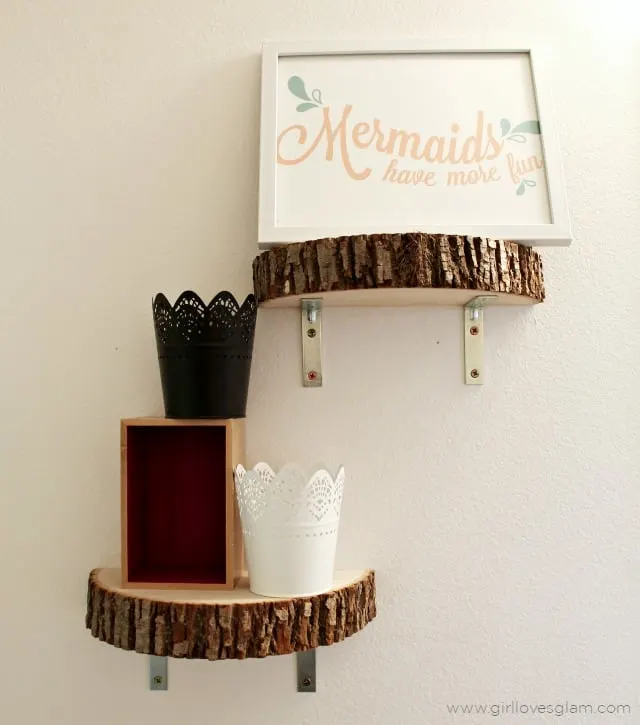 When bringing artwork into the space, don't be afraid to mix it in with some great texture too! Find a plant, shelf, or other decor with texture that can really bring more dimension to your room. I made these shelves last year and I am still obsessed with them! I love how modern AND rustic they feel. You can find the tutorial for them HERE. I kept these shelves a little more subtle because there is so much color in the room. When you are adding color, remember to keep some pieces in the room nice and neutral so that you don't look like Willy Wonka decorated it. This adorable mermaid print is from The Printed Palette.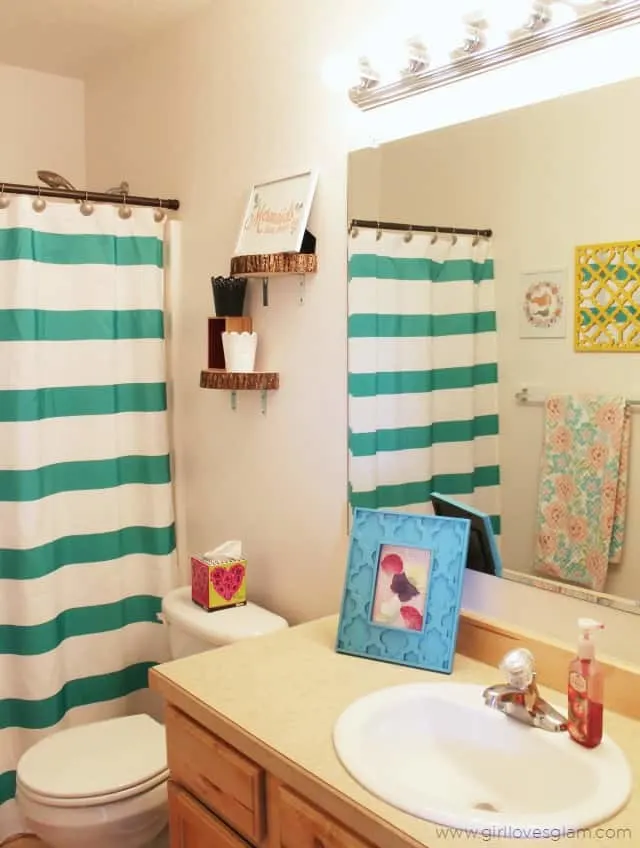 While we are thinking about Willy Wonka, I also recommend taking a step back and looking at your room again. I used to have more decor in front of the frame on the counter, but decided it was too much. This was after that other decor had been there for at least a month. I think it is important to reevaluate the space every once and a while. Sometimes you may decide you want to add more to it, other times you will be taking things away.
What it all boils down to is the fact that you should be decorating your home to fit YOU and YOUR FAMILY! Make it your own space! If you love color, bring it in! I hear people talk all of the time about how they love a lot of different styles and worry the decor they choose won't go together. Guess what? You aren't decorating for Better Homes and Gardens… You are decorating for YOU! If you like a mirror that is modern and a picture frame that is very feminine too, that doesn't mean they won't work together. Try out different things and see how YOU feel about it. If you love it, go with it!
Cheers to those who dare to go bold with color! To those of you who are thinking about dipping your toe into this water… come on in!