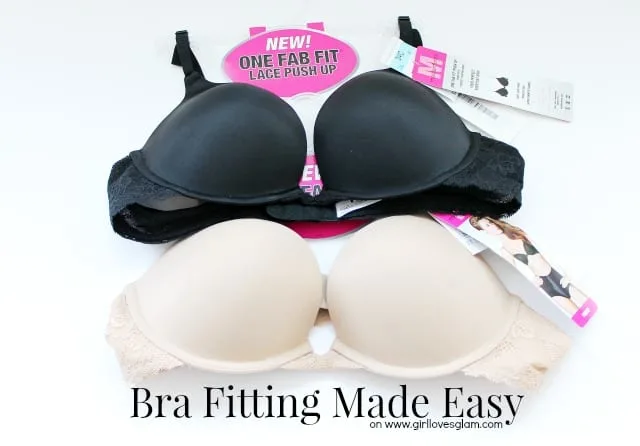 Finding the right bra is a total pain. You know it. I know it. Kohl's knows it too. They know that finding the right bra can be a journey that can bring out the innermost frustrations in any woman's heart. Kohl's also knows that once you find the right bra, it can bring tears to your eyes. That is why Kohl's created the perfect resource to find out your perfect bra size. They have a website that you simply just put in your measurements and it spits out your bra size. It's basically the most amazing resource to bra fitting that I have ever experienced. Check it out HERE. Is the bra you are wearing the correct size?
I loved learning my true bra size. I haven't had a bra fitting since having a baby. I needed a new bra (or two) to make me feel more comfortable and feel good knowing that I was finally wearing the right sized bra. I have known for a while that I needed to get a bra that really fit me. I have a friend, Courtney who blogs at Fry Sauce and Grits who is the bra fitting expert. She always talks about how important it is to have a bra that fits properly. I had her write up a few tips so that you can go into a bra shopping experience armed and ready to find the perfect bra for you. Here are a few of her tips…
There's five things you need to be looking for when you're trying on bras and making sure they fit correctly. I call it the 5 Point Check, it's a lot like the checklist you go through when you parallel park.
Do the five point check. The five point check is so important in deciding whether or not that bra you're trying on and thinking about buying is a good fit. Fit is SO important, it's more important than what it looks like, remember that.
Top Cup. Do you feel like you're coming out of the top of the bra? Do you see a lot of cleavage? Do you have the double boob? The double boob is when the top of the cup goes into the breast and therefore makes it looks like you have two boobs stacked on top of each other. If you said yes to any of these, you need to up a cup size. If you want to see some beautiful pictures of this being illustrated, go here.
Sides. Is the bra covering the sides of your breasts? If it's not, then you'll need to go up a cup size. My rule of thumb, is you want to have at LEAST 1/4″ of space between your breasts and the underwire or bra on the sides.
Bottom Cup. Lift your arms up and pay attention to the bottom of the cups and ask yourself, do you feel like you're hanging out of the bottom? If yes, then you need to go up a cup size. Same rule applies to the sides, try to get at least a 1/4″ inch of space from your breast and the bottom of the bra.
Band. Is your band snug? If you said yes, that's great! That's how it should be. Your bra will stretch with use and wear. Remember, your band is where most of your support comes from. Make sure the band is lying low in the back (below the middle section of your back), and if you have hooks in the back, make sure the band is snug on the loosest set of hooks when you try it on. One trick to making sure your band is snug enough is do a couple of jumping jacks and move around a lot and see afterwards if you have to adjust it or if you feel like your bra is riding up in the back. If it is, then you need to go down a band size.
Middle. The middle is the part where the underwire in the front come up and almost touch. You want to make sure the middle part of the bra is lying against your skin and is completely separating your breasts. If you can tell the underwire is laying on top of your breasts this means the cup size is too small and you need to go up a cup size.
Isn't that the best advice? She knows everything when it comes to bras! Now that you have gotten advice from a professional bra fitter and have the resources given on the Kohl's website
here
, you just need to go find yourself a bra! Thankfully Kohl's has a ginormous selection of bras that fit any bust and any budget! Hurry to your nearest
Kohl's
to find your perfect bra while they are having their huge Underneath It All sale. They have a coupon for $10 off your intimates purchase for $40 or more in store and online. It ends April 6th.
Do you wear the correct bra size? Do you think bra shopping is a chore? What is your bra type preference?
This post was brought to you by Kohl's. All thoughts and opinions are 100% my own.